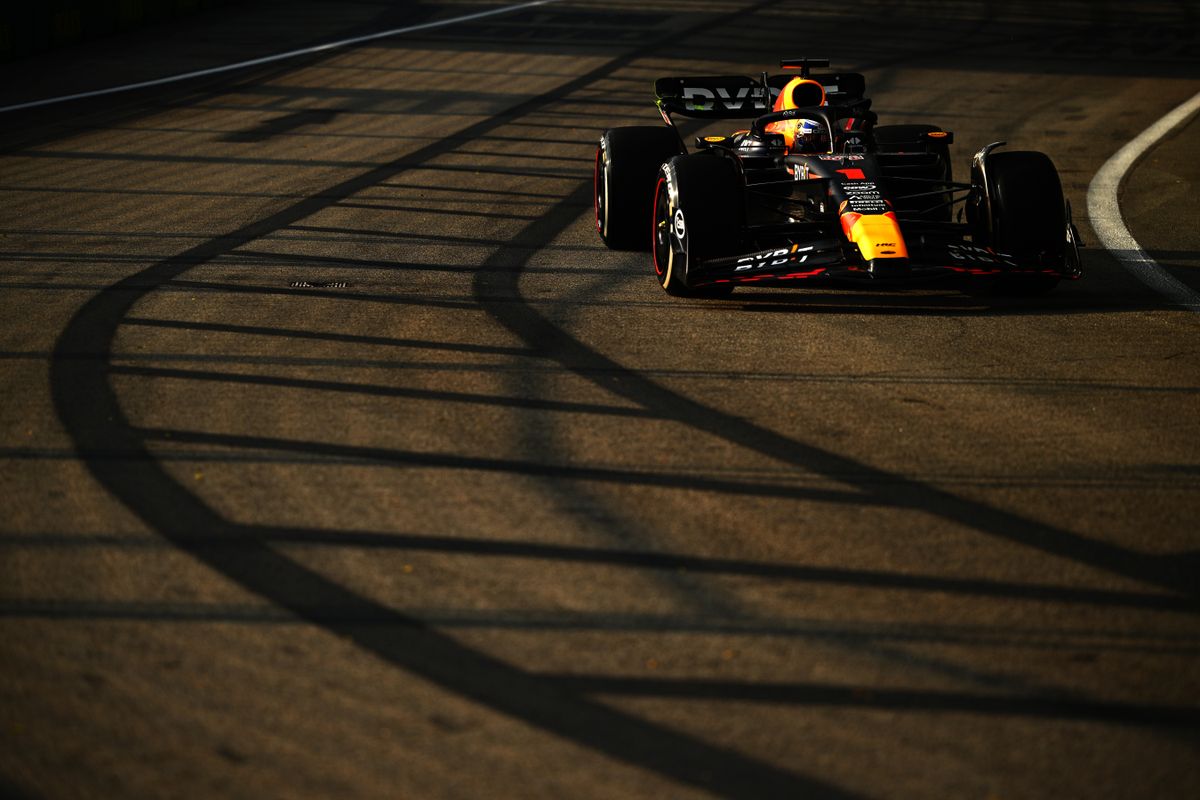 Red Bull Racing warned in advance that things would be more difficult in Singapore than in the previous races, but few people would have predicted that the team would have such a difficult Friday. It was also disappointing for drivers Max Verstappen and Sergio Pérez, and analyst Peter Windsor has no choice but to label Ferrari as the favorite in his latest YouTube video.
Ferrari successfully followed up a good weekend in Italy in Singapore: "Ferrari took a one-two in both sessions, very impressive," Windsor opens, who thinks that the changes to the circuit have done Ferrari good. "The straights are now a bit longer in the third sector, and that can only help Ferrari. They look very strong. Singapore, like most street circuits, has a lot of slow corners.'
Sainz is in top form
While Charles Leclerc is usually seen as Ferrari's leader, Sainz is currently higher in the championship, and the 29-year-old Spaniard also had the speed in Singapore. 'Ferrari is fast on the straights and good in braking zones and in terms of acceleration. That is a perfect car for a driver like Carlos Sainz, who takes the corners a little wider," Windsor analyzes. 'There are now few corners where Charles (Leclerc, ed.) or Max (Verstappen, ed.) can make the difference.' Yet it was the Monegasque who took pole position on the streets of Singapore in the last two editions.
Windsor indicates that the Ferrari performs perfectly in the ninety-degree bends, and is also fast on the straights. 'I don't want to detract from Ferrari's or Sainz's performance. He has found a great rhythm in the last four to five races. He looks very strong in the car, and it is difficult for Leclerc to beat him.' The two Ferrari drivers were evenly matched all Friday: Leclerc was a bit faster in the first training session, but in the evening session Sainz was 0.018 seconds faster thanks to a strong final sector.
Ferraris battle for pole position
According to Windsor, Sainz thus deals a new mental blow to Leclerc. 'It doesn't matter how small the difference was, what matters is that he's back on top. That will do something to Leclerc, so it will be interesting to see how he goes into Saturday and how he handles qualifying. I'm curious to see if he makes mistakes and if he feels the pressure. He can win a race here, but he has to beat Sainz, and that won't be easy." In Italy, Leclerc was unable to beat his teammate, allowing Sainz to take his first podium of the season.
Text continues below the image.
That fight continues in Singapore on Saturday. 'It will be interesting in qualifying. It will of course be a fight for pole position', Windsor seems to take little account of drivers from other teams. 'Charles (Leclerc, ed.) will certainly want to be in pole position. He will not want to be on the dirty side of the front row with Carlos (Sainz, ed.) in pole position. In any case, Carlos is currently driving great. He was also the first to start his race simulation in the second free practice. Those kinds of details all count.'
Where is Red Bull?
In the second free practice, Max Verstappen and Sergio Pérez barely reached the top regions of the time lists. "The other question is how Red Bull responds to a very difficult Friday," Windsor notes. 'Red Bull is having a very difficult time, and Christian Horner already said that they are not very good at ninety-degree bends. Why is that? The Red Bull is a very good car and there are also many other corners here, such as that very fast last corner. That should be an excellent corner for Red Bull."
Windsor thinks he has a suspicion about the cause of the Red Bull problems. 'Both drivers say they don't feel much grip at the rear of the car, so that suggests they started with a conservative ride height because the track is so bumpy. They can adjust the ride height and suspension tomorrow. I think it has to do with the ride height.' Despite the bad day, the team still managed to score a few compliments. 'Even though the car wasn't that good, Red Bull still stuck to their routine and did their race simulations. Even though that is probably their worst Friday of the year, it still shows their class. That is very typical for Red Bull.'
Verstappen is also not impressive in the race simulations
Windsor is particularly impressed by the race simulations of Sainz, George Russell, and Fernando Alonso, although Pérez's data is missing from his overview, while the Mexican was fastest on the medium tires in the long runs. 'Max wasn't that fast. In fact, it was very slow by Red Bull standards. Red Bull needs to do some serious work at night. It's been a long time since they've been in this position. It's still early, but it looks like Red Bull could be beaten."
Verstappen can take his eleventh win in a row this weekend! Also betting on F1? Register now at JACKS and receive 60 euros in free bets! If you play responsibly, you keep it fun. What does gambling cost you? Stop on time, 18+
'