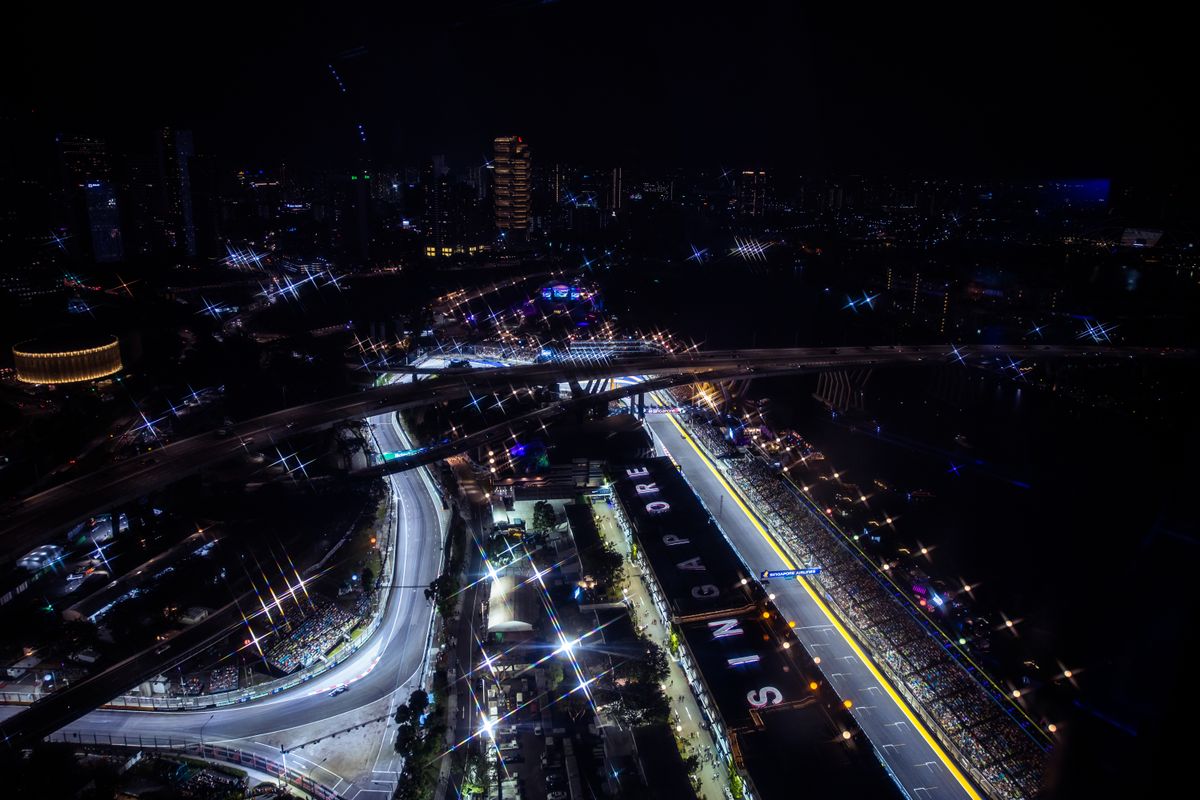 The European season has come to an end, and so the Formula 1 circus has traveled to Singapore, where they race through the streets of the city-state under artificial lights. It is one of the few Grands Prix that Max Verstappen has never won, and that seems to remain the case this year. If the world champion wants to achieve his eleventh victory in a row, he will have to deal with ten drivers in front of him after a dramatic qualifying session for Red Bull Racing.
The starting lights will go out for the first time at 2:00 PM Dutch time, but in Singapore by then it will already be 8:00 PM and therefore dark. After a warm-up lap around the modified circuit, pole sitter Carlos Sainz can take the first place on the grid again, with George Russell and Charles Leclerc also in the top three. Lando Norris and Lewis Hamilton complete the top five, while the Red Bull drivers have to start a catch-up race.
Safety cars and rain can help Verstappen
Normally the Grand Prix in Singapore is the longest of the season, lasting about two hours. This year, however, the lap times are around nine to ten seconds faster thanks to the changes to the circuit, which will save more than ten minutes of time. On the other hand, the drivers have to complete an extra lap in the heat and with the sky-high humidity. So far, the Singapore Grand Prix is ​​almost a guarantee of safety cars, which could delay the drop of the checkered flag but also provide opportunities for those hoping to make up places.
In addition to the likelihood of safety cars, drivers also have to take rain into account. In Singapore, the rainy season starts around September, and some showers are expected on Sunday, although it seems more likely that they will fall in the afternoon hours. Verstappen will want to make progress regardless of the weather. With Liam Lawson, Nico Hülkenberg, Esteban Ocon, Fernando Alonso, and Kevin Magnussen, he finds a few drivers who should be caught, although there are only big names in the top five.
Who will break the winning streak?
It seems almost certain that the winning streaks of Red Bull and Verstappen will come to an end on Sunday. The big question is who will make this happen. Russell is the only non-Red Bull driver to win one of the last 25 Grands Prix, and the Briton now has a good chance. Ferrari will try to turn their good starting positions into a victory this time, because the last one was more than a year ago.
Verstappen can take his eleventh win in a row this weekend! Also betting on F1? Register now at JACKS and receive 60 euros in free bets! If you play responsibly, you keep it fun. What does gambling cost you? Stop on time, 18+