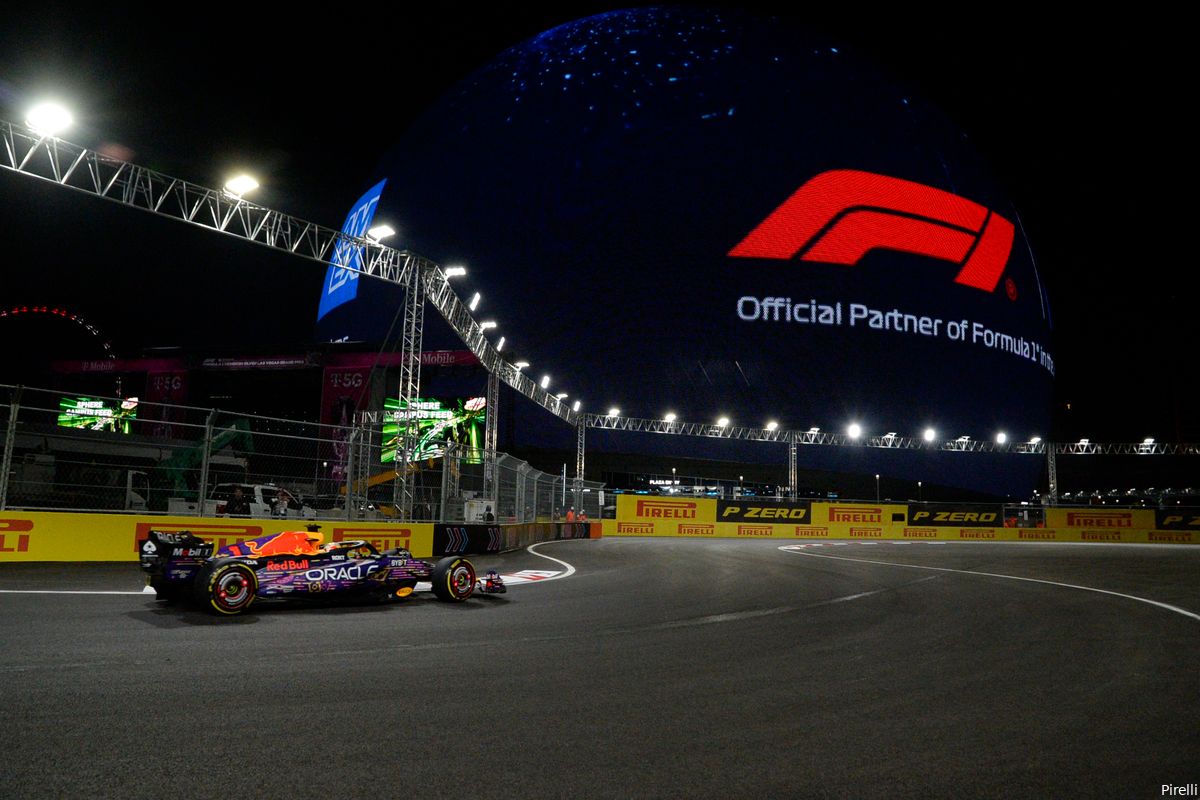 After a day full of shows, a day full of manhole cover dramas and delayed sessions, and the qualifying day, only the Grand Prix itself is on the program in Las Vegas, after which the drivers can decide whether they want to drink or gamble away their sorrows in the gambling city , or whether they will travel on to Abu Dhabi. The race itself promises to be a battle between the men on the front row under the artificial lights of the American desert city.
The Grand Prix of Las Vegas is a night race locally, and will start at 10:00 PM. With a time difference of nine hours, this means that the warm-up lap will start at 7:00 AM Dutch time, after which the starting lights will go out about three minutes later, followed by fifty laps around the Las Vegas Strip Circuit. The average speed is quite high, and that means that the race without safety cars and red flags will last about an hour and a half, meaning the race could be over before half past eight.
However, the drivers are in action on a fast street circuit, so the risk of delays due to safety cars or red flags is a real possibility. Charles Leclerc and Max Verstappen will probably not hope for that, because they have the best starting positions. Behind the top three we find many surprises, including the Williams drivers on the third row, while Lewis Hamilton, Sergio Pérez, and Carlos Sainz start in the middle.
Verstappen hopes to maintain a bizarre series
The results in 2023 may sometimes be a bit predictable when it comes to the winner, but that makes the performance all the more impressive. Meanwhile, as a three-time world champion, Verstappen is chasing his 53rd Grand Prix victory and can thus equal Red Bull Racing predecessor Sebastian Vettel. A victory would be the eighteenth for Verstappen this season, by far a record.
The Limburger also defends ridiculous series in the country and the continent. He could become the first driver ever with three victories in a country in one season. This would give him his eleventh victory in a row in North America, as he has been undefeated for more than four years in Canada, Austin, Miami, and Mexico. Statistically speaking, Leclerc's pole position is also good news for Verstappen, because the last eleven pole positions of the Monegasque always led to Red Bull victories.
Verstappen can take his eighteenth win of the season this weekend in Las Vegas. Also betting on F1? Via this link from JACKS you are eligible for 60 euros in free bets! If you play responsibly, you keep it fun. What does gambling cost you? Stop on time, 18+