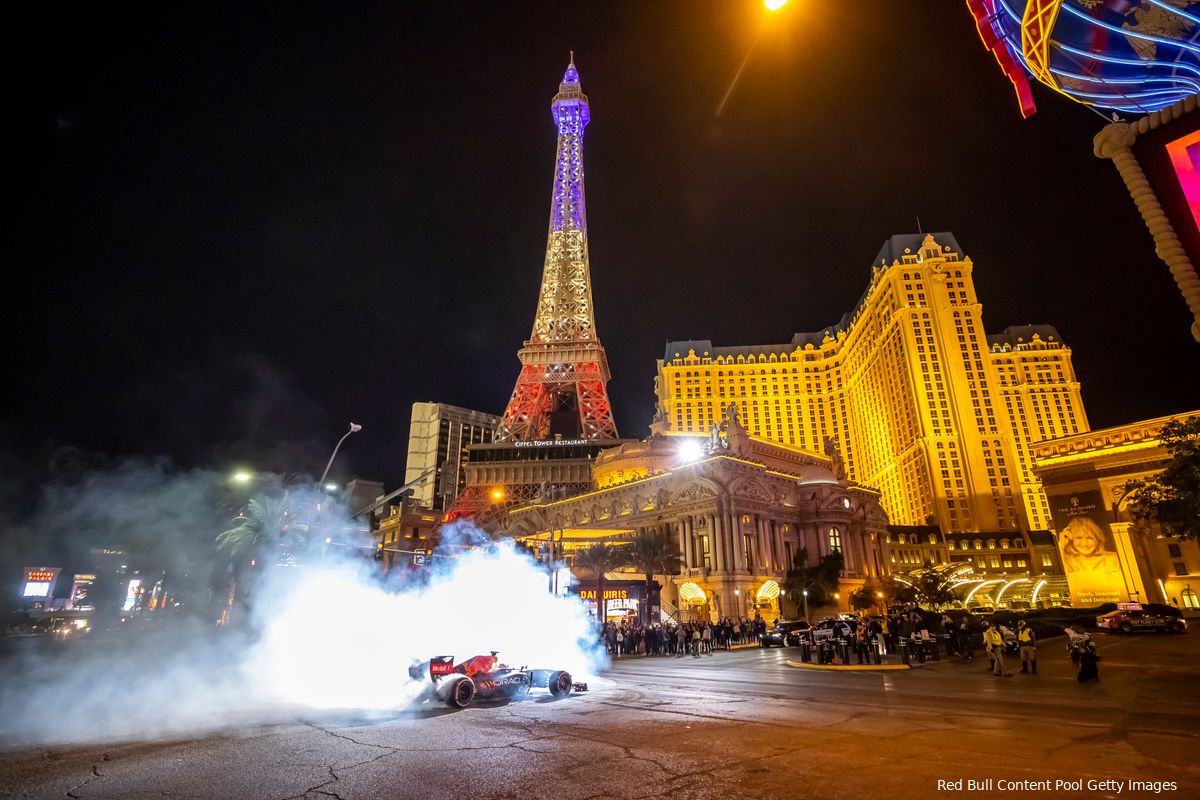 The Las Vegas Grand Prix is ​​scheduled for Sunday morning. You can follow the new Formula 1 race weekend again via F1TV. All free practice, qualifying and the Grand Prix can be seen live there. Below we explain how you can enjoy the new race weekend in Las Vegas!
At F1TV you can take out a subscription, so you don't have to miss a race. You can take out an annual subscription for 64.99 euros per year. You also get a free seven-day trial period. This allows you to see every session (free practice, qualifying and the race) live. You also have access to all onboard cameras and board radios!
In addition, it is possible to watch all sessions in Formula 1. You also have access to exclusive documentaries and can watch more than 650 historic races. As if all that wasn't enough, you also get full access to all the features of live timing. This way you get telemetry data live from the car, the best clips from the board radio, a driver tracker map and tire consumption data. Do you want to watch the Las Vegas Grand Prix live via F1TV? Then click here and purchase a subscription!
F1TV timetable for Formula 1 on Las Vegas Strip
If you want to see the first free practice, you have to set the alarm early. The first training starts at 5:30 am on Friday morning. A few hours later it is time for the second free practice, which starts at 9:00 am and lasts until 10:05 am. The third and final free practice in Las Vegas starts at 5:30 am on Saturday. From 8:30 AM you can turn on F1TV for the preview, after which the qualifying will be shown between 9:00 AM and 10:05 AM. Immediately afterwards the debriefing will begin, which will last until 10.45 am.
The Las Vegas Grand Prix is ​​scheduled for Sunday. F1TV previews the race between 6:00 AM and 6:55 AM. The Grand Prix starts on Sunday morning at 7 a.m. and lasts two hours. After 9 a.m. there will of course be a lot of discussion and analysis again. This commentary lasts forty minutes and can be seen until 9:40 am.
Grand Prix of Las Vegas can be seen on Viaplay
At Viaplay you can join us early on Friday for the first free training, which will be broadcast between 5:20 am and 7:05 am. Between 8:50 a.m. and 11:05 a.m. you can also watch the second free training in the gambling city. The last training can be seen on Viaplay at 5:20 AM and 7:35 AM on Saturday. The qualifying can be seen live later on Saturday morning – between 8:25 am and 11:45 am. Sunday is the day of the Grand Prix in Las Vegas. If you turn on Viaplay from 5:55 am, you won't miss anything from the race on the Las Vegas Strip. The program surrounding the Grand Prix lasts until 10.45 am. If you cannot watch the race live, the highlights can be seen on Viaplay at 10 a.m.
Watch Formula 1 live with a VPN
In 2023 you can also watch Formula 1 live by using a VPN. You can then take out a subscription of two or three euros per month to a VPN provider and then you can watch a foreign stream for which you do not have to pay. Click here for more information about a VPN!
If you're looking for a step-by-step explanation, check out this detailed article: Watch F1 without ViaPlay? You can arrange it in 3 steps
Curious about all Formula 1 TV providers and the latest discounts? Check this page!