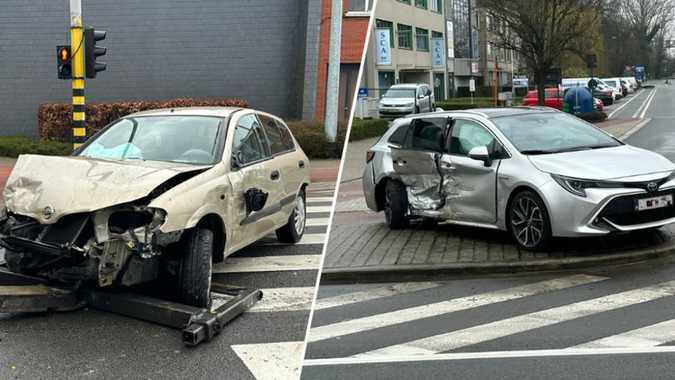 The police in Belgium have arrested a wanted Dutch man who was sentenced to 20 years in prison. It concerns 33-year-old August D. who was sentenced to 20 years in prison on December 20 because of a mistaken murder in Beuningen. He was arrested near Wommelgem, near Antwerp.
August D. cut his ankle bracelet after the judge's verdict and fled. He has been sought after ever since. The man was found in a car by the Belgian police on Sunday morning. He tried to flee and caused a traffic accident.
The occupants of another car were injured, as was the woman who was in the car with the 33-year-old. August D. rammed street furniture and drove into a police officer, who was able to get himself to safety just in time. He tried to escape on foot, but eventually officers managed to apprehend him.
On July 6, 2020, handyman Mehmet Kiliçsoy was attacked by two masked men from a stolen white Volkswagen Transporter in the center of Beuningen. The 49-year-old Nijmegen resident was ready to start his painting job that day, but didn't even get the chance to grab his tools.
The father of three young children was hit in the head and upper body by seven bullets and died in the parking lot. Police later found a burnt-out getaway car.
The court, police and OM consider it a mistaken murder because the police could not find any motive. That was also because the six Amsterdam suspects all kept silent.
It led to a lot of anger among the relatives of Kiliçsoy, who left one symbolic chair in their midst in the public gallery during the court sessions.
Pending the verdict, D. was released because his pre-trial detention had been lifted earlier. He was wearing an ankle bracelet for a previous conviction at the time. But after the conviction he disappeared without a trace.
During the trial, August D. was very annoyed by what he considered to be a 'wrong explanation' that the Public Prosecution Service would give to everything. But in the end he didn't tell me exactly what it was. "I smoked so many joints that I don't remember. My head is completely broken."
The court imposed prison sentences of five to thirty years against the six suspects. D. received 20 years for involvement in the murder, the court ruled.
According to the judiciary, August D. kept the weapons for his brother Jomairo and made his home available as a base for the co-suspects. He would also have had encounters with the pre-scouts.