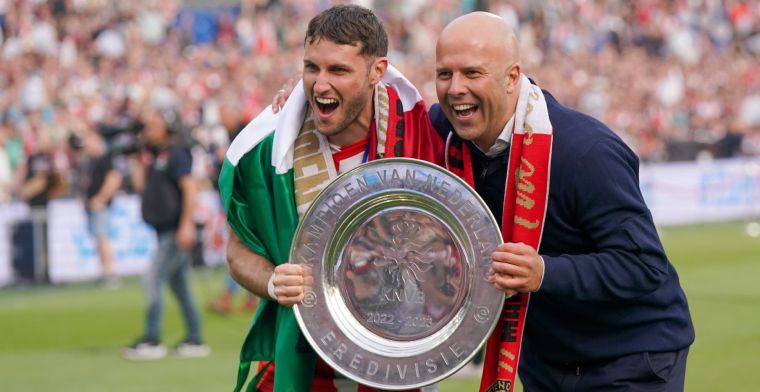 Arne Slot is still a strong candidate for Tottenham Hotspur head coach. This is reported by The Athletic journalist David Ornstein in a podcast by Rio Ferdinand. However, that decision will not be made until after the current season anyway.
"He is the strongest candidate and Tottenham would like to see him at the club," Ornstein said of the situation. "Of course Feyenoord would like to keep him and they have also offered him a new contract. But that contract is of course relatively small compared to the English amounts and he will wonder how many opportunities there will be in the Premier League."
Ornstein also questions his future at Feyenoord. "You also don't know whether they will be successful, because PSV and Ajax will come back stronger. Slot is clearly a great candidate for Spurs and many people from the football world think he will get the job." Slot himself has not yet spoken about his future with the Rotterdammers.
Sky Sports has now also announced that Feyenoord is becoming increasingly concerned about Slot. According to the English medium, the Dutchman would really be the number one candidate in London and it is becoming increasingly difficult to keep him in Rotterdam.
Update: According to Italian transfer journalist Gianluca Di Marzio, Tottenham Hotspur and Arne Slot have also had their first talk. Both parties would have looked back positively on the meeting and it therefore seems possible that the Dutch coach will enter into more talks with the club.
Arne #Key lock is advancing for @SpursOfficial managerial position: positive talks have already taken place with @Feyenoord boss. ⚪️ #THFC @SkySports @SkySport

— Gianluca Di Marzio (@DiMarzio) May 19, 2023
BREAKING: Feyenoord are increasingly concerned they are going to lose manager Arne Slot to Tottenham.pic.twitter.com/Azzyi6OSV1

— Sky Sports Premier League (@SkySportsPL) May 19, 2023
Listen to the latest episode of #DoneDeal the podcast now!
JACKS.NL welcome bonus: up to €60 Free Bets + 20% Profit Boosts!