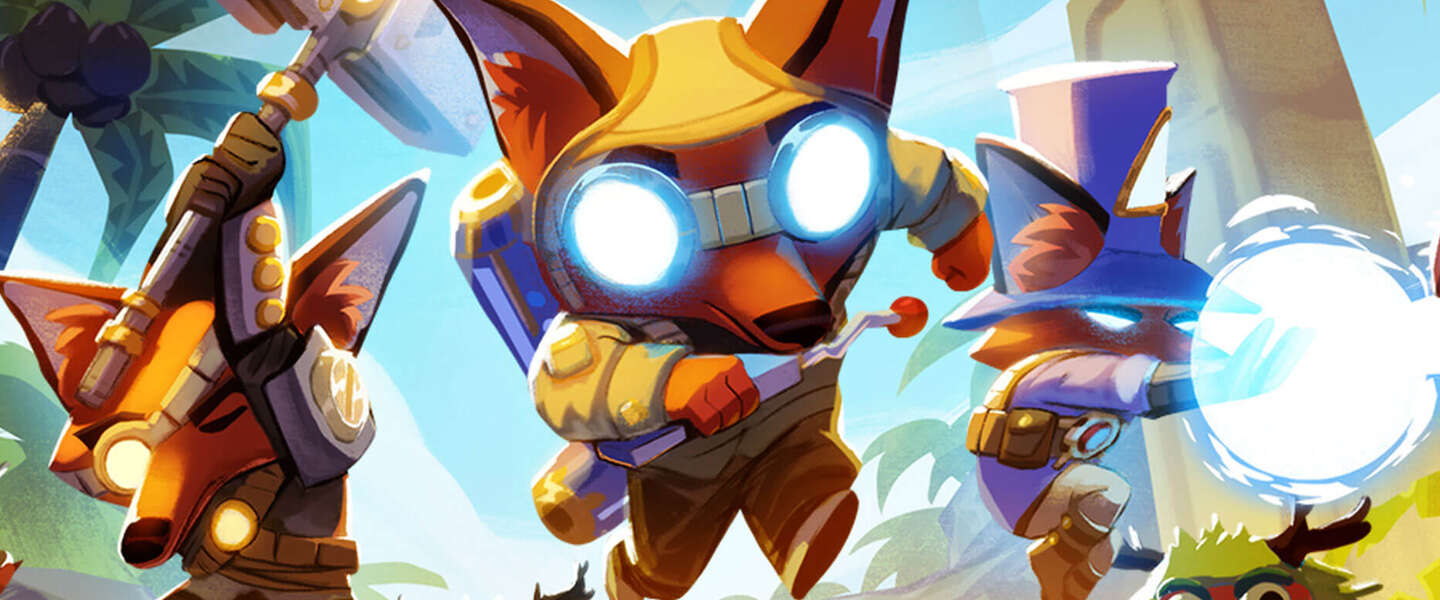 Lately indie movies have been hugely popular, but that's something we've known about indie games for years. They may often take a smaller approach: they usually dare a bit more. Although Trifox from the Belgian Glowfish Interactive certainly doesn't take huge risks, it is one of the nicer indie games we've seen in the past six months. This is why.
Crash Bandicoot
As the headline says, the Trifox game is very similar to Crash Bandicoot. In all the right ways. It has that same action-adventure gameplay with platform elements. And yes, it is a bandicoot, but secretly the main character from that game also looks a bit like a fox. Trifox gives you a lot of feelings of nostalgia, while it still feels like a fresh adventure.
It's a short adventure. Let's get straight to the point: you'll get through it in six hours. That's not a disaster: it's about the experience and knowing that this game only comes from a small studio, it's still quite an achievement considering the richness you feel when you traverse this game. That richness mainly comes from the environments and the beautiful-looking character: otherwise there is no huge emotional backstory to experience.
But yeah, let's not forget that this is an indie game made by a handful of people. People who had an idea and developed it as much as possible into something they are very proud of. And may be. Comparing Trifox to Crash Bandicoot is a great compliment: is it as slick as Crash in every way? No. But you can't expect that from a game that costs a few tenners. It is nice that this game is not some kind of crash of stimuli on you, but just a nice game to relax, without having to destroy your lower lip or your controller. A game to enjoy old-fashioned fun again, and that can be a bit brainless.
Trifox
It's just about a little fox that's like a trident of skills: magic, martial arts and tech are combined to make this fox the hero of the story. The more coins you pick up, the better he develops these skills. And you too, because you have to learn to play this game. He's not going to make it easy for you. Now I'd like to attribute that to the developers and how they didn't handle their game mechanics too carefully, but I really accuse them of doing this on purpose. Otherwise, it's just another fast-paced action-adventure game you run through. Now it is an experience, one that you learn with the fox.
However, what I love most about Trifox is the versatility of the game. Jumping, fighting, puzzling, collecting, encountering crazy characters: it's all there. And that versatility is also what helps to make a game a rich experience. You are completely drawn into it and the visual part certainly helps, but the versatility in gameplay styles and possibilities means that it is not so bad that the main character does not all have complicated backstories and dialogue.
No unnecessary explanation needed
Plus, that also makes it a game that, for example, children can play very well. It's about playing, not reading. It is about experience, not about a setting that first has to be declared completely dead. The Belgians have understood that well. All that excessive context that we get in American games, for example: it tends to kill the experience rather than draw you into it more. Other people may dismiss this as a negative point about the game, but I think very conscious choices were made here and as far as I'm concerned they are the right ones.
Trifox is out now on Nintendo Switch, PlayStation 4/5, PC and Xbox One/Series X.