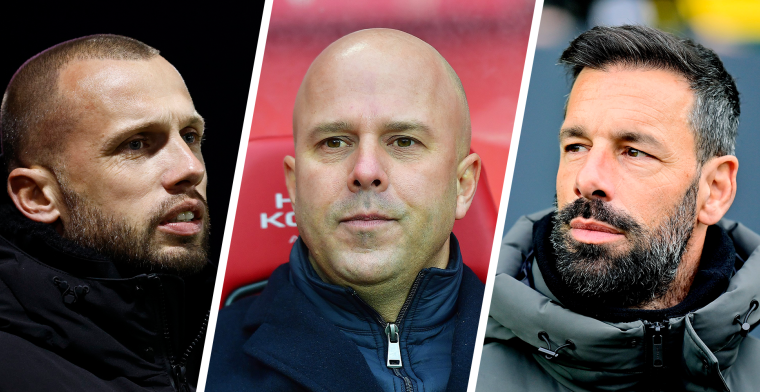 The relationships at the top of the Eredivisie went back to normal this weekend. Feyenoord is seen as the big winner after the victory over AZ, while Ajax is now the main challenger. PSV has dropped out for the time being in the title fight, the Dutch newspapers conclude.
'Forty degrees title fever at Feyenoord'
Feyenoord set the tone on Saturday by beating number two AZ in a direct duel: 2-1. 'Feyenoord can no longer escape it. After six years, the Legion sees a new championship dawning. If the fire, which was literally lit in De Kuip on Saturday evening during the battle with AZ (2-1), was an indication of the heat in the heads of the supporters, then the title fever has risen to over forty degrees, "says De Telegraaf .
The morning newspaper thus joins the hymn of praise that could already be read in the other dailies. After Marcus Pedersen's winning goal, there was 'a hurricane of sound and explosions of joy that could be heard as far as the Erasmus Bridge'. There is a lot of praise for Arne Slot and the energetic way in which he lets Feyenoord play. 'Feyenoord's almost maniacal attack drive can best be compared to a predator that is not always the strongest in battle in the jungle, but attacks so cleverly tactically and with such doggedness that the prey almost always succumbs.'
"Most of the AZ players were on their last legs deep in the second half, where men like Pedersen, Quilindschy Hartman, Wieffer and Geertruida still smelled blood and raced like hyenas over the green steppe of De Kuip," De Kuip continues. Telegraph. 'From the bench, Slot fired up those primal urges in his players by generating energy with arm gestures in the Feyenoorders, who of course also felt tired. Slot has the gift that he can squeeze more out of players than other trainers in the Eredivisie.'
The cockpit explodes! Marcus Pedersen gives Feyenoord the win over AZ in the last minute 😨#feyaz

— ESPN NL (@ESPNnl) February 18, 2023
Ajax presents Arena with 'flashy combinations'
Due to AZ's defeat at Feyenoord, Ajax took over second place. The Amsterdammers themselves won 4-0 against Sparta. According to the Algemeen Dagblad, the team of trainer John Heitinga showed a completely different face than against Union Berlin. 'Three days later, the young coach was treated to considerable progress by his team. The audience also saw this, which had not been presented with so many flashy combinations and fun in the Johan Cruijff Arena in months. With many changes of position and a high pace of the ball, Ajax created the chances, where it did not fire a shot on target against Union.'
The AD saw Davy Klaassen play an important role. 'The return of the tireless Klaassen visibly did Ajax good. With his running actions, but also his interaction with false striker Dusan Tadic.' Much attention is paid to the Serbian captain, who scored his hundredth goal in an Ajax shirt. "The transfer fee that then director of football affairs Marc Overmars put on the table at Southampton for Dusan Tadic in the summer of 2018 is undoubtedly the best Ajax millions expense (13.7) ever," says De Telegraaf.
De Volkskrant sees a title fight between the 'old, classic clubs' Feyenoord and Ajax, which played its 'best game under Heitinga'. 'Tadic was not the footballer of recent years under Schreuder, and was usually unhappy on the flank. Now he is extremely profitable as a striker just like before with Erik ten Hag, usually in major European duels; Sunday with two goals and an assist. And Bergwijn sprints away from opponents more and more often, dares to ask for balls in depth again.'
Trouw thinks it is still too early to talk about 'the hand of Heitinga'. 'Okay, for the time being the team looks more energetic, more strong-willed and sometimes even more frivolous, but whether Heitinga is immediately a competent coach remains to be seen. A midfield with Klaassen, Taylor and Berghuis is quite entertaining in the Eredivisie, as the Sparta match proved, but in Europe, for example visiting Union Berlin on Thursday, it shows naivety.' Tadic also does not escape the dance. 'By European standards, the Serb has been falling short for some time.'
Kenneth Taylor x Dusan Tadic 🫡 #AJASPA

— ESPN NL (@ESPNnl) February 19, 2023
A beautiful gesture Mohammed Kudus after scoring a great free kick 🙏❤️ pic.twitter.com/I0l821KRy5

— ESPN NL (@ESPNnl) February 19, 2023
'PSV temporarily dropped out in title race'
It is the clear conclusion of the Eindhovens Dagblad after the 2-2 draw at FC Utrecht. 'Even a second place seems difficult to achieve and with that there is a serious danger that PSV will end up in the Conference League next season. Such a scenario can in any case be avoided with a cup win. PSV now feels the burden of fiddling against teams such as Cambuur, FC Groningen and FC Emmen earlier this football year. Against FC Utrecht, what was offered on Sunday afternoon was not as bad as in those encounters, but the knife was already at PSV's throat. The loss of points in Utrecht therefore hit hard.'
De Telegraaf states that it 'looks gloomy for PSV'. 'The European elimination is near and the title is also getting further and further out of sight. After a bad week, PSV threatens to drop out on the two most important fronts.' The newspaper speaks of a déjà vu for Fred Rutten, who replaced the ailing Ruud van Nistelrooij. 'Just like in March 2012 with Rutten as permanent head coach, PSV is in a bad position with a fourth place in about two thirds of the competition.'
Algemeen Dagblad is already thinking along with technical director Earnest Stewart, who will start on March 1. This season will last until the end of May. After that, PSV is once again in the scaffolding for a remake. You would say: prioritize a quality injection for the rear. Everything for a new Héctor Moreno.' The AD sees a clear problem. 'Winning FC Groningen 6-0 was nice, but the two results afterwards told everything about the state of PSV. A 3-0 defeat on Thursday in Sevilla was followed by a 2-2 draw in and against Utrecht. Both times the team failed to lock a game it controlled.'
Like this! Great goal by Othmane Boussaid 😍#utrpsv

— ESPN NL (@ESPNnl) February 19, 2023
Up to 100x your stake if Liverpool and Real score!