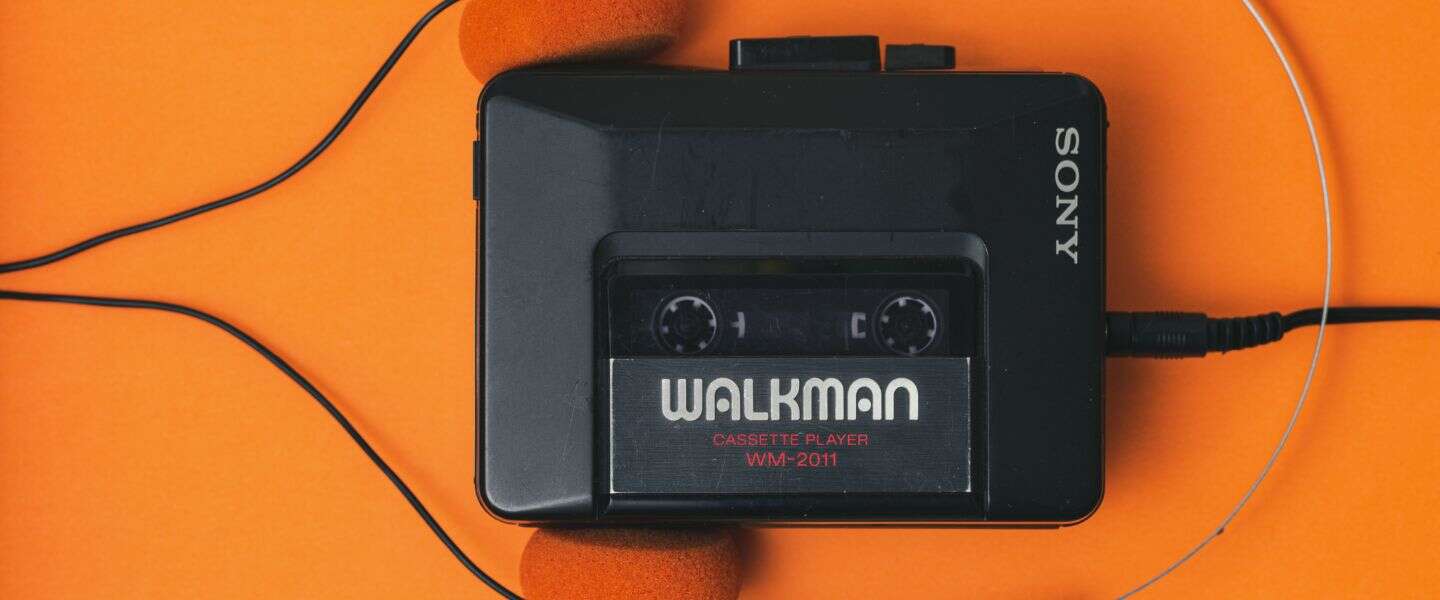 Which music player you used as a teenager to listen to music on the go says a lot about which generation you come from: if it is your smartphone, then you are probably very young. If you have ever walked around with a discman, you are probably around 40 years old and older. However, there is another older way to listen to music on the go: the Walkman. Today we step into a time machine and go to the 80s.
Walkman
You wouldn't say it, because the Walkman has survived for a very long time, but did you know that the device was introduced back in 1979? The Japanese Sony came up with it and the idea was that you put batteries in it, a cassette tape and that you could then listen to the tape via a 3.5 mm audio cable with headphones. Once the tape had finished, you could simply turn it over and listen to the 'back'. It was an ideal way to quiet children in the backseat of the car (everyone knows that VOF de Kunst tape with Dikkertje Dap on it, right?), or to enjoy Michael Jackson's new album while taking a walk. .
It was quite a magical device. This is how the Walkman came to be. Sony CEO Masaru Ibuka wanted to listen to music on long flights, so the company developed an aluminum device that could help him with this. They were soon made of much cheaper plastic, but you can recognize the oldest Walkmans by their housing (and their price, they cost 700 guilders, which is now a good 750 euros with inflation correction). The funny thing is that the Walkman not only revolutionized listening to music, which could suddenly be done individually and on the go: it also revolutionized the world of headphones. At that time they were still quite heavy: you only used them when you were in a fixed place. Now that things were moving more towards on-the-go, there was a need for lighter headphones. Sony developed one that weighed only 45 grams.
Personal music
Ultimately, there have been many different Walkmans. One of the best-known variants is the yellow-gray 'sports' Walkman, but the bright red My First Sony Walkman was also a popular example. Be sure to watch the commercials we have placed in this article, because it shows a great era with catchy songs to promote the Walkman and the Walk-woman. It is not the case that only Sony made this type of audio equipment: Panasonic, among others, also had its own answer to the Walkman. But the one and only, as Sony itself says in its advertising: that is the Walkman.
Music has become much more personal thanks to the Walkman. And it is clear that it turned out to be a brilliant idea, that Walkman. Firstly because the device was the sole ruler in the field of 'portable music' for a long time, but also because they simply sold like hot cakes. Sony has sold more than 200 million in the cassette variant. Another 200 million if you include the later versions. And by that we mean Discmans and MP3 players from the Walkman brand, even the WM1AM2 that was released in 2022.
Anyway, as far as we're concerned, they don't really count: the real Walkman is a cassette player that you could clip onto your jeans. And on which you could listen to music until you had to put in new batteries. Or a new cassette, if you felt like something different. The last official Walkman with cassette was for sale until 2010 (!): while Discmans were already introduced in 1987 and we had already arrived at smartphones that could play music via MP3 players and iPods. No one has them anymore, but that is also because cassette tapes are no longer made: they do not have the 'cool' image that LPs, for example, currently enjoy. That's okay, we like to get into our time machine and take a look at the Walkman, but the music quality we now enjoy thanks to Spotify, smartphones and in-ear, noise canceling earplugs, we certainly don't want to say goodbye to. Still, we wonder: would they have evolved this way without the Walkman?
Did you know that there is also a Dutch touch to this story? Cassette tapes are a Dutch invention: Philips introduced them in 1963.