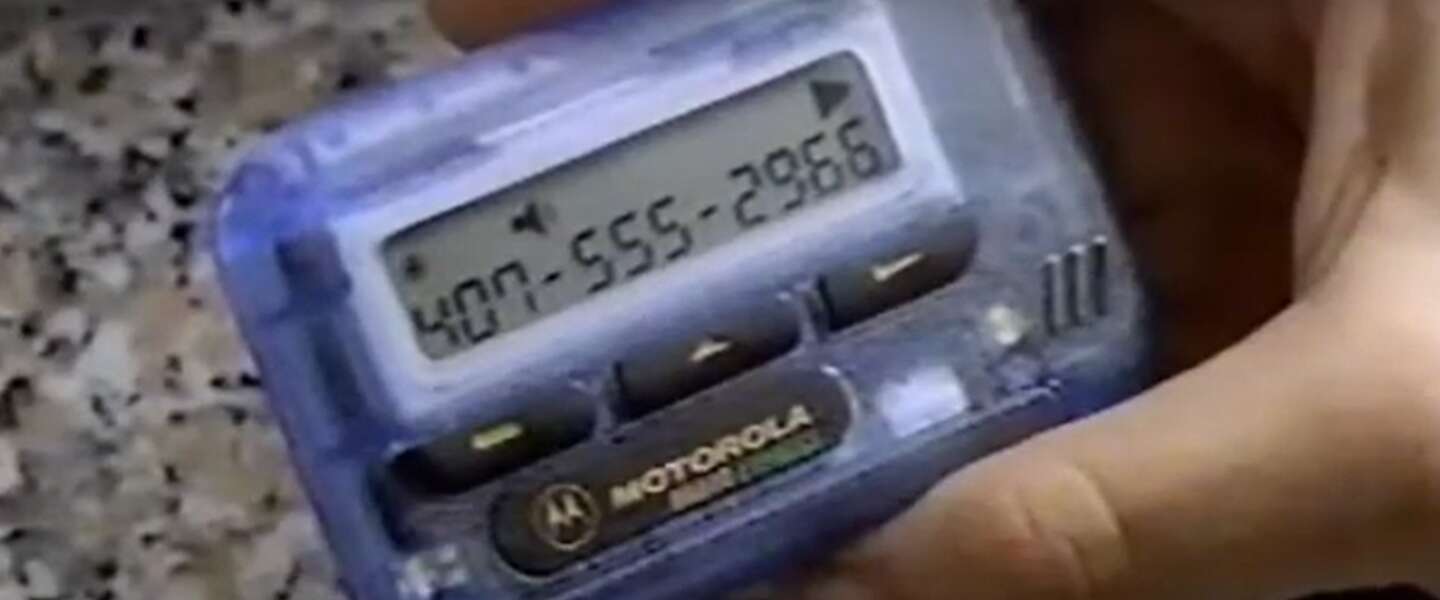 Did you have one, a pager? Or maybe you know it as a buzzer, beeper or pager. The device on which you could see a telephone number that you could then quickly call back, or on which you could even display a kind of text message, was widely used in the 1990s as a kind of hybrid between mobile and landline telephone. Today we step into the time machine and go back to that time of, "Oh, I'm being beeped."
Gadget for doctors
For those who are abracadabra about the world of pagers: the pager is a small rectangular device that has its own telephone number. People can text it or call it, and then you see that message or number on your pager and you know you have to call it back. It is mainly known by doctors who would look at their beeper: I have to call the assistant, who then needed them for an emergency operation, for example.
It was logical that pagers were chosen: they are reliable and simple, so everyone can understand them well. Moreover, they can use multiple networks, so if one network fails, there is a good chance that it can still work via another network and the message will still arrive. This is often not the case with mobile phones. They also often have better reach: they can also receive messages through concrete. Modern variants can even be used for voice messages as well.
Drive in a restaurant
The funny thing is that this technology is still used by you and me, but we are not aware of it because it comes in a slightly different guise: in restaurants you sometimes get one of those discs that vibrates and flashes when you eat. is done. It also works with the same technology as that good old pager. But even now they are still used by emergency services. For example, it is used by some emergency response organizations in large companies and by emergency services: you can use it to quickly alert each other or pass on a message such as the weather or a report from the 112 control room.
We mainly associate pagers with the 1990s, but that is not entirely justified. They were invented way back in 1921 by the Detroit Police Department. Now that was a slightly different version, because at that time it was used in cars via radio waves. The first telephone pager followed in 1949, which was used in the Jewish hospital in New York. It wasn't called a pager then. That wasn't until 1959, when Motorola came along. Ultimately, it was John Francis Mitchell who combined several elements of Motorola's walkie-talkie with radio technology to develop the first pager.
Pager network
In the Netherlands and Belgium specifically, we had a pager network in the 1960s that used four frequencies: 87.15 MHz, 87.20 MHz, 87.25 MHz and 87.30 MHz. Ultimately, Motorola would primarily be the court supplier of beepers: for forty years it would be the worldwide king of the beeper, including the Pageboy I. In the 1980s, as many as 3.2 million people worldwide had a beeper.
Later, variants followed with keyboards that worked in both directions, instead of only being able to receive. In 1994, there were already 61 million pagers in use. They were also very affordable by this time, which made it an even more attractive gadget. Until the mobile phone became increasingly popular, because for people who do not work for emergency services, that one telephone network is completely fine. And so the pager became a lot less popular, although they are still used today.
Nice detail: in Japan these devices are known as a 'pocket bell', a 'bell' for your pocket, so not such a funny name at all. Anyway, the four names we use for this device are enough. Of which the pager is probably a real favorite among many people.