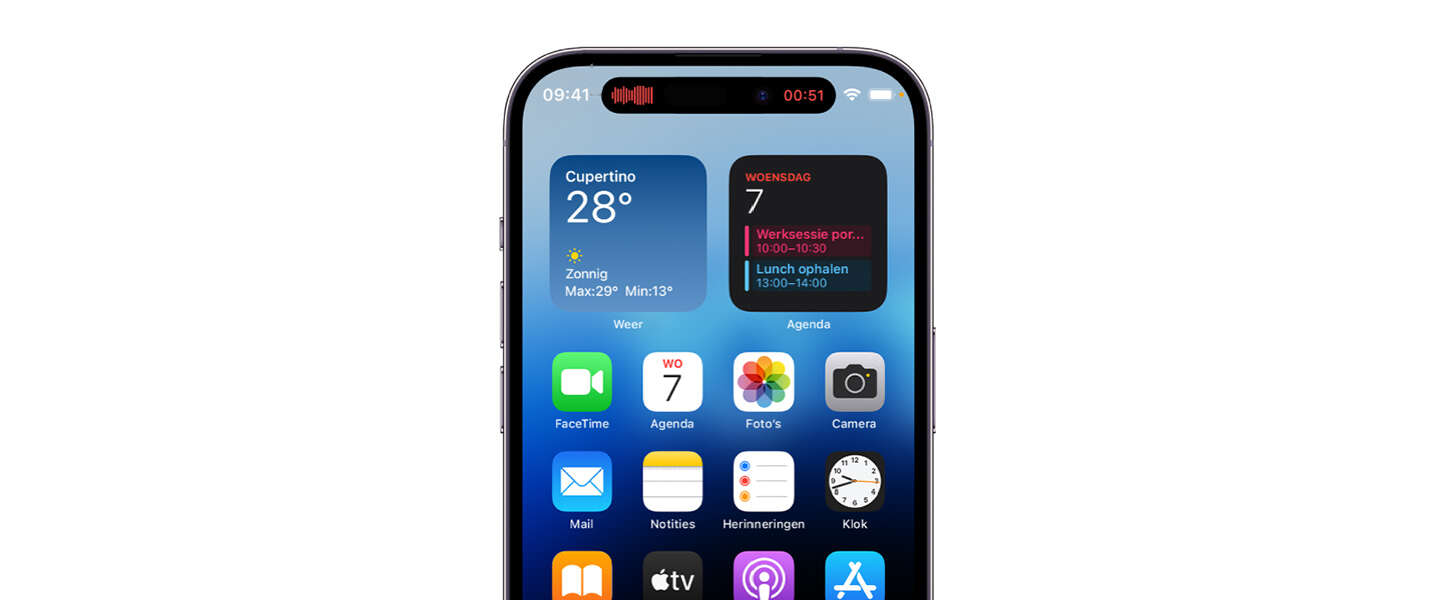 Apple introduced the Dynamic Island with the iPhone 14 Pro. No more static bar with icons and notifications, but a much more dynamic helper to give the multitude of notifications a little more control.
Dynamic Island
It's a smart invention and many Android users were a bit jealous of iPhone users. Until now, because Realme is now also introducing a similar island on its new device Realme C55, called the Mini Capsule. This is why we think all phone makers should.
You can watch live activities
Just see how long your timer takes, or which song is playing in Spotify: you can put it in the Dynamic Island. Two of those live activities fit side by side and you can go here for telephone calls, audio apps such as Tidal and Storytel, the kitchen timer and Apple Maps, among other things. But third-party apps, such as how far your Thuisbezorgd delivery person is or your Tinder conversations, are also an option to display via those live activities. That saves you opening an entire app again and it is also nice and quick to view.
You see notifications much more efficiently
Notifications on your phone are there to help you, but sometimes they can be really annoying. Thanks to the Dynamic Island, notifications are displayed slightly differently, making them less disturbing. Think of notifications about charging, connecting earbuds, turning on silent mode and your hotspot. The fact that it also includes a Pong game completes the dynamic island.
It looks modern
Such a dynamic island that moves in all kinds of directions: it looks modern. The Dynamic Island is an oval: it offers space for the selfie camera and FaceID. Around it follows a kind of menu in which you can see notifications, but you can drag them in all kinds of directions to get different options at your disposal. That is the dynamic part of the island and looks very modern.
If you have an Android device and would really like to have a dynamic island, you can lose your egg in the DynamicSpot app, which you can find in the Google Play Store. In this app you can completely set the Dynamic Island on your phone (after all, every phone has a slightly different selfie camera). But, of course, it's even better if something like that is baked into Android itself, as we once saw those notch capabilities come to Android when Apple introduced it.