In 'This is what the teams think…' F1Maximaal takes a look at the experience of the smaller teams in Formula 1: AlphaTauri, Alfa Romeo and Haas. Below you can read what the drivers of these smaller racing stables have to report to Formula1.com after qualifying in Suzuka, Japan.
AlphaTauri
AlphaTauri had a frustrating day in Las Vegas, especially because Yuki Tsunoda only finished twentieth. Daniel Ricciardo managed to reach Q2 and clock the fifteenth fastest time. 'I think as a team we are struggling to find grip on this low grip level and the new tarmac this week, which is shiny and publicly accessible during the day. We made quite big changes and made steps forward overnight, but in qualifying we couldn't do much more," said Ricciardo. 'I'm happy with the improvements we made that allowed me to get into Q2, because we're definitely having more difficulty with one-lap speed and really making the tires work. I am more optimistic for race day because I think we are stronger in the long runs."
Tsunoda was especially frustrated after his last run, which didn't give him a better starting spot. 'There's not much to say today. I feel like we didn't maximize our performance and could have done better, so it's a shame. I tried my best, but it didn't work. We know we have difficulty with top speed and expected it to be challenging this weekend," said the Japanese. 'We changed my set-up a bit, but I didn't have enough temperature in my tires for my last fast lap because there was traffic in the last sector, so I had no grip and locked up. The speed of the car is not bad, and you never know what can happen in the race because the grip is low on this track, so I will keep it clean and do my best to make up as many positions as possible.'
Text continues below the photo.
Alfa Romeo
Alfa Romeo managed to show good speed during qualifying in Las Vegas with Valtteri Bottas finishing eighth. Teammate Guanyu Zhou unfortunately finished eighteenth after heavy traffic in his final run in Q1. 'I'm really happy with our performance, it's a great result for us and it gives us a good chance to score some points during the race. It's a shame that Zhou struggled in Q1, otherwise we might have been up there with both cars; in any case we can be happy with our speed, especially because we couldn't really be sure of where we would be in this race," said Bottas. "We were able to find the right window to use our car, and we were able to get more performance in every segment of qualifying."
Zhou thinks that without the problems in Q1 he could easily have reached Q2. It's his job to make things right on Saturday evening. "Our pace was reasonable, and it could have allowed us to fight for a place in Q2 – a clear improvement on yesterday, as my weekend has been quite difficult so far," said the Chinese. 'Unfortunately I encountered some traffic on my last lap and was unable to improve my time when the track was at its best. Still, I felt like I was mixing with our main competitors, which gives us some hope for the race. It will certainly be challenging, starting from the ninth row, but we are keeping our options open: with a good start and an aggressive strategy we can hopefully make up some places."
Hare
Haas also had its affairs in order during qualifying and was therefore able to achieve a place in the top ten with Kevin Magnussen. "It's good to be up there in the mix, and I'm really happy about that. Regarding qualifying, we have been good before and dropped back on race day, so that is what we are trying to avoid on race day," confirms Magnussen. 'On Thursday and Friday there was a lot of graining with the tires so we will see how we manage that as that will be crucial for the race. We will do our best and see what we can do."
Nico Hülkenberg, who did not drive with the updates, qualified thirteenth. "I think we have the pace, and obviously we have it because Kevin is right up there. I could have done it too, but unfortunately I didn't have any good laps and I blocked in turn seven," says the German. 'I still feel like we have half a chance of a race or a fight here tomorrow. The cooler temperatures will hopefully help, so it's just a matter of graining, but I think all cars have similar problems. We expect graining, so the point is to avoid it as best as possible. No one has ever raced here, so there are some question marks and maybe we have a chance."
Text continues below the photo.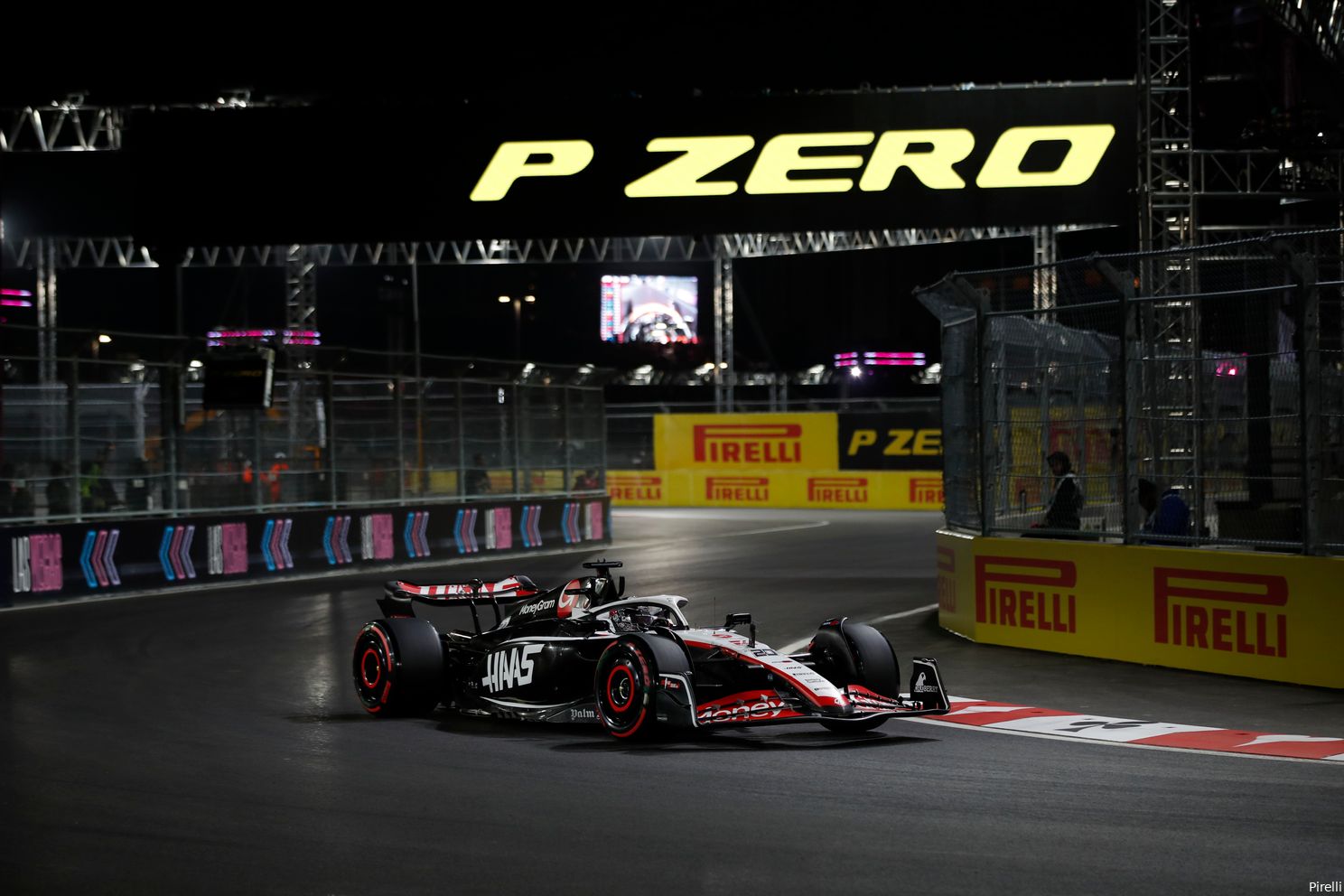 Aston Martin
At Aston Martin only one car advanced to Q3, that was Fernando Alonso. Lance Stroll had to settle for fourteenth place. Nevertheless, he does not give up, he still has to start from the pit lane. 'I felt quite good in the car today and was happy with my last lap, but I think we were a bit short of top speed in Q2. That can make the difference between being eliminated and progressing to Q3 when the field is so close," the Canadian explains. "The race will be difficult given my grid penalty, but our speed is good in the corners and I think we can manage our tires well. We will make the best of the situation and enjoy racing through the streets of Las Vegas."
Verstappen can take his eighteenth win of the season this weekend in Las Vegas. Also betting on F1? Via this link from JACKS you are eligible for 60 euros in free bets! If you play responsibly, you keep it fun. What does gambling cost you? Stop on time, 18+