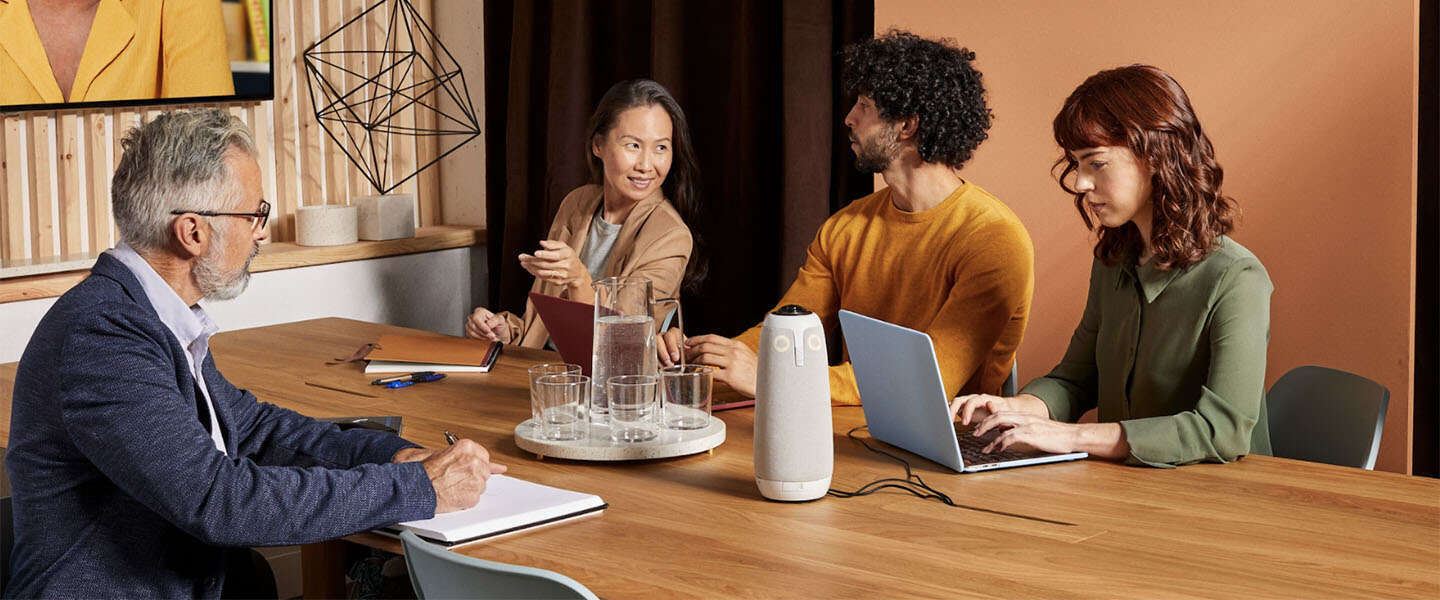 We now know how to set up a workplace yourself, but maybe you don't set up a meeting room every day. Where a meeting room used to be a table with a number of chairs, in 2023 a meeting room is much more. You need this to create a future-proof meeting room.
A television screen with camera and microphone
The most important element of a modern meeting room is a television screen with camera and microphone. Especially now that we work more hybridly, there are more people in the office and at home, which makes it convenient to communicate as a group at the office via one screen. After all, using your own laptop only creates noise and echoes on the line. Provide a nice flat screen that can stand against the wall and equip it with a camera and microphone. Preferably a camera that can rotate and zoom in on the person who is talking.
A table with cable flaps
Office furniture is of course necessary, because comfort is essential. A good, modern meeting table is equipped with cable flaps. These are holes with plastic sleeves to pull cables through. Think of the HDMI cable with which you can connect a laptop to the television. It looks just a bit more professional if your table is already equipped with such a solution for cables, instead of having a table where the cable just comes on the side (which is often a bit more dangerous in terms of falling and entangled touch).
Comfortable seats
Choose comfortable chairs, because that way people feel more comfortable while they have meetings. In addition, more meetings are held due to hybrid working and the chairs are probably used more than they would have been 5 years ago. Providing beautifully designed, comfortable chairs helps colleagues feel good.
A beautiful LED lamp
What helps with a pleasant feeling is when a room is light. You prefer to achieve this with large windows, but that is not possible in every room. LED technology has the advantage that it looks very natural and also requires little energy. Moreover, it is also available in smart lamps, so that you can use a separate dimmer or an app to set more specifically how the lighting should be. For example, if you want to use different colors of light for an event, this can be set if you buy the right LED lamps for this.
A green, large plant
Plants his life and many meeting rooms could use some life. For example, Monstera plants are currently very trendy and they are also quite large. A real eye-catcher for the meeting room, which could probably use some green anyway. Don't forget to give a splash of water now and then or, for example, to put in a smart plant sensor to measure the health of your plant and send you a notification on your phone when water is needed.
This way you have set up a lively, pleasant meeting room that is undoubtedly always occupied.