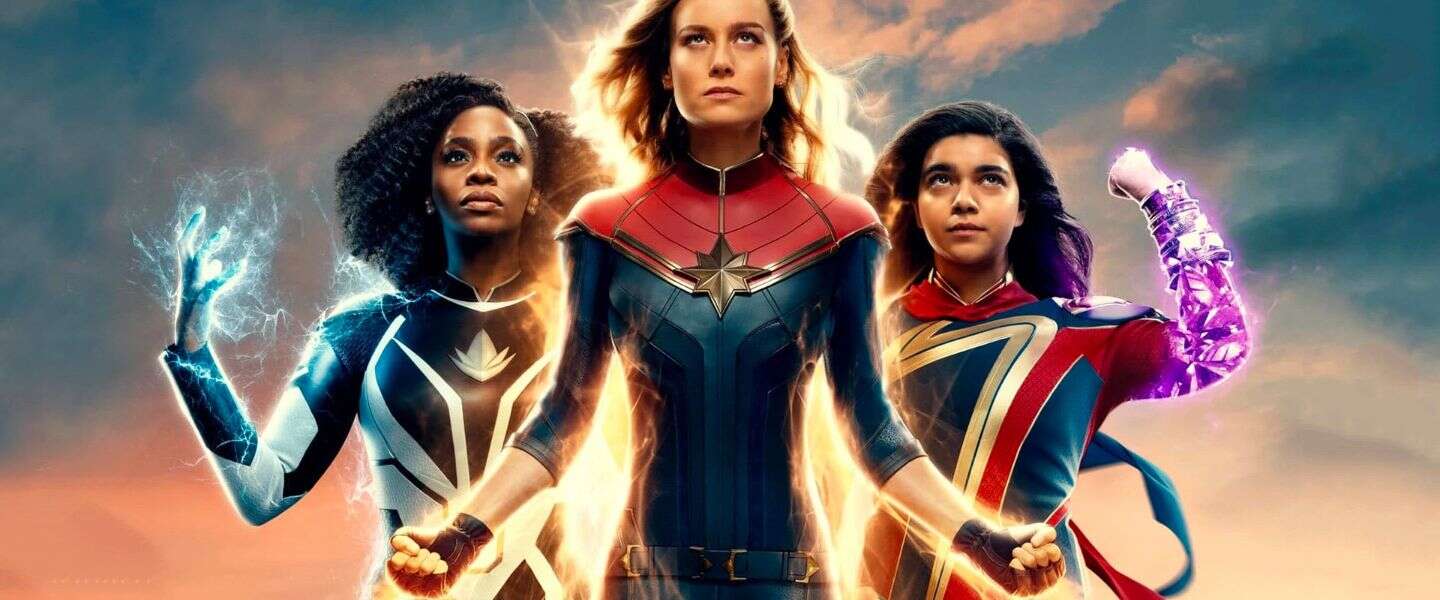 The Marvel Cinematic Universe has a new addition: The Marvels. It is a group of ladies who start fighting together after an energy shift has taken place. It is not entirely volunteer and in this film we see how Captain Marvel, Monica Rambeau and Ms. Marvel is dying to get things back in order. And things happen that make you think: "What the hell am I looking at now?"
A bizarre Marvel
Films in which you have that feeling can really only go two ways. Either you drop out because you think it's going a few bridges too far, or you decide to go along with it and enjoy it. You should definitely do the latter and it is made a bit easier for you because Marvel has already ensured that you know to expect the unexpected – and often bizarre. We saw that, for example, in Guardians of the Galaxy Vol 3 with that strange planet where the friends travel to to help Rocket. You will also have to switch off a bit and say: oh yes, this is Marvel, anything is possible.
The three ladies who together are called The Marvels also show this well, but the bizarre moments are limited to allow the film to tell more of a story. For example, what is the relationship between Captain Marvel and Monica Rambeau? What will a young lady like Kamala Khan do now that she can use her superpowers for a greater purpose? And how does she deal with the fact that she can now fight her big idol?
Tastes like more
To be fair, Ms. Marvel can get a little annoying at times. At the beginning her wonder is very cute, but at a certain point it becomes a bit annoying. Moreover, sometimes some information is missing from this film. Why does she decide to act so hyped for so long and why does that change? But also: why does her family find it so normal that the whole house is destroyed because their child is fighting some kind of alien battle? On the one hand, it is refreshing that there is not so much surprise about the child's superpowers, but on the other hand, the lack of surprise from the family, but also from The Marvels themselves about their new situation, is a bit strange. It just happens and no one is surprised.
However, this Captain Marvel sequel is a joy to watch: it has a good rhythm, a nice combination of action, emotion and bizarre events, and it is especially nice to see how Marvel has also presented this story quite perfectly. the MCU (Marvel Cinematic Universe) knows how to weave together. It is certainly a film that you must have seen the previous one to really enjoy it to the fullest. You can certainly follow it without it, but it will be a lot easier and more fun if you have seen the first big adventure of Carol Danvers' superhero life.
The Marvels
The big villain from The Marvels is a special one: Dar-Benn is once again a villain with whom you can sympathize. At first it seems like a villain just like all the others, just like the whole film is initially much more 'clunky' comic book before it goes into a little more depth. She is played by Zawe Ashton and she does a good job: just like the other stars in the film. Brie Larson does a fantastic job as always, but Teyonah Parris and Iman Vellani are also very suitable for their roles. They all know how to portray very different characters very clearly, which makes this film not feel homogeneous.
There could have been a bit more context. Not only in terms of 'why does this character come to this realization?', but The Marvels also simply leaves you wanting more. You want to know what the ladies think, how they feel, and that sometimes remains a bit superficial. The film is quite short: just over an hour and a half, so there could have been room for just that little bit more. At the same time, this was probably deliberately not done to protect the fine timing and rhythm of the film.
Now in cinemas
It has been frequently written that the film might flop and that would be a cardinal sin. It's great that Disney takes a slightly different approach and opts for a very feminine film that is also very enjoyable to watch. Is this the movie that will turn the entire MCU upside down? No, but more films haven't been like that. It is clearly a film that helps build up to something, and does so in a very charming and sometimes crazy way. Perhaps it goes too far for some, but perhaps they will have outgrown the MCU anyway (which is possible, after all, it has already become a large collection of films and series).
For the rest of the people: go to the cinema for another great Marvel story. The Marvels is a crazy adventure and comes with some fun surprises that even managed to entertain a room full of critics to such an extent that they occasionally laughed out loud. Is this the most essential movie to watch if you want to understand the Marvel Universe? Certainly not, but that's not what it was made for.
This film is above all one that plants all kinds of seeds for more and takes you into the entertainment that comes with Marvel. You can mistake that for superficiality: this film indeed leaves room for more in many areas and certainly could have been more. But you can also try to be patient: this is new for Marvel, this is yet another puzzle piece in the universe and fits perfectly with the enthusiasm that suits the beloved MCU.