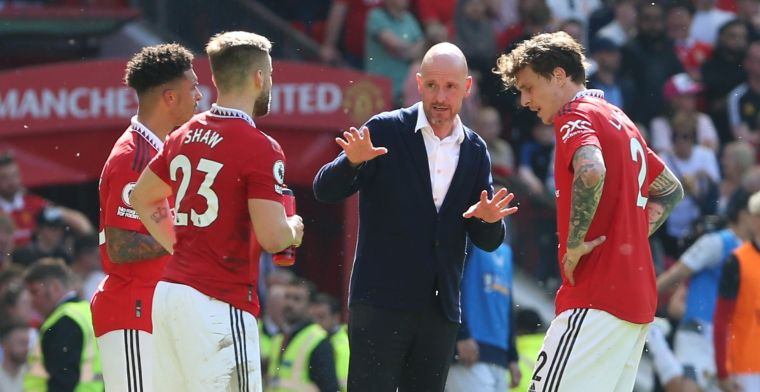 Erik ten Hag has no chance of winning the honorary title of Manager of the Year in the Premier League this season, and that goes down the wrong way with many Manchester United fans. The Dutchman managed to become Manager of the Month twice this season.
United fans cannot understand that Ten Hag is not included in the list of six candidates. The battle this season will be fought by Mikel Arteta (Arsenal), Roberto De Zerbi (Brighton & Hove Albion FC), Unai Emery (Aston Villa), Pep Guardiola (Manchester City), Eddie Howe (Newcastle United) and Marco Silva (Fulham ).
Ten Hag started the season disappointingly with two losses, but then got it on track at The Red Devils. United are still in the race for a Champions League ticket, battling with Newcastle United and Liverpool FC to see who ends up in the top four.
Erik Ten Hag isn't even nominated for the manager of the season award, disgrace

— UE 🇶🇦 (@UtdEra_) May 18, 2023
Ten Hag been playing golf this season then…
Took about worst United Prem Team in history
2 Domestic Cup Finals
Top 4
Weghorst his only fit striker for 3 months pic.twitter.com/wMCTgV1cB5

— Mark Goldbridge (@markgoldbridge) May 18, 2023
Still the best in his 1st season.
1 title and 1 more final to play. 👏🏻👏🏻👏🏻 pic.twitter.com/0kjF355wF6

— Total Ten Hag 🇳🇱 (@total10hag) May 18, 2023
Erik ten hag 100%, peps just done his job this season

— Jay Condron (@CQNJay) May 18, 2023
Where is Erik Ten Hag? pic.twitter.com/6uOqmDahIs

— Eric Njiru (@EricNjiiru) May 18, 2023
JACKS.NL welcome bonus: up to €60 Free Bets + 20% Profit Boosts!