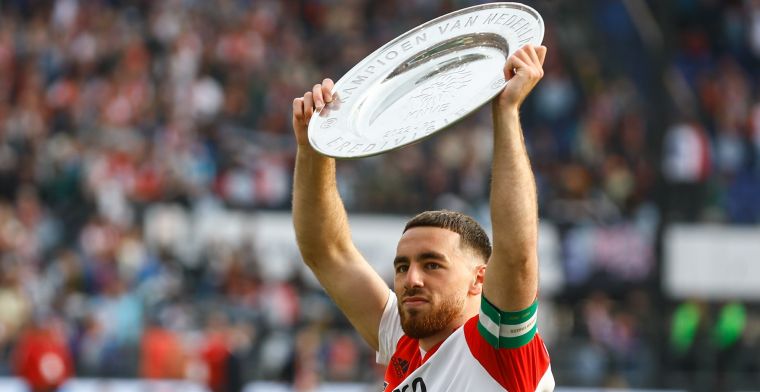 The final transfer fee that Feyenoord will collect for Orkun Kökcü seems to be higher than expected, according to De Telegraaf. The newspaper reports that the Feyenoord captain will be Benfica's most expensive player ever and that the move is 'almost' complete.
The Algemeen Dagblad already reported that a transfer from Kökcü to Portugal is almost complete. De Telegraaf endorses this. A delegation from Benfica has now traveled to the Netherlands to discuss the latest matters with Feyenoord. Reportedly, Feyenoord 'from the start has focused on an asking price of at least thirty million euros and such a large percentage of resale and bonuses that the final transfer fee can exceed 40 million euros'.
It seems that Feyenoord can eventually receive such an amount, says De Telegraaf. Kökcü will in any case become the most expensive Benfica player ever. Roger Schmidt wanted to bring the Turkish international to Lisbon and that now seems to be succeeding, despite the fact that other clubs were also in the market for the midfielder.
Kökcü can sign a five-year contract with Benfica. Feyenoord therefore receives a substantial resale percentage and Enzo Fernández already proved how lucrative that can be. River Plate initially received about eighteen million euros, but after his transfer to Chelsea, another thirty million was added.
Listen to the latest episode of #DoneDeal the podcast now!
City wins the CL: take 100x your stake!