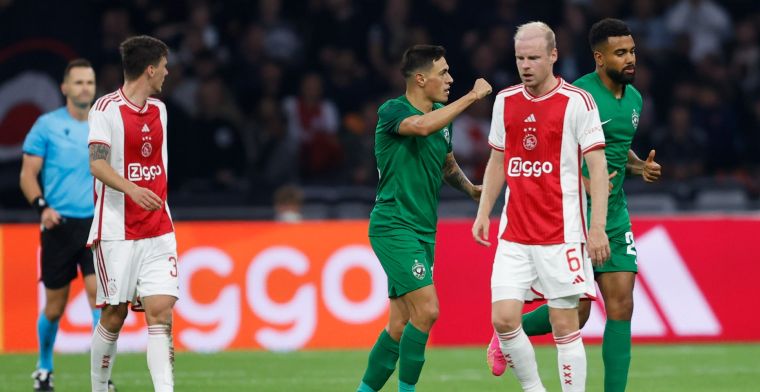 The morning newspapers give Ajax a good beating, after the team from Amsterdam lost painfully to Ludogorets (0-1) at home. The game hurt the eyes at times, leading to the conclusion that trainer Maurice Steijn still has to work hard with his team.
De Telegraaf speaks of 'an embarrassing defeat' for Ajax in its own Johan Cruijff Arena. 'The day before the meeting with the weak Bulgarians, Steijn not only revealed that he had a say in zero of the eleven purchases made by director of football affairs Sven Mislintat at the front, but he also said that he was also able to play the national championship with the selection provided to him. . Judging by the loose sand that it was Ajax without Mohammed Kudus in the duel with Ludogorets, PSV's flashy game against Rangers FC (5-1) and the strength of Feyenoord, the Hagenaar still has to do a lot of work to live up to those words. doing.'
Many purchases could not yet be made against Ludogorets, but De Telegraaf did not see the newcomers who were there making a good impression. 'It must worry him (Steijn, ed.) That the 'acquisitions' Jakov Medic, Branco van den Boomen, Benjamin Tahirovic and Carlos Forbs were the weakest links in the first company against Ludogorets.'
'However, it would be too short-sighted to write off those players already and to definitively not attribute any title chances to Ajax. But the fact is that Steijn can more or less start his preparation again, hoping that he will get through the game at Fortuna Sittard on Sunday unscathed', concludes De Telegraaf.
𝐀𝐢𝐢! Ludogorets comes to 0-1! 🤐
Will Ajax finally be shaken awake? 🤷 ♂️#ZiggoSport #UEL #AJALUD pic.twitter.com/SzQZx5vKeT

— Ziggo Sport Football (@ZS_Voetbal) August 31, 2023
'With disapproval to Europa League', headlines the Algemeen Dagblad. 'On the evening in which Feyenoord and PSV were linked to elite clubs, the team of trainer Maurice Steijn showed against Ludogorets that it was still far from that level. (…) Did Ajax adapt to the European relegation? No, this was worse. A match that was a bit reminiscent of an earlier home game in the Europa League this year, when Ajax also played predictably and at a low pace and achieved almost nothing. Even now the home team hardly created any good chances and no shot on goal.'
'Actually, only decor and atmosphere were of Champions League level beforehand. But the team fell so far through the lower limit in the ninety minutes that followed that it ended with lashing whistle concerts. Steijn looked at it with a shake of his head. With one small consolation, that he could not yet use the newly acquired trumps to step out of the shadow of Feyenoord and PSV again. Defender Josip Sutalo and attackers Chuba Akpom and Georges Mikautadze will be available from Sunday,' AD concludes.
Het Parool sees that Ajax will report in the Europa League 'with shame on its cheeks'. The newspaper is also surprised about the imminent arrival of Sivert Mannsverk. 'It's a remarkable purchase, another one. Mannsverk is a defensive midfielder. In that position, Ajax recently let twenty-year-old Kian Fitz-Jim leave for Excelsior on a rental basis. Another own youth player who is predicted a bright future as a controlling midfielder, Silvano Vos, was told by Steijn that he is still lacking in the competition with Branco van den Boomen and Benjamin Tahirovic, the duo who delivered a mediocre performance against Ludogorets on Thursday.'