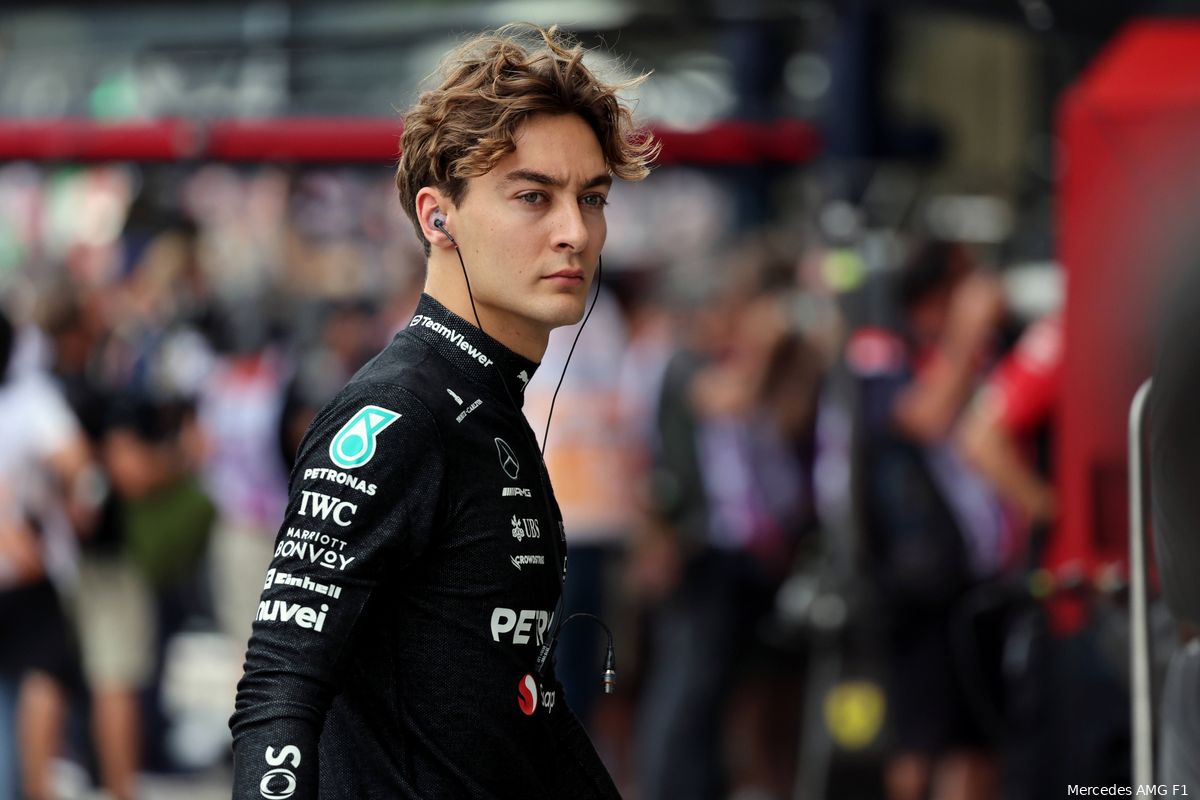 George Russell does not look back too optimistically on the course of his 2023 season. He thinks that he has become a better driver, but that his results do not reflect this well. Russell is also concerned about the Grand Prix in Las Vegas. The temperature of the tires and the dustiness of the circuit will not contribute to a good race, the Brit fears.
Russel's teammate Lewis Hamilton does not think his chances of taking second place in the drivers' championship from Sergio Pérez are high. However, the driver does not care whether he finishes second or third, and thinks it is more important that Mercedes had a good year and was able to compete for P2 in the constructors' championship. However, teammate Russell looks back on the 2023 season less optimistically. "To be honest, it's been a pretty bad year in terms of results," he said, according to Formel1.de.
'For many different reasons, but it probably starts with the disappointment after Melbourne. If everything had gone the way we wanted, we really could have won the race. And that could have changed everything. But sometimes you get stuck in a cycle of bad results.' Hamilton managed to finish second during the Australian Grand Prix, but ultimately had to leave the victory to Max Verstappen. Russell himself had to end the race early.
Russell dissatisfied with championship standings
Russell is also critical of his own results this year, especially because he feels he has improved as a driver. 'There are definitely areas I want to improve. But I've realized this year that I feel like I'm a better rider than last year, but the results don't match that. I need to understand why this winter.' Although Russell already has an initial idea why his total number of points for the championship is disappointing. 'We have had five retirements this year, one or maybe two of which were due to a driver error. That didn't help matters either.'
Russell has doubts about GP Las Vegas
In addition to looking back on the past season, Russell also looks ahead to the weekend in Las Vegas. The Brit is not too optimistic about that either, according to Motorsport-Total. "It certainly won't be a legendary circuit," he says. "It's designed to allow for good racing, but I'm not sure how good the racing will be."
Not only will the layout of the new circuit make a good race difficult, according to Russell, the Brit is also not looking forward to the low temperatures and the associated problems with warming up the tires. "It will be very difficult to find the perfect balance between qualifying and racing performance."
Because the race is held in the middle of the city of Las Vegas, the road surface cannot be closed all weekend, and the roads will reopen to the public at night. Russell thinks this will also add an extra layer of difficulty to the race itself. "The first laps in the first and third training sessions will be dusty and dirty," the Mercedes driver predicts. 'And in the race on Sunday, no one drove for 24 hours. You also have to take that into account.'
Verstappen can take his eighteenth win of the season this weekend in Las Vegas. Also betting on F1? Via this link from JACKS you are eligible for 60 euros in free bets! If you play responsibly, you keep it fun. What does gambling cost you? Stop on time, 18+