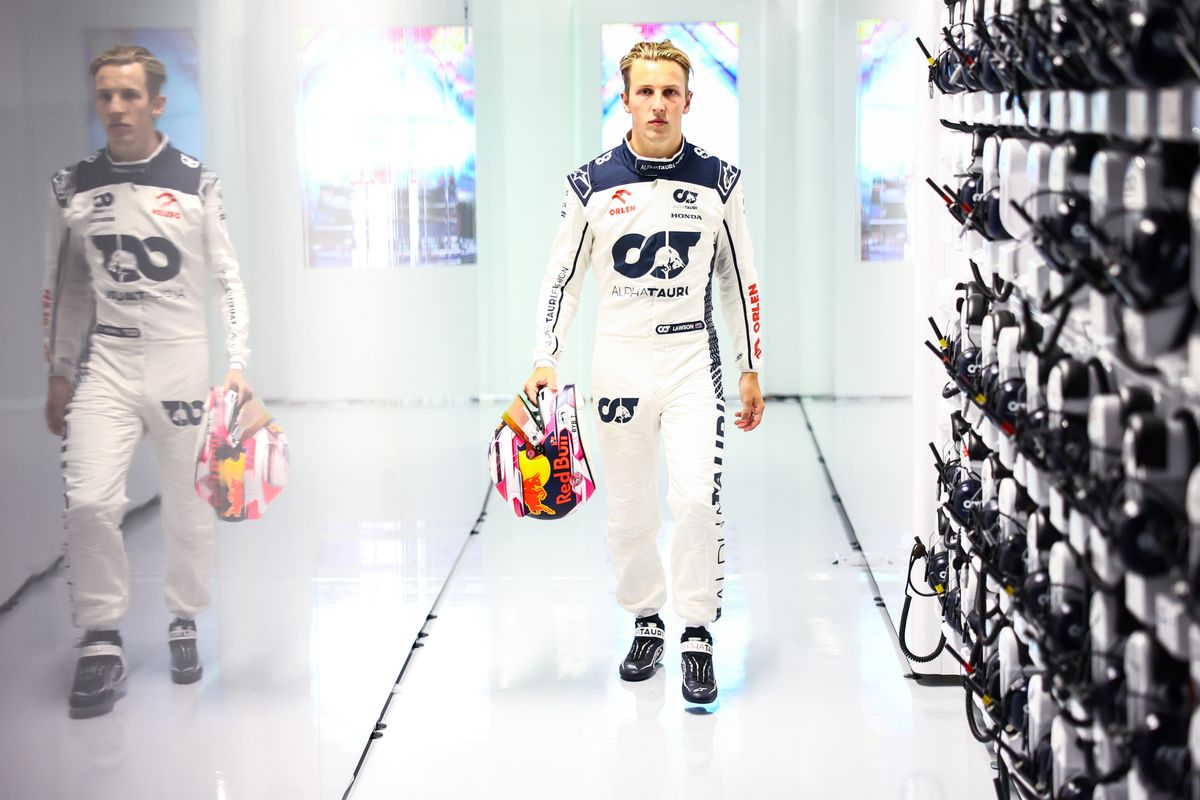 In Formula 1 there is a lot of speculation about transfers of team bosses and drivers. Young drivers also sometimes want to be put forward as potential replacements for drivers on the current grid. At the Rumor Circuit you can read all the latest suggestions regarding the future of Formula 1.
Thursday September 14:
'Lawson has a good chance of winning an AlphaTauri seat in 2024, Tsunoda as Red Bull reserve driver'
According to both Formu1a.uno and RACER, Liam Lawson has an excellent chance to drive for AlphaTauri next season alongside Daniel Ricciardo. Red Bull Racing still sees the Australian, who is currently recovering after suffering a complicated fracture in his hand, as a contender for the seat next to Max Verstappen, putting Yuki Tsunoda's place at risk. Lawson is rated highly by Red Bull and can secure his place within the sister team with even more good performances. RACER reports that Tsunoda can then work as a test and reserve driver at Red Bull, a role that was reserved for Alexander Albon in 2021, who was replaced by Sergio Pérez.
Sunday September 10:
'Williams has no plans to replace Sargeant'
Now that contracts are being extended left and right for various drivers, the silly season is slowly starting to gain steam. There were rumors that Logan Sargeant would no longer be on the grid next season, but according to Joe Saward that is nonsense. "Williams may not have announced it, but the team has no plans to replace Sargeant," the journalist writes in his blog. That is especially bad news for Mick Schumacher, who held out hope for a seat in Formula 1. The place at Sauber, which may become available if Zhou Guanyu leaves, seems to be the only option for the young German.
Tuesday September 6:
'Athens wants to convince F1 to come to Greece with a new street circuit'
Formula 1 may race in Greece in the future. According to Greece's News Auto, the representatives of motorsport's premier class saw the idea of ​​a street race and were impressed by what was presented. It would be a street circuit in the capital Athens. However, it remains to be seen whether a possible Grand Prix in Athens will fit into the Formula 1 calendar. This coming season, 24 races will be held and the sport will stick to that number for the time being.
Thursday August 31:
'Hamilton earns about as much as Verstappen with new deal'
According to Sky Sports reporter Craig Slater, salary talks were not a stumbling block before pen to paper was put to paper on Mercedes driver Lewis Hamilton's new contract. "Mercedes of course doesn't tell me anything about how much he gets paid, but a very well-informed source in the paddock has told me that his new contract will bring him closer to 50 million euros per year, including bonuses. This brings him close to what Max Verstappen is paid. Verstappen was the best-paid driver in Formula 1, but Lewis's new deal (Hamilton, ed.) puts him in the same region, and he is absolutely worth it.'
Tuesday August 29:
'Zhou's third season at Alfa Romeo is hanging by a thread, Pourchaire and Drugovich are mentioned'
Zhou Guanyu seems to have to put a third season in Formula 1 out of his mind, writes the Italian branch of Motorsport.com. The Chinese driver would like to know where his future lies, but Alfa Romeo has not yet provided him with an answer. The driver himself is already familiar with the premier class of motorsport, but it is also clear that Sauber is looking around for a driver next to Valtteri Bottas. Théo Pourchaire, the Sauber academy driver and Formula 2 championship leader, appears to be the leading candidate to replace Zhou. Yet Felipe Drugovich, Aston Martin's reserve driver, is also mentioned.
Saturday August 26:
'New, Zandvoort-like circuit in Jordan possible for Formula 1'
At the end of this year, Formula 1 architect Jarno Zaffelli will start construction of a new circuit in South Jordan, not far from the Israeli seaside resort of Eilat. The link with Jordan comes from Jackie Stewart, who is friends with the Jordanian royal family. They decided to build a circuit and asked Stewart's son for help, who in turn turned to Zaffelli to design a circuit. "He was impressed by the curves of Zandvoort and that is how they came to us," Zaffelli explains to NOS. The circuit could possibly host a Formula 1 race, but the Italian still wants to confirm whether there is a link with the premier class.
Sunday August 20:
'De Vries possible reserve driver for Red Bull and AlphaTauri in Mexico'
Nyck de Vries may serve as reserve driver for Red Bull Racing and AlphaTauri during the Grand Prix weekend in Mexico, sources tell RacingNews365. The Dutch driver's contract with Red Bull runs until the end of 2023, meaning the Austrian racing team can still call on the driver. Only if De Vries signs a contract with another team will Red Bull have to look for another option. Liam Lawson is likely to drive in Super Formula that weekend as the driver is locked in the title battle for the racing series.
Sunday August 13:
'Hamilton kindly declined a seat at Ferrari after Elkann's offer'
Leo Turrini, a renowned Italian journalist, has indicated in his blog that Lewis Hamilton was approached by John Elkann, but that the driver kindly declined for a seat at Ferrari. The Brit has not yet signed a new contract with Mercedes, which means there are plenty of rumors. Ferrari does not seem to be the next destination for the seven-time world champion. At Auto, Motor und Sport, Michael Schmidt could not deny that such an offer had come from Ferrari.
Tuesday August 8:
'F1 is considering abolishing DRS in qualifying, Red Bull would be hit hardest'
Auto, Motor und Sport has learned that Formula 1 may want to abolish DRS during qualifying. This means that the mechanism will still be used during the race, but that the wing will remain closed on Saturday (or Friday during a sprint race weekend). This could cause Red Bull Racing to lose a significant advantage. The Austrian racing team has a big advantage with the DRS wing open. Since the lead in qualifying is often not that big, the competition should be able to get even closer if the DRS wing stays close to everyone.
Monday August 7:
'Binotto accepts Alpine proposal and becomes Szafnauer's successor'
According to the French Autojournal, Mattia Binotto has accepted Alpine's proposal. The former Ferrari team boss was at Spa-Francorchamps last week during tire tests and spoke with the leaders of the French racing team. In addition to the fact that Binotto will carry the title of team boss, he may also have other responsibilities. The Italian engineer also has a lot of knowledge when it comes to power sources in Formula 1, an area where Renault has problems. The question remains when Binotto can start, as he is currently on gardening leave after leaving Ferrari.