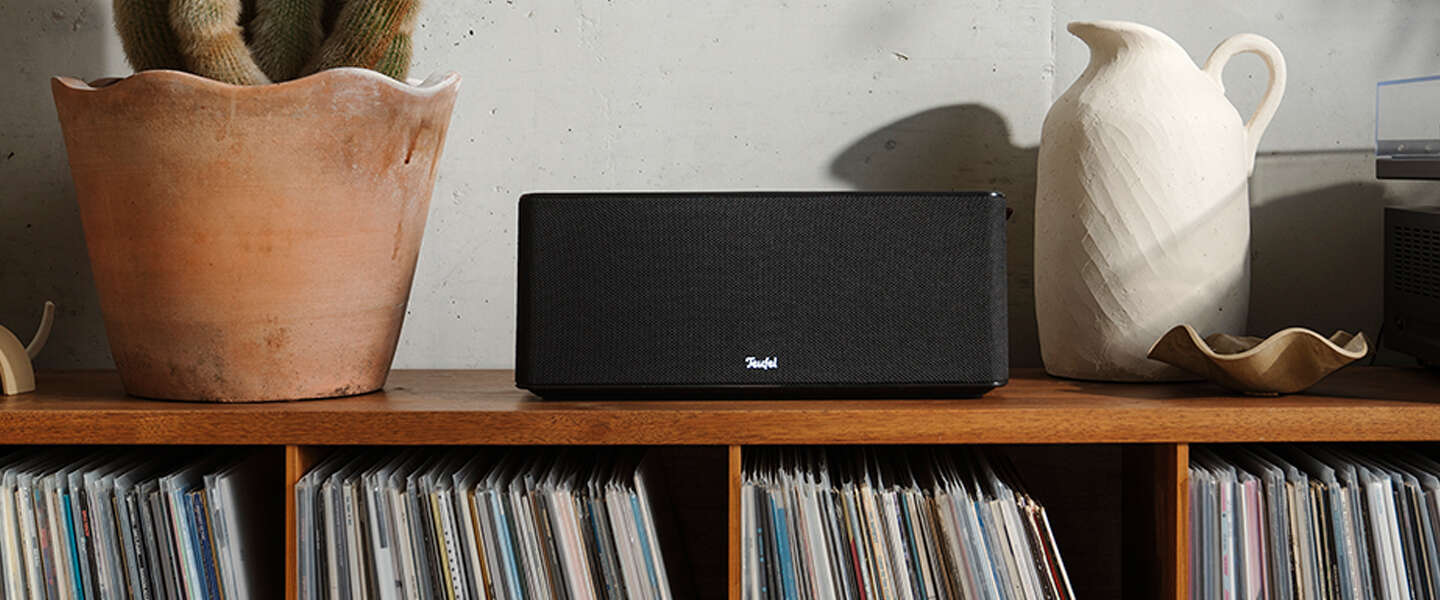 Teufel recently announced the launch of a new all-in-one streaming system: the Motiv Home. A speaker that supports all possible ways to play music or other audio. From Airplay 2 and Google Chromecast to Spotify Connect, Tidal Connect, an audio jack or a USB stick. And also simply via WiFi or Bluetooth. Thanks to the integrated battery, the speaker does not have to be near a socket or connected to it all day. Of course you have to charge it, but then it offers you 15 hours of listening pleasure in and around the house.
A sound that really stands out
The Motiv Home is a discreet but high-quality streaming speaker. But beneath that modest appearance lies a solo artist with an extremely powerful sound. The Motiv speaker has a volume that is slightly louder than the average wireless speaker. But above all a nice clean sound. Something that cannot always be described with words, but that sometimes you just have to hear for yourself.
The MOTIV HOME is a true modern all-rounder, which with Airplay 2, Spotify Connect, Chromecast, Bluetooth, high-quality battery and typical Teufel Sound is your ideal sound companion for indoors and outdoors!
– Rob Peters, Chief Revenue Officer at Teufel.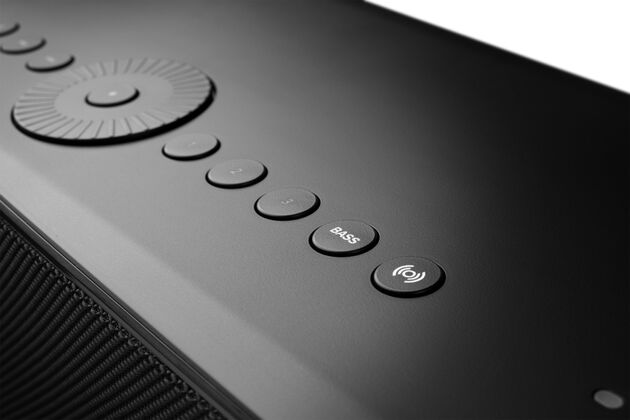 Everywhere in the house
The Motiv Home is therefore equipped with a high-capacity battery and can last at least 15 hours at average volume. The housing at the back has an integrated handle that makes it easy to move the speaker to another room.
Your own sound
There are a total of 4 broadband drivers within the Motiv Home that provide a dynamic, driving sound. There is also a 5-inch subwoofer at the front and two passive bass membranes at the rear. Together they provide ideal support for low frequencies. It is thanks to this combination that the speaker can produce a powerful and precise sound. Also the one developed by Teufel itself Dynamore technology for stereo widening is present. This can be switched on at the touch of a button or via the free Teufel Home app and produces a full, room-filling sound.
The push buttons and a volume knob make it possible to select audio sources, control the music and adjust the sound directly from the Motiv Home. Something that is of course also possible in the new app.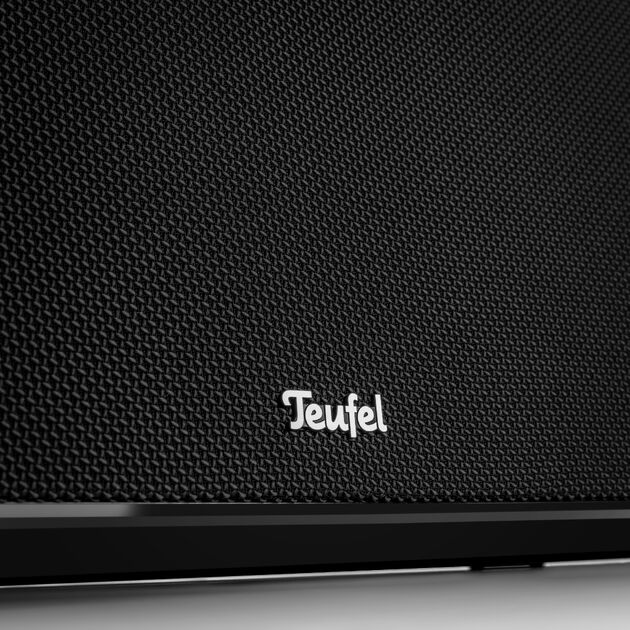 The new Teufel Home app
The new Teufel Home app (iOS & Android) makes it possible to completely configure the Motiv Home in no time and then easily operate it.
The speaker can be completely personalized with the extensive range of functions. Under settings you can choose, for example, the system sounds, brightness of the LED, a standby timer or the ECO mode. There are settings for adjusting the sound (treble and bass, Dynamore) and a function for programming the favorites buttons. In addition, there is a handy WiFi setup wizard, you can easily add new devices, select a device to play or check the battery status.
And it has an integrated TuneIn internet radio, which allows you to browse radio stations from all over the world and easily save your favorites. These can also be assigned to one of the three favorites buttons.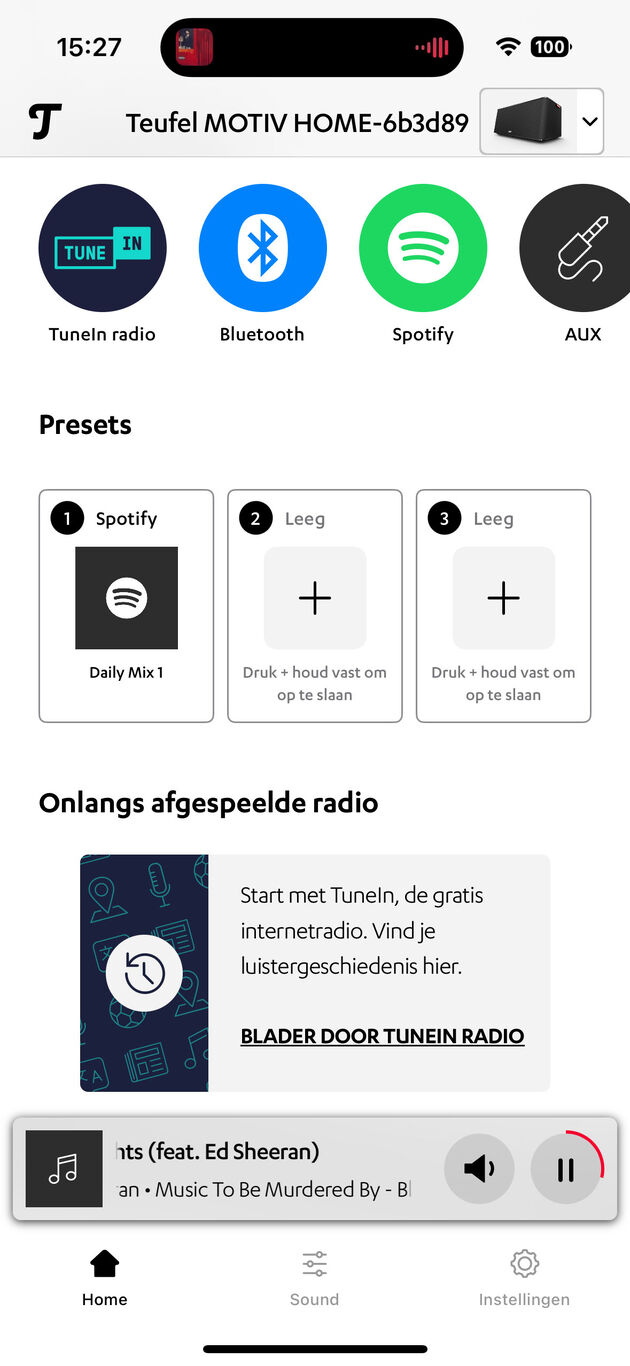 All specs
Just a quick overview of all the specs.
it is a portable all-in-one streaming system with battery and support for streaming via WiFi or Bluetooth.
wireless streaming: Apple Airplay 2, Chromecast, Spotify Connect, TIDAL Connect and internet radio via TuneIn.
Bluetooth with AAC and line-in for external sound carriers
powerful sound with two speakers at the front and two speakers on the side
front firing subwoofers and 2 passive bass membranes for a temperamental sound image, regardless of the installation location – against the wall or free in the room
Dynamore for stereo widening and room-filling sound
separately adjustable bass intensity
24-bit digital signal processor (DSP) and highly efficient Class D power amplifier
fast-charging, high-capacity lithium-ion battery for up to 15 hours of operation at medium volume
easily portable thanks to a built-in handle and always ready to play music, perfect for the garden, balcony and terrace
illuminated controls, three freely adjustable favorites buttons, a volume knob and LED display with status display on the front
immediately available in black and white for a price of 549.99 euros via teufelaudio.nl.
Ready for a new speaker? You can test listen to it at Teufel for 8 weeks. In our opinion, this is definitely recommended.