In 2021, Red Bull Racing missed out on the constructors' title, while Max Verstappen won the drivers' title. A year later, however, Red Bull prevailed after a false start, and this year the titles are also a formality. The first title party could be celebrated in Singapore this weekend, although that would require an extreme scenario. Verstappen can get his first chance in Japan.
Red Bull won all fourteen Grands Prix in 2023 and was only defeated in Brazil in the last 25 meetings, by George Russell's Mercedes. Behind Red Bull it is completely open. For example, Fernando Alonso has already been best of the rest six times, but Aston Martin has dropped to fourth place in the championship thanks to Lance Stroll's poor performance. With Lewis Hamilton, Mercedes was the strongest behind Red Bull twice, in Australia and Spain, while Russell did not achieve this once. Lando Norris ensured that McLaren was best of the rest in Silverstone and Budapest, while Charles Leclerc achieved this in Azerbaijan, Austria, and Belgium. Carlos Sainz did this for the first time in Monza. The unpredictability behind Red Bull has ensured that the team has a sky-high lead of no less than 310 points. In fact, this is the largest lead ever in the Constructors' Championship.
Despite the fact that there are still eight Grands Prix and three sprint races to be held, Red Bull has its first chance to secure the title on Sunday thanks to the unpredictability in the sub-top. However, that chance is extremely small. Table 1 shows the points lead that Red Bull needs after each race to be sure of the championship, so Red Bull is now 310 points ahead of Mercedes.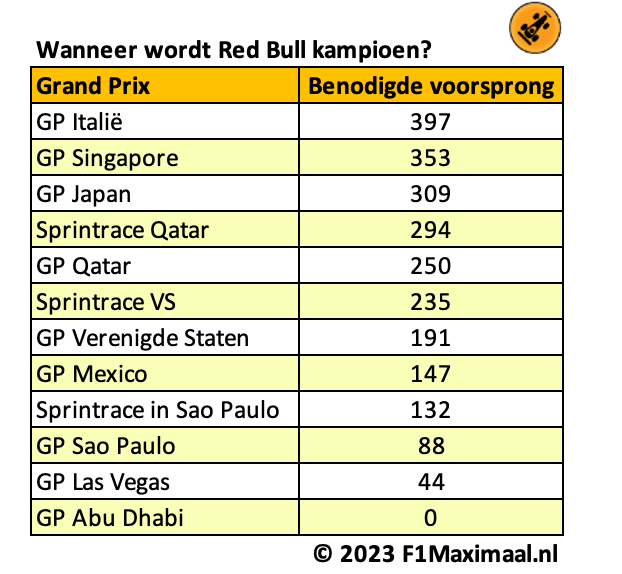 How does Red Bull become champion in Singapore?
The lead of 310 points is definitely not enough for the title, because Red Bull would have already been 397 points ahead of the competition. Since Mercedes, Ferrari, and Aston Martin are all less than those 397 points behind, each of these three teams still has a theoretical chance. In Singapore, however, there are again 44 points to be awarded: 25 for victory, eighteen for second place, and one for the fastest lap. After the Grand Prix on the Asian circuit, there are only 353 points left to distribute. Ferrari (355) and Aston Martin (366) are further behind, and therefore have to make up points to keep their theoretical title chance alive.
However, it will be more difficult to eliminate Mercedes. The German team's deficit must then increase to at least 353 points, with Mercedes at most able to reach the same level. In that case, Red Bull always has more wins. Red Bull must therefore lead Mercedes by 43 or 44 points in Singapore to become champion. This only works in the following scenarios, where it becomes clear that Red Bull needs a dream weekend and Mercedes a drama weekend:
Red Bull takes a one-two, plus the fastest lap (44 points), and Mercedes takes at most one point with tenth place.
Red Bull takes a one-two (43 points), and Mercedes remains scoreless. The fastest lap for Red Bull is then not required
Title party in Japan is looming
Red Bull team advisor Helmut Marko has already indicated that he hopes that Verstappen will be crowned world champion in Japan, in front of the fanatic fans, and in Honda's home country. However, it seems more likely that Red Bull will be allowed to celebrate there as a team. In 2022, Verstappen became champion before his team could say the same, but this season the roles have been reversed. If Mercedes wants to ensure that Red Bull is not yet champion after the Japanese Grand Prix, it must ensure that it catches up at least two points in the next two weekends. However, no team has managed to get more points in one weekend than Red Bull this year, so it seems very unlikely that this will happen over two weekends. It is therefore very likely that Red Bull will become champion in Japan.
When will Verstappen be sure of the title?
For Verstappen the scenario is slightly more complicated for the time being. The Dutchman is now 145 points ahead of Sergio Pérez, while there are still 232 points to be distributed. This means that Carlos Sainz (247 points behind), Charles Leclerc (253 points behind), and George Russell (255 points behind) are already eliminated, while in addition to Pérez, Fernando Alonso (194 points behind), and Lewis Hamilton (200 points behind). ) still have a theoretical chance.
As shown in Table 2, Verstappen can only extend his lead over Pérez in Singapore to a maximum of 171 points, and with 206 points still to be divided, the title is not yet feasible. It is possible that Alonso and Hamilton will already be eliminated, which means that Red Bull can be sure that one of its two drivers will take the title. The first theoretical chance for Verstappen to become champion is in Japan, but then Verstappen will have to lead Pérez by at least 35 points in two weekends. Even if Verstappen takes the maximum score twice, Pérez can postpone the title party with seventeen points over two weekends.
A title for Verstappen in Japan therefore only seems to be a serious option if Pérez drops out. In the most dramatic case, in which Verstappen no longer scores at all, and Pérez scores maximum everywhere, Pérez can only take the lead in his own country by one point. Even if Verstappen does not participate for the time being, he will hold on to the championship lead for a while.

Where will Verstappen become champion?
For a title in Japan, Verstappen needs Pérez's cooperation, but it seems that the Dutchman can win his third title in Qatar. We have used three scenarios for this. In Scenario 1, Verstappen always wins with Pérez in second place, which would mean he would be ahead by seven points per Grand Prix, plus one point per sprint race. In this scenario, Verstappen will become champion on Sunday in Qatar, with a lead of 167 points, while there are only 146 points left to distribute.
In Scenario 2, Verstappen runs faster: the Dutchman wins ten points per Grand Prix, and two per sprint race, in other words, Verstappen is predicted as the winner and Pérez as number three in the races. In this case, the Dutchman is still five points short after the sprint race in Qatar to be assured of the title, and so Verstappen would still become champion on Sunday in Qatar.
Verstappen first champion after sprint race?
Scenario three, however, is based on the last ten Grand Prix weekends, in which Verstappen scored 139 points more than his teammate. That amounts to about thirteen points per Grand Prix and four per sprint race. If this trend continues in the coming races, Verstappen will become champion a day earlier, after the sprint race. The lead would then have increased to 175 points, with 172 points still to be distributed. In this case, Verstappen not only receives a victor's lap, but an entire championship race on Sunday.
What if Verstappen didn't score anymore?
In the theoretical case that Verstappen would no longer play in the last eight weekends, he would still be the favorite for the title, based on the last ten weekends. With a lead of 145 points, Pérez needs to score more than eighteen points per weekend to overtake the Dutchman and that does not seem feasible based on the past.
In the last ten weekends, Pérez only managed 142 points in ten Grands Prix and two sprint races. If Verstappen were to disappear, he would always be promoted one spot. In Verstappen's absence, he had collected 170 points in those ten weekends, taking over the fastest laps in Spain and Austria. That yields 172 points over ten weekends. Over eight weekends that would be just under 138 points, not enough to make up for his deficit of 145 points. Conclusions? Verstappen could even go on holiday, or help AlphaTauri gain some places.