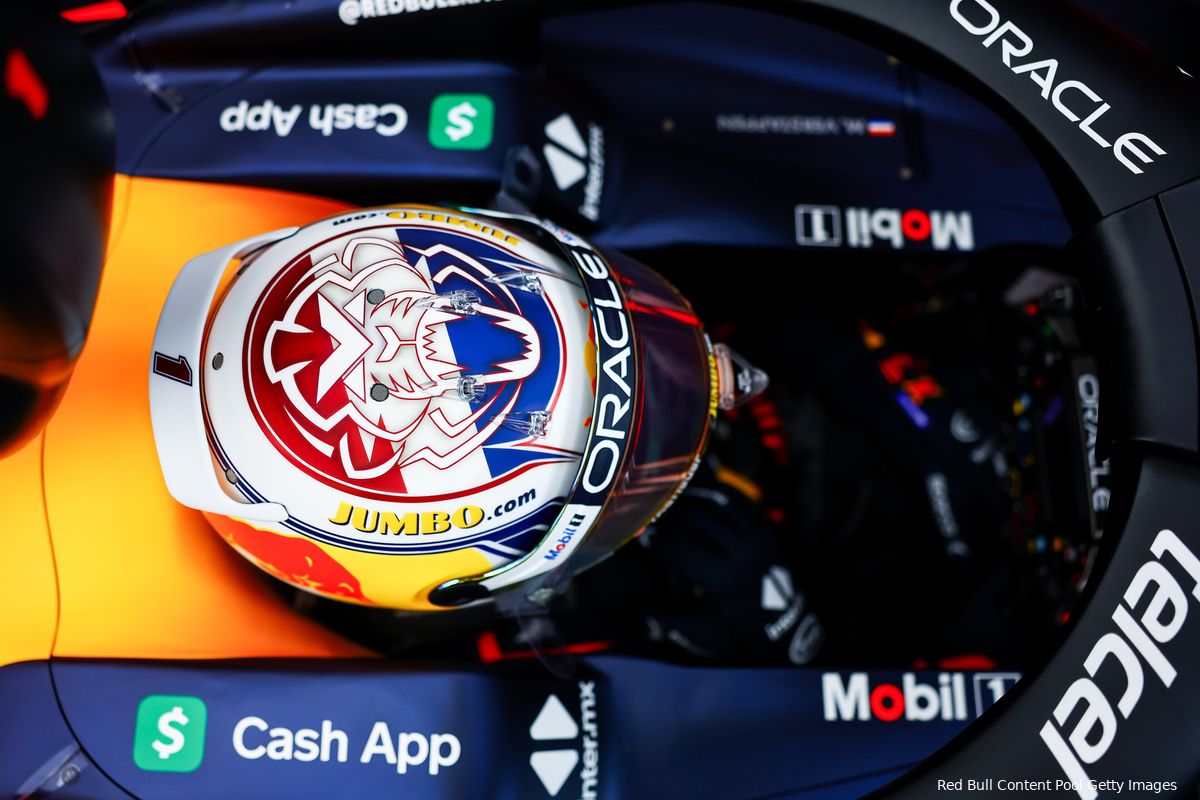 This season, Red Bull Racing has achieved unprecedented form. The Austrian team won fourteen of the fourteen Grands Prix, and in the last 25 meetings only George Russell managed to interrupt Red Bull's streak with Mercedes. Max Verstappen won 21 of those 25 Grands Prix, and set the longest winning streak in Monza with his ten victories. How does Verstappen's dominance compare to the other greats in the sport? F1Maximaal went to investigate.
At the start of the season we looked at the same issue, and it turned out that Verstappen's results were just not able to match the series of Michael Schumacher and Lewis Hamilton. This was mainly due to the fact that Verstappen had not been dominant for as long as the two seven-time world champions were in the past. We are now eleven Grands Prix further, and Verstappen has been able to add a second place in Azerbaijan and subsequently ten victories to his CV. So it's high time to study the statistics more closely again.
With these statistics we look at the six drivers with the most victories in Formula 1: Hamilton, Schumacher, Sebastian Vettel, Alain Prost, Verstappen, and Ayrton Senna. Of course, four of these drivers have already ended their careers, while Hamilton can theoretically still sharpen his most dominant series. Given Verstappen's current level of form, it is very likely that the Dutchman can improve his figures even further.
New rules hold Verstappen back in qualifying statistics
A lot has been said in recent weeks about the longest winning streak, but almost as impressive is the run of eight consecutive pole positions that Senna achieved with McLaren in 1988 and 1989. As shown in Table 1, the Brazilian legend stands out above the other greats in the qualifying statistics. To explain the figures: the column '10' indicates the minimum number of weekends the drivers needed to take ten pole positions. Senna, Hamilton and Prost managed to take ten pole positions in a series of eleven consecutive weekends. Verstappen needed at least fifteen weekends to collect ten pole positions.
The 'best series' shows that Senna managed to achieve the longest series with eight consecutive pole positions, while Hamilton started at the front most often with 104 pole positions. Like Senna, Vettel did better in qualifying than in the races, while Schumacher, Prost, and Verstappen did significantly better on Sundays than on Saturdays.

Verstappen is still at the bottom in terms of pole positions, and is the only one who has not yet achieved thirty pole positions in his career. He achieved his series of 15, 20 and 25 pole positions faster than Prost, but the figures of the other four remain out of reach for the time being. Two factors play a major role in this: firstly, Red Bull Racing clearly focuses on Sundays and the team can live with it if someone else is faster on Saturdays.
In addition, teams are now limited to a maximum number of engine parts and gearboxes. This means that a grid penalty is regularly taken. For example, just like last year, Verstappen was by far the fastest in Belgium, but a grid penalty meant that Ferrari drivers Carlos Sainz and Charles Leclerc took over the pole positions in the official statistics. Due to these types of rules, it will always be more difficult for Verstappen to match the series of the past.
Verstappen almost always on the podium
The figures suddenly look very different when looking at Sundays, as shown in Table 2. Of the six greats, Schumacher, Hamilton, Verstappen and Vettel all managed to finish in the top three at least ten times in a row, while the former three even did so at least fifteen times in a row. Verstappen achieved that statistic with his victory in Monza, and thus approaches the series of Schumacher, who finished on the podium at the end of 2001 and throughout the 2002 season.
Verstappen's bold and underlined numbers show that the Dutchman is currently on the best run of his career. So if he continues to finish on the podium in the coming races, he will be able to improve on the identical statistics of Schumacher and Hamilton. He can also extend Schumacher's longest podium streak with five additional podium finishes. The Dutchman finished on the podium thirty times in his last 33 Grands Prix. Only in Great Britain 2022 (seventh), Singapore (seventh), and Brazil (sixth) did this fail. It is striking how similar the statistics of Schumacher, Hamilton and Verstappen are here.

Behind the three drivers who excel in this, we find Vettel and Prost with very similar figures. However, Senna's decline is enormous from Saturdays to Sundays: while he achieved figures in the qualifications that could not be approached by any of the other top players, he is clearly at the bottom in terms of consistency on Sundays.
Verstappen rarely finishes third
While Verstappen takes one podium after another, it is even more impressive that he almost always does this as number one or number two. In the last sixty Grands Prix, Verstappen has won no fewer than 38 times, but he only finished third once: in Monaco last year, after teammate Sergio Pérez's controversial crash in qualifying. Since Abu Dhabi 2022, the Limburger has won thirteen races and finished second in Saudi Arabia and Azerbaijan. The only other driver to finish first or second fifteen times in a row is Michael Schumacher.
The German achieved this in 2002, when he finished on the podium in every race. Schumacher won 'only' ten races in this series of fifteen Grands Prix, and therefore finished second five times. It is Schumacher and Verstappen who emerge in Table 3. Should Verstappen also finish first or second in Singapore, he will also hold the record for the most consecutive finishes in the top two. For the time being, he still has to tolerate Schumacher in terms of averages, because the record champion only needed 34 Grands Prix in 2001-2002 to finish in the top two 30 times. However, if Verstappen finishes in the top two in Singapore and Japan, he will take over the lead, as he will then extend his streak of 25 and 30 finishes in the top two to 27 and 34 Grands Prix respectively.

Hamilton scores less well here. Despite years of dominance, the Briton did not manage to finish in the top two with his Mercedes as often as Schumacher and Verstappen. This is extra striking when you consider that he was not classified in his last 141 Grands Prix, only in Austria 2018 due to technical problems. Hamilton has experienced less technical failure in his career than the others, and therefore had every chance to set these kinds of records.
As with the podium places, it is Senna who scores the worst here. He of course also drove fewer races than the others, but was not as consistent in his McLaren years as, for example, Prost was at McLaren and Ferrari. Vettel was quite dominant in 2011 and 2013, but the same cannot be said for 2010 and 2012, his other championship years, and so it is not surprising that his longer runs are not as good as those of Schumacher, Verstappen, or Hamilton. In addition, the Renault power source in the back of the Red Bull regularly broke down in those years.
Verstappen's winning streak is unparalleled
Finally, we only look at the victories in the Grands Prix. It will be known that Verstappen set the longest winning streak in Italy last week with his tenth victory in a row. Yet it is not just this season that Verstappen's dominance on Sundays is clearly more extreme than that of the other five greats. The Dutchman also managed to achieve a series of 15, 20, 25 or 30 victories in the shortest period of time.
As the bold and underlined numbers show, Verstappen is currently on his best run ever. Verstappen needed 42 Grands Prix for his thirty victories. This includes the final phase of 2021 and the beginning of 2022. In the closing stages of 2021, the Mercedes was clearly stronger, and so Verstappen finished behind Hamilton in Brazil, Qatar, and Saudi Arabia. In the first three races of 2022, Verstappen dropped out twice with problems, meaning Verstappen only won twice in a series of seven races, so if Verstappen maintains this form for the rest of the season, a number of figures will be significantly tightened.

Schumacher was always the boss of his teammates during his Ferrari years, and that ensured that he also finished just above Hamilton. The Briton only managed to win five races in a row twice in his career, and needed thirteen Grands Prix to win ten, clearly more than Verstappen, Schumacher or Vettel. Prost was above all very consistent, but never had a dominant car for years, and at that time also Senna as a teammate, so his statistics here are dwarfed by the competitors.