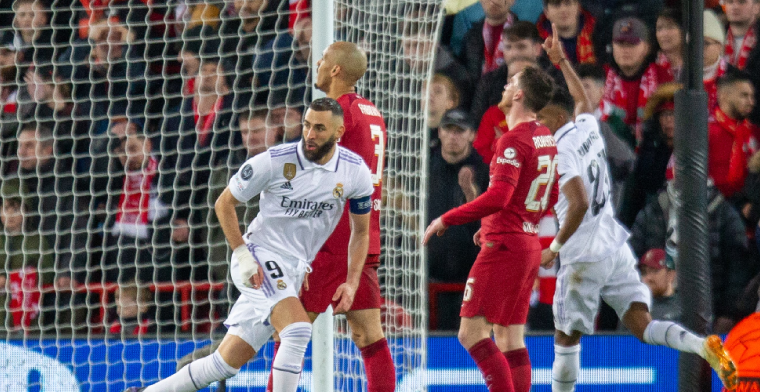 It must be strange if Real Madrid does not qualify for the quarter-finals of the Champions League in three weeks. It gave Liverpool an unprecedented European defeat at Anfield: 2-5.
Liverpool were armed to the teeth at Anfield. In the first place because hundreds of supporters had given their team maximum support on the way to the stadium, but also because the magical Anfield in the Champions League context is an almost impregnable location for other top teams.
And it started so well for Liverpool, who started with Cody Gakpo in the starting line-up. Anfield exploded when Darwin Nuñez scored with a heel after just three minutes and Thibaut Courtois made an unprecedented blunder, allowing Mohamed Salah to double the score. Both teams had to switch to turbo gear from the first minute and did not switch back. The quick 2-1 by Vinicius Jr. brought Real Madrid right back into the game and set the tone for the remainder. Liverpool failed to make it 3-1 and 4-1.
Not only Courtois blundered, Alisson Becker also committed quite a heretic on the other side. An apparently simple back pass was shot against Vinícius, which suddenly put Real Madrid back on level terms. The goals against were partly due to the defensive vulnerability, because if Real Madrid turned it on a bit, The Reds would have a hard time.
Despite the chances for Liverpool, Real Madrid could draw the most confidence from Vinicius' double. The home team completely collapsed after the break and that was partly due to the experienced hands and regularly written off Luka Modric and Karim Benzema. After a hard free kick from the Croatian, Eder Militao headed in the 2-3 after the break and the comeback was complete.
Just the third time in 70 years #LFC have conceded five goals at Anfield and the first time they've conceded 4+ goals in a home European game.😬 pic.twitter.com/Tkg10eRrKh

— Ben Jacobs (@JacobsBen) February 21, 2023
As predicted by many, the night turned out to be magical and not to be forgotten, but not for Liverpool. Defensive mistakes quickly led Real Madrid to 2-4 and 2-5, adding an extra dimension to Liverpool's downfall. For the first time since the duel with Ajax in 1966, the home team conceded five goals in a European context.
With the necessary desperation, Liverpool tried to make the defeat a little more bearable, so that it may still have a chance in three weeks at the Bernabeu, but no more goals were scored.
PSV scores against Sevilla: up to 100x your investment at Jack's!