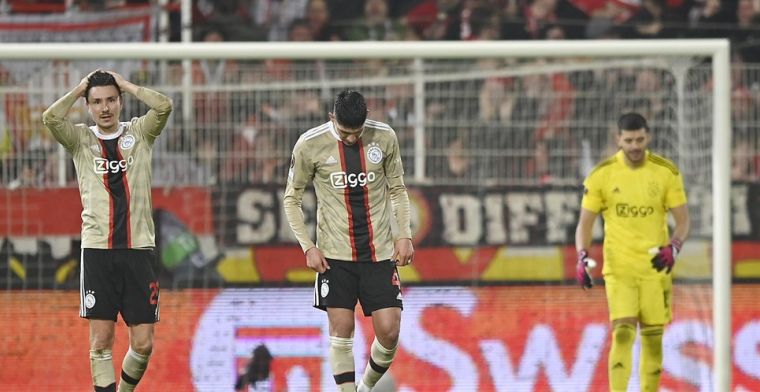 The Europa League adventure is already over for Ajax. The team from Amsterdam lost 3-1 at Union Berlin without a chance on Thursday. VoetbalPrimeur hands out report marks to the Ajax players.
Gerónimo Rulli – 4: He almost had the penalty, but due to a capital blunder by Rulli, Ajax was faced with an almost impossible task halfway through. Doekhi's header was hard and therefore difficult to stop.
Devyne Rensch – 4.5: Rensch was once fooled defensively and the build-up remains a point of attention. He himself also came into a promising position once, but the peace and overview were missing.
Jurriën Timber – 5: Timber dribbled in a number of times, forcing Union Berlin to make choices. In the build-up he often skipped Rensch. At 3-1 he was trumped in the air by Doekhi, who is a head taller.
Calvin Bassey – 5: The handball and subsequent penalty were particularly unfortunate. However, Bassey also had his hands full with Sheraldo Becker and sometimes looked a bit awkward. In addition, he could have paid more attention to Bergwijn's (sparing) runs.
Edson Álvarez – 6: The Mexican ball packer actually always scores a sufficient. Of course he has his limitations, but it is now clear at Ajax what they can and cannot do with Álvarez.
Steven Berghuis – 5: Berghuis is expected to provide the creative ideas, but he did not succeed enough. The playmaker was initially busy with the linesman and he acted too slowly on the ball.
Davy Klaassen – 5.5: Klaassen is often accused of being invisible, and not unjustly, but he was playable for Tadic. With a bit more luck he would have been awarded a penalty and he was also involved in Kudus' huge chance after one hour.
Kenneth Taylor – 4.5: Taylor tried to put energy and venom into the duel. That worked out nicely at first, but the young midfielder sank far away. He struggled at this level and only played wide.
Mohammed Kudus – 5: He was awkwardly offside a few times and had little luck with his actions anyway. The Ghanaian dribbler gave Ajax some hope after the break after a bet by Bergwijn, but ruined a huge chance at 3-2.
Dusan Tadic – 6: The Serbian captain was found more often than in the first leg and created a great chance after a good ball conquest. A lot at Ajax still has to come from Tadic.
Steven Bergwijn – 5.5: At times, Bergwijn shows some improvement. It's just still very fragile. He didn't finish a big chance and he also had some sloppiness. On the other hand, he was at the basis of the Ajax goal.
Invaders
Brian Brobbey – x: Played too short for a rating.
Lorenzo Lucca – x: Played too short for a rating.
Francisco Conceição – x: Played too short for a rating.
Trainer
John Heitinga – 5.5: Ajax seemed to start a little better than a week ago, but at halftime it was already 2-0 behind. The team from Amsterdam simply appears unable to cause problems for teams of this level. Heitinga shifted a bit in his line-up, but the effect failed to materialize. There is still plenty of work to be done for the novice trainer.