Even after the race weekend in São Paulo, there was plenty to talk about, including for Jolyon Palmer. The former Formula 1 driver enjoyed the fight between Sergio Pérez and Fernando Alonso just before the end of the race, and the Brit also thinks he knows where Mercedes' disappointing results came from.
The chaos of course started before the start of the race, and in this case too Charles Leclerc was the unlucky one. The Monegasque suffered an engine problem during the formation lap and was therefore unable to continue his way. 'It was a shame for him, of course,' Palmer began, 'but it was an interesting exit. It was a problem with the engine, and it also involved a lot of smoke. The engine suddenly switched itself off, and Leclerc couldn't do anything about it behind the wheel.'
According to Palmer, Daniil Kvyat, the former driver who drove for Toro Rosso at the time, faced a similar problem in 2019. "His car also suddenly switched itself off, and you can't just break through that." The former driver could well imagine how Leclerc felt at that moment, but also put in a good word for the Ferrari team. 'You don't see things like this when you get everything ready in the morning. They could not have seen this, especially because no further work has been done on the car.'
Twice is a charm in São Paulo
However, it did not take long until Leclerc was joined in the pit lane. Just after the start, before entering the first corner, Kevin Magnussen and Alexander Albon bumped into each other. Nico Hülkenberg was also involved in the incident, and according to Palmer it quickly became one big mess. 'Magnussen tries to steer outside, not knowing that Albon was also there, because Albon Hülkenberg was just overtaking from the outside. Albon counted on being given space, but because Magnussen did not know he was there, Hülkenberg ended up in a jam. It was actually a classic incident.'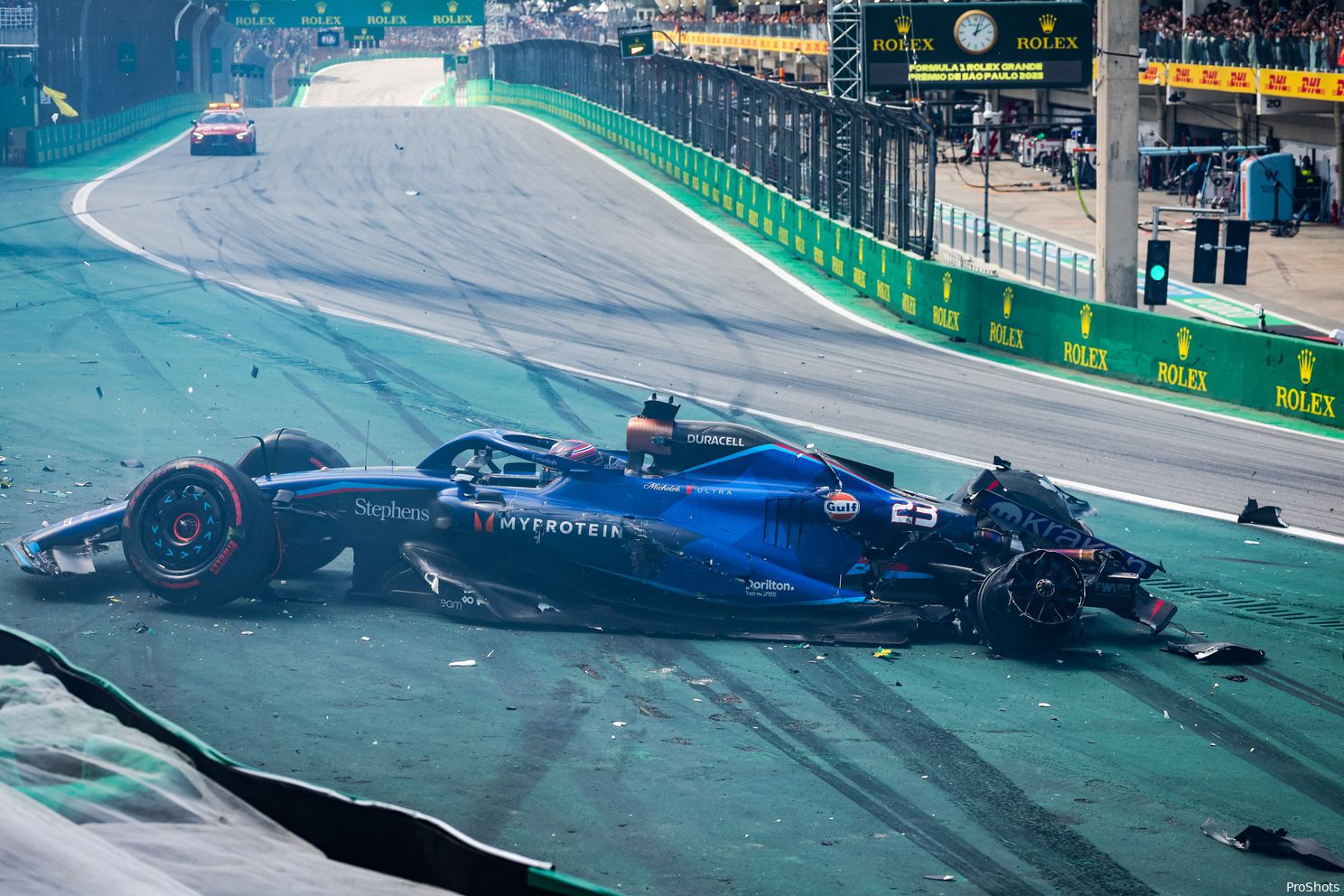 However, the damage was far from limited, as Oscar Piastri and Daniel Ricciardo also fell victim to the incident. 'Piastri was tapped from behind by Magnussen, while Hülkenberg drove over Albon's tire. This then landed on Ricciardo's car.' A red flag was therefore inevitable, although Palmer does have an idea of ​​a possible culprit. 'Albon did nothing wrong anyway, because he was just hoping for some space in a normal situation. Hülkenberg wasn't really wrong either, although he was the only one who could have prevented this if he had been more attentive. He simply braked too late and therefore could not stop the incident.'
The restart was a lot quieter, and ultimately turned out to be a relieving second chance for Aston Martin after Lance Stroll and Fernando Alonso were unable to get away well at the initial start. Alonso managed to overtake his teammate, but the two men still had to pass Lando Norris and Lewis Hamilton. The Spaniard tried to overtake Hamilton, "but unfortunately his attempt was unsuccessful because there was simply no space," Palmer emphasized. However, at the restart, Alonso did manage to pass the Brit, so twice was a charm in this case for the Aston Martin driver.
Unlucky and lucky people
However, according to Palmer, it was no surprise that Alonso still managed to pass Hamilton, because the former driver also quickly saw that the German racing team was having a hard time in São Paulo. However, Palmer thinks he knows why that happened. 'Mercedes of course went to Austin with a new floor. They were fast there and almost won the race, but Hamilton's disqualification threw a spanner in the works.' The Briton therefore expects that Mercedes wanted to be on the safe side by sacrificing some things to prevent another disqualification. 'It is difficult to adjust the ride height correctly, but Mercedes was undoubtedly too cautious in Brazil.'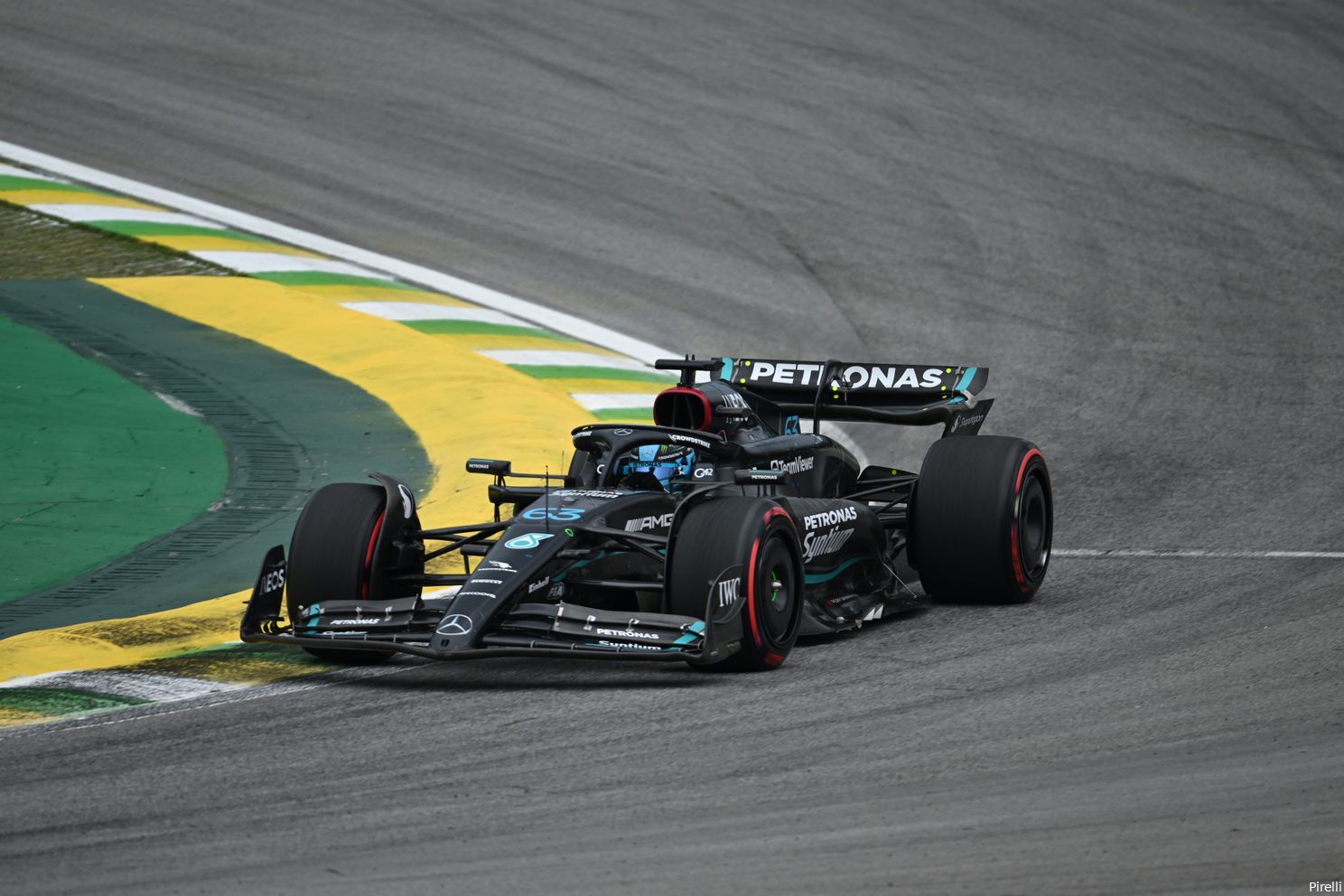 "Interlagos is a relatively bumpy track," Palmer said. 'It is less serious than in Austin, but still very important. So they didn't want to take any risks, but therefore lost a lot of potential and performance.' The former driver also saw another factor that made it difficult for the German racing stable in São Paulo: 'Tyre wear was also fast at Mercedes, and that also made it difficult for them.' According to Palmer, that was ultimately the reason Hamilton did not attempt to overtake Alonso, 'because he knew his tires would not be able to cope with that fight.'
Aston Martin, on the other hand, did a lot better for the first time in a while. The impressive race weekend hardly seemed like it could get any better, but as the icing on the cake it ended with a fight between Alonso and Pérez just before the end of the race. "Alonso had a buffer because Hamilton seemed to be holding up the field," Palmer noted. "But at the same time Pérez was able to get closer, and when he finally had the opportunity he used everything he had at his disposal to overtake Alonso."
However, the change of position turned out to be short-lived, because the Spaniard does not give up easily. "It initially looked like Alonso couldn't fight back," Palmer emphasized, "so Pérez thought it was all right. But Alonso went for one last try, and did it exactly the way we know him to be! He doesn't give up, and Pérez had used too much energy in his own overtake to be able to defend.' The Spaniard eventually made a neat overtake that almost seemed to come from a book, but according to Palmer that was to be expected. 'We shouldn't be surprised about that now. He's been doing that for years!'