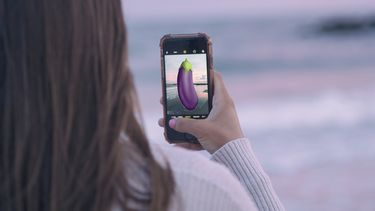 Once you send an explicit photo, you can never get it back. At least, that's the warning for teens who send nude photos of themselves without thinking about the consequences. But thanks to a new tool, they still have some control over the (nude) photos they have ever put on the internet.
Teenagers who see intimate photos or videos of themselves circulating online now have the option to retroactively take those images offline. A newly developed program removes such photos from certain social media.
Service to take down nude photos and videos of people under 18 years old
This is the Take It Down tool, created by the National Center for Missing & Exploited Children (NCMEC) and partly funded by Meta Platforms, Facebook's parent company. The program aims to tackle child abuse and exploitation on social media.
The service is for people who have photos or videos of themselves in their teenage years (partially) naked or in sexually explicit situations. "For example, maybe you sent a photo to someone, but now they threaten you or have posted it somewhere," the makers say.
"Even if you are not sure if the image will be shared, but if you need help to prevent that from happening, this service is for you," they say. And that many teenagers send intimate photos is evident from the figures on this subject. One in five sends recognizable nude photos of themselves.
This is how the Take It Down program works
How does the program work? On the Take It Down website, anyone can anonymously submit explicit images featuring minors. For every photo and video, the program creates a kind of digital fingerprint that ends up in a database. Based on this, the program identifies circulating images. Is there a match? Then the nude photo goes offline.
Of course that sounds a bit strange. You don't want images of you to end up on the internet, but to prevent that, the first step is to upload the images in question on a website. The developers of the program assure that they do not upload the images on the Internet. "The image or video remains on your device. Only a fingerprint is added to a secure list. We only share that list with online platforms that use it to scan explicit content."
In these cases the tool does not (yet) work
Tech giants that have joined the project promise that the images will no longer circulate online. At the moment it concerns Facebook and Instagram from Meta. The platforms OnlyFans, Pornhub and Yubo are also part of Take It Down.
However, if an image can be seen on another platform, such as Twitter or TikTok, or was sent via WhatsApp, for example, it will not be removed. Even if a nude photo has been edited or, for example, has different dimensions, it will not be recognized by the same digital fingerprint.
It sounds obvious, of course, but as a tip, the makers give not to share the images or videos in question on social media afterwards. "Once the image or video is added to the list, online platforms can use it to scan their services. Whoever posts the content in the future will be flagged." And the consequence? A blocked social media account.