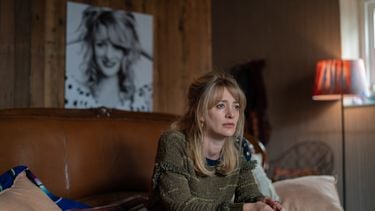 Go ahead, someone – Isa Hoes – in Toen Ik Je Zag playing while she is still there and even worked on the film. And then that story, her life with actor Antonie Kamerling who took her own life in 2010; and the wonderful, but also pitch-black times because he was manic-depressive…
Noortje Herlaar (37) dared to do it. Metro has already seen the film (a review will follow tomorrow evening) and saw that she passed with flying colors together with Egbert-Jan Weeber as Kamerling. We spoke to the actress in restaurant / coffee shop Hangaar in Amsterdam North. At that moment the weather outside was more than inclement, as if it gave the atmosphere from the film an extra charge.
Joy of life and the inevitable in When I Saw You
Not that When I Saw You is only miserable, you see enough moments full of joy in life. Yet. Although the protagonists have been named Bastiaan and Esther by director and screenwriter Ben Verbong, the inevitable end hangs in the air for almost two hours.
Noortje Herlaar and the Metro reporter first met in early 2010. She then gained national fame by winning the lead role in the musical Mary Poppins on TV (besides acting, Herlaar can sing like the best). In the same year, Antonie Kamerling took her own life. "I am normally bad at years," Noortje Herlaar admits. "But I do realize this here during conversations, special how reality comes together here. During the making of When I Saw You I didn't have that. You don't spend the whole time thinking that it all really happened. You are just working on the script and doing it as well as possible. Today (the press day, ed.) is special. Now I have the space to talk about it, especially with Isa."
And if she has the time for that. During the conversation with Noortje Herlaar, Isa Hoes herself is sitting a table away, which makes the setting special to say the least.
Having lunch with Isa Hoes
When Ik Je Zag came across Noortje Herlaars' path through a 'simple' audition request. "It was still corona time, so I had to send in a tape. That is often the case these days and it was also useful because Ben Verbong lives in Germany." The native of Vlaardingen quickly got the role, not least because Isa Hoes was pleasantly surprised and had given her blessing. Herlaar and opponent Egbert-Jan Weeber went to lunch with her for an introduction to Hoes. "That was quite heavy, I have to say honestly," she looks back. "You are confronted with a story that really happened to someone. It was a pleasant conversation, because Isa is a sweet, open and warm person. She really put us at ease. But Egbert-Jan and I felt him very much. It was intense because it is easier to read about someone than to sit across from someone."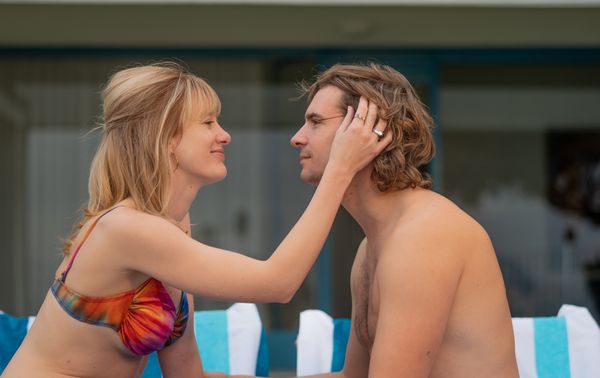 'When I saw you is an honor'
Was it difficult that she could play a character based on the same Isa Hoes? Or maybe an honour? Noortje Herlaar thinks for a moment: "I find the story that Isa wrote down very special and rich. How openly she shared everything from her life in her book… and I get to play that from her perspective. Yes, an honor is the right word. And, although I don't play her, it's great that I was able to do that as an actress. It's about much more than Isa, because it's about their great love for each other and what happened to them all. Before Toen Ik Je Zag we didn't know each other very well, by the way. More of a short chat during premieres. But I really like her now."
When I Saw You didn't read
Noortje Herlaar hadn't read the book Toen Ik Je Zag before her audition, but still hasn't read it now. "The director even advised against it. Look, there are roles where you are expected to really impersonate someone. That is not the case now, because the story had to become universal, people must recognize themselves in it. We were allowed and had to pull the script very much to ourselves and let it come all over us on set. The situations had to arise again. In the here and now."
Lots of love, but unfortunately also a disease
Although in Toen Ik Je Zag we clearly learn that severe depression is a taboo, then perhaps even more so than now, the film is above all an ode to love, in the case between Isa Hoes and Antonie Kamerling. Herlaar, who herself found her great love and father of her two children in Barry Atsma: "Shame is linked to that taboo, certainly. But as far as I'm concerned, Toen Ik Je Zag is mainly about a woman who tries to keep all the love for her partner and her family alive. And she wants to continue to experience that love even after the death of her loved one. We filmed parts in Italy, where the viewer sees beautiful moments from the lives of Isa and Antonie. Yes, there was a lot of love, but unfortunately also a disease that they struggled with as a couple."
'You don't just have a depression', Isa Hoes wrote in When I Saw You: my life with Antonie. Noortje Herlaar can only confirm that statement after playing her role. And also because she knows people with depressive complaints in her own life. However, she did not necessarily find it difficult to put down that role: "Rather and for the most part very nice to be able to work like this as an actress. It was my first role after having our second child."
Laughing: "I had that 'oh, mama can go again' feeling. It felt very good to be able to practice my profession again. But you can probably imagine that I found the toughest scenes around the death of Antonie, or in this case Bastiaan, really very hard to do. However, it is part of it if you want to tell the story in its entirety. I think it's special but also great that Isa's book has had such an enormous impact in our country. I hope that with the film, although it is not light-hearted, we can also bring some light to the subject. And above all, that we can remove the shame."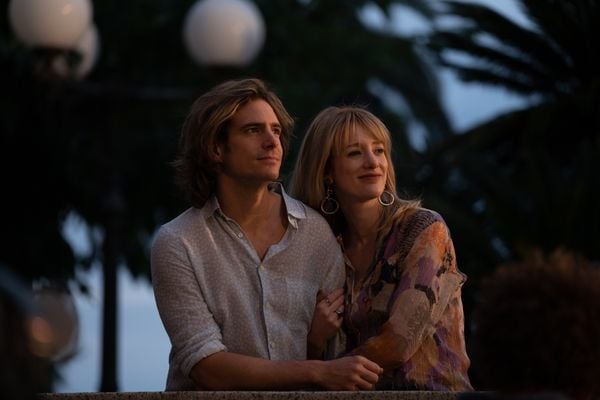 Many reactions are lurking
Isa Hoes was overloaded with reactions to Toen Ik Je Zag. That is something that can also happen to Noortje Herlaar after this week – the film will be in theaters from Thursday. Complete strangers who start talking about depression in the supermarket… The actress: "I don't think so, really. Well, maybe. Anyway, it's allowed. When I Saw You Really Has a Soul. People are going to feel it. I think it's great that I can be part of that."
Do you ever think about suicide? You can call 113.nl completely anonymously (0800-01130 or chat.