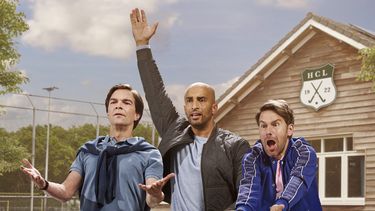 They are the inventors of the posh environment and they prefer to talk about shares in the canteen than about the Eredivisie: Hockey fathers. Videoland launched the first season of the Dutch-language series today. The series follows the dramatic lives of three hockey dads who suffer from a midlife crisis. "You will gloat over the inconvenience of the rich," says hockey father Tijn Docter to Metro.
JP, the character who plays Docter, is the president of the Laurentius hockey club, which is celebrating its 100th anniversary this year. Together with the other hockey fathers (Kasim, played by Walid Benmbarek, and Wouter, played by Remko Vrijdag) they want to fire one more time before it is too late and they are therefore too old. But that doesn't quite go as planned. Things immediately go wrong in the first episode, when JP and Wouter perform an act with a racist tint for Kasim. The club has to deal with a lot of hate because of this and has to straighten out its image. Whether they succeed and whether the anniversary party becomes a big happening or failure, you will see later in this season of Hockey Fathers.
Docter himself used to get a taste of the hockey atmosphere on the field. "I played hockey for a while when I was 12 years old, but I didn't make much of it," says Docter. "I always thought the changing rooms smelled so bad and my shins always hurt because there was no artificial grass at the time." Docter played in a band in his younger days and performed at hockey parties, so he knows how things can get every now and then. "The Hockey Fathers series shows the stereotypical environment of hockey, but I think it is less poky now than before. The similarity of the sport with the series is mainly in the conservative, the too fanatical parents along the line and last but not least: the third half."
Hockey dads learn how to play hockey
The Hockey Fathers cast received hockey training during the filming. This time, however, Docter did enjoy doing it. "It was thirty years ago for me that I had been on a hockey field, but you pick it up quickly. Walid had never played hockey before, yet he played everyone under the table. Remko, on the other hand, did, but he sometimes scratched behind his ears inquiringly," says Docter. "We play in a veteran team, so we didn't have to play the stars of heaven. It was fun to hit a ball back and forth during the recordings. It was a challenge for our children in the series. It had to look a lot more professional with them, because they play higher."
A second season?
The character of JP is very clumsy in the series, at least that's Docter's words. "He's a sweet, rich little bastard. But his clumsiness is what I love about him," says Docter. "In addition to my own character, I also really like the character that Matteo van der Grijn plays. Matteo's character wants to be part of this environment with his family, but they just don't fit in. That role would be a real challenge for me."
There are also roles that Docter is only too happy to avoid in real life. "JP's father-in-law is a conservative, interfering man. He does not want to keep up with the times, while things really need to change at the club." Whether they manage to solve all the drama, you can see on Videoland from today. Metro asked the final, burning question: will there be a second season? "I can't say that for sure yet. It depends on how the first season is received, but of course I hope so!", Docter tells us.
The Videoland series was co-created by Beau van Ervens Dorens and he also plays in Hockeyvaders. Holly Mae Brood has also landed a role in the series. She plays the role of Chimène: a professional hockey player who comes to lend a hand to her youth club. In addition to Beau and Holly Mae, Jim Bakkum, Fockeline Ouwerkerk, Carolien Spoor and Sanne Wallis de Vries, among others, have a share in the series.