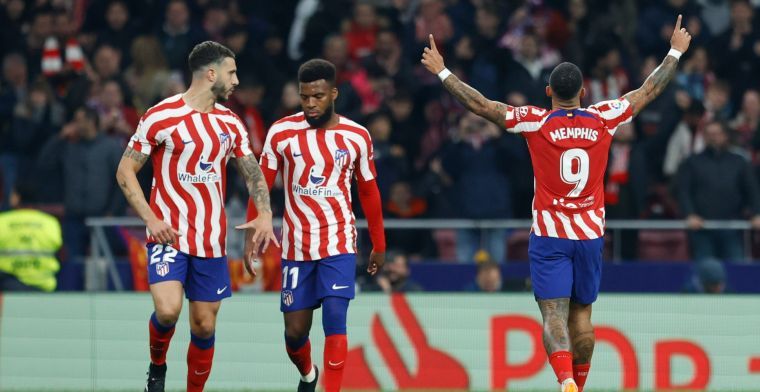 A day after national coach Ronald Koeman announced his first pre-selection, Memphis Depay played the stars of heaven for Atlético Madrid. Spanish media are full of praise for the Orange striker, who scored twice during the 6-1 win over Sevilla.
Memphis was allowed to start for the first time in the base for Los Rojiblancos in La Liga and promptly scored the first two goals. "The Memphis show started at the Metropolitano," says Marca. "His first start showed that he is the type of attacker that they have not seen at the club for a long time. Memphis has got the right physical form, has adapted to the team and has issued its first calling card.'
𝗠𝗲𝗺𝗽𝗵𝗶𝘀 𝗗𝗲𝗽𝗮𝘆 at speed 💨
A good one-two with Antoine Griezmann and the striker can walk straight to the goal and then finish coolly 👌#ZiggoSport #LaLiga #AtletiSevilleFC pic.twitter.com/Wya9JTYc9s

— Ziggo Sport Football (@ZS_Voetbal) March 4, 2023
Spain's largest sports newspaper finds the low price tag of the Dutchman almost 'outrageous'. Memphis is Barca's next gift to Atlético. The striker came for only 3 million euros and now competes with Alvaro Morata – who also scored twice as a substitute – for the number nine position. They should pull their hair out at Barça for giving him away so easily. And a few presents have already been sent to the Metropolitan from Camp Nou in the past," Marca refers to players like Luis Suárez and Antoine Griezmann.
AS is also impressed. "Memphis-Grizi provides the lighting for the Cholo party," the sports newspaper refers to Diego Simeone's anniversary. The Argentinian is now the coach who was most often on the bench as a coach of Atlético with 613 duels. 'Atletí overwhelmed a weak Seville with a double hit from the Dutchman and a great goal from the Frenchman.'
𝗪𝗔𝗔𝗨𝗪 Memphis Depay 🤤
After the 1-0, he also makes the second for Atleti in a beautiful way 😍#ZiggoSport #LaLiga #AtletiSevilleFC pic.twitter.com/3XYKkP8SBD

— Ziggo Sport Football (@ZS_Voetbal) March 4, 2023
El Mundo Deportivo sees the birth of a new striker at Atlético Madrid. 'Memphis roars at his first base for Altético. The Dutchman seized his chance and immediately asserted himself in his first appearance in the base. A new fairytale partnership seems to be born between Griezmann and Memphis: between the Little Prince and the Lion.'
The Unibet Uitblinker: 3x your bet with a shot at goal Weghorst!