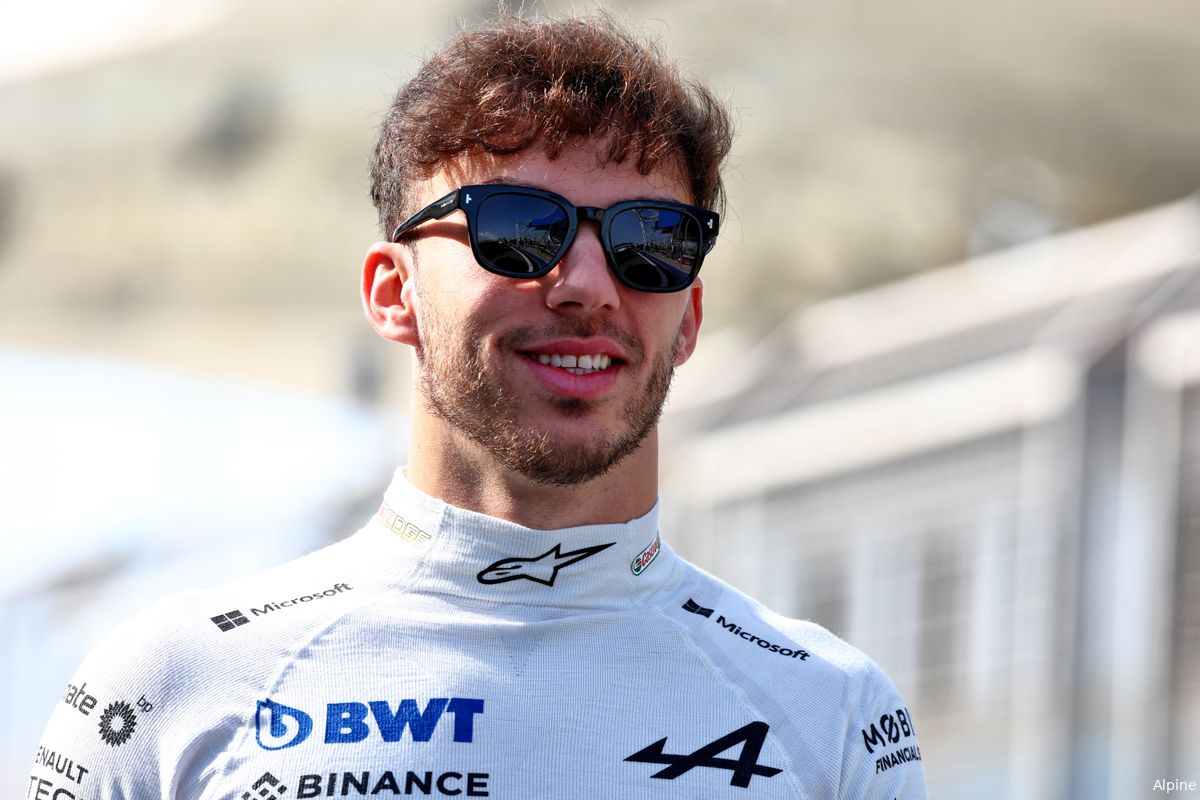 Between all the important news, you can miss a few things during a Grand Prix weekend. Don't worry, F1Maximaal.nl will keep you up to date with all the sense and nonsense from the world of Formula 1 in the Meanwhile in F1 section.
Gasly pays a visit to his own car in the F1 museum in Madrid
Pierre Gasly has visited the newest Formula 1 museum in Madrid. There was his own AlphaTauri car and also the badly damaged car of Romain Grosjean. In any case, the city does not seem to disappoint the driver.
De Vries visits AC Milan match and meets football legend Zlatan Ibrahimović
Nyck de Vries made a stopover in Milan during the spring break. The AlphaTauri driver visited the Champions League match between AC Milan and Napoli. There he met former Ajax player Zlatan Ibrahimović, a celebrity in the football world.
McLaren responds in a playful way to Hamilton statements Massa
McLaren has responded to statements by Felipe Massa through the British team's official channels. The Brazilian is considering challenging Lewis Hamilton's 2008 world title, as he feels it has been unfairly taken away from him. That all has to do with how Massa lost the Singapore Grand Prix that year due to crashgate. Partly because of this, he was one point short of beating Hamilton. Reason for McLaren to respond to this in a playful way.
Verstappen distracted by daughter Kelly Piquet during sim race: 'Whoa, don't!'
How Max Verstappen spends his spring break? Well, not surprisingly, the Red Bull Racing driver does that by sim racing. However, the Dutchman did have a moment when Penelope, the daughter of his girlfriend Kelly Piquet, had to distract him while racing. It made for a hilarious yet cute moment.
De Vries and Tsunoda are having fun with the Whisper Challenge
Nyck de Vries and Yuki Tsunoda have the greatest fun during the 'Whisper Challenge' in a YouTube video from AlphaTauri. The aim of the game is to guess what the other person is saying while wearing headphones and listening to music. It led to hilarious, but also heartwarming moments between the teammates.
Hamilton gets a funny new photo at the gates as GOAT of Formula 1
Lewis Hamilton seems to have a new photo when he has his pass scanned to enter the paddock. As a GOAT of Formula 1, he does not see a picture of himself, but of a real goat. Mercedes itself says it has nothing to do with this beautiful Photoshop photo. 'Who did this?', they ask with a smiley face on their official Twitter account.
Russell enjoys a game of tennis and takes a picture with Djokovic
George Russell visited the tennis courts and then had his photo taken with tennis player Novak Djokovic. On his official Twitter account, the British driver posted the photo, captioning it: "What a wonderful day to see this man doing what he does best. Thanks for taking the time.'
Red Bull Racing shares insight into Ricciardo's first day after returning to the team
After periods at Renault (now Alpine, ed.) and McLaren, Daniel Ricciardo returned to the old nest at Red Bull Racing. The Australian experienced another first day with the team. On this first day after his return to the team, the cheerful Ricciardo was followed by the team, giving an insight into his first day back at Red Bull Racing.
Drivers pose with their cute four-legged friends
It's National Pet Day in the United States and to celebrate, Motorsport.com posted an adorable compilation of some drivers with their four-legged friends. Lewis Hamilton can be seen with his dog Roscoe, but Carlos Sainz and Nico Hülkenberg are also cuddling with a dog in the photo. Alexander Albon cannot be missed either, but he has a hangover in his arms.
The bromance is growing between the Haas drivers
Kevin Magnussen and Nico Hülkenberg have a contentious history with each other, but this season they are driving together at Haas and the friendship seems to be growing. In fact, it's almost starting to look more like a bromance, as Haas's Twitter account describes it. At a press conference, the two drivers give each other sweet compliments, especially about how good their hair is that day.
Bottas celebrates Easter by bicycle
Where Lando Norris helped his niece look for Easter eggs, Valtteri Bottas chose a completely different way to celebrate Easter. The Finn jumped on his bike and had a nice trip around Monaco in the company of his girlfriend Tiffany Cromwell.
Verstappen shows new talent: 'If Cirque du Soleil needs someone'
Max Verstappen showed during the Grand Prix weekend in Melbourne that he can juggle quite a bit. The Red Bull Racing driver immediately throws out an open application: "If Cirque du Soleil needs someone, I'm their man."
Ocon immediately knows what race it is after hearing his on-board radio
On Alpine's Twitter account, Ocon is being tested. The question is whether he can guess the race from his own on-board radios. He knows one radio very quickly after hearing his own cheerful cheers. "I know this one right away," he says with a big smile. 'Budapest, 2021!', that was the race where Ocon crossed the line first.
Mercedes hilariously shares that it's not race week yet
It will be a while before we can race again. Due to the cancellation of the Grand Prix in China, there is now a four-week break. Only from April 28 will there be racing again, this time in Baku. Not only the fans, but also the teams themselves regret that it will take a while before the royal class is allowed to drive again. Mercedes shares a photo of Russell's hilarious pose on its Twitter page, where he is the 'T' in the sentence: 'It's not race week'.
Uncle Norris helps with the Easter egg hunt
For many people it is tradition to go looking for Easter eggs during Easter and that is no different in the Norris house. Lando Norris has therefore helped his niece in the search for the chocolates.