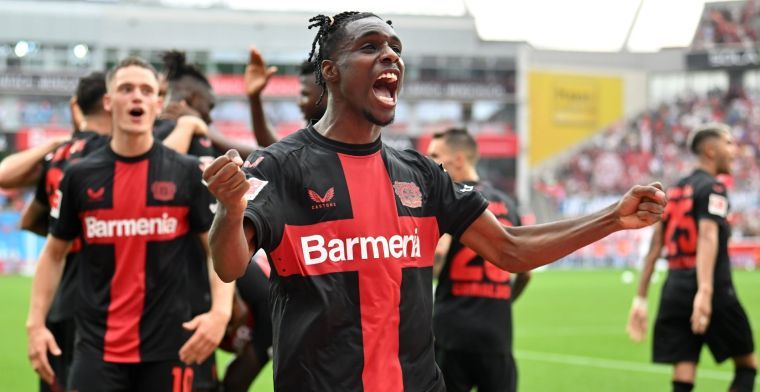 Ronald Koeman emphasizes that Jeremie Frimpong will remain in the picture with the Dutch national team. Bayer Leverkusen's fullback, however, was not an option for the upcoming international matches against Greece and Ireland. According to the national coach, Frimpong is on the penalty bench.
Koeman was asked again about Frimpong during the press conference on Monday. "I don't get tired of that. He was in the picture the previous period, but I also indicated why he was not called up. That was because we played with four defenders. I had Denzel Dumfries and Lutsharel Geertruida," says the choice lord.
Text continues below the video
The attacking back then thanked the Juniors himself. They were not happy with that in Zeist. "Nigel de Jong (director of top football, ed.) has now spoken to Frimpong on behalf of the KNVB. Of course we are not happy with players who cancel at the Dutch Juniors. We think you should always be available. Nigel has spoken to him about that. He still wants to play for the Dutch national team, but we have said within the KNVB that he is not available for this period in September."
"You can see that as a kind of punishment," Koeman agrees. "I think there should be an obligation for players that you play for which representative team. If you think you can cancel at the Dutch Juniors and want to be with the Dutch national team again the day after tomorrow, yes, that is not the way we think about internationals. He understands that. It is the same with Gravenberch. We are not happy with that. I understand it all, but you can also take a step through good performances at the Dutch Juniors. "
Frimpong has meanwhile started the new season energetically in Germany. The 22-year-old defender has already scored once and provided three assists. With Leverkusen he leads the Bundesliga after three rounds.