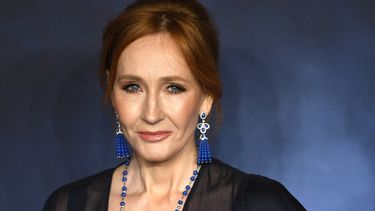 The news of a long-awaited reboot of the Harry Potter franchise did not go down well with everyone. JK Rowling's involvement in the production cannot pass through LGBTQ activists, who point to her transphobic statements. But the announced boycott does not let the writer get to her heart. "Whole stocks of champagne stocked up."
Nothing tastes sweeter than the tears of critics. Except champagne! In any case, it is quite remarkable that a woman who herself writes under a male name shows little empathy for people who identify with a different gender. Either way, there will forever be a hair in the butter between JK Rowling and a whole host of Harry Potter fans. And that was again apparent with the announcement of HBO Max.
The streaming giant announced that all eight Harry Potter films will be given a new look in series form. Ten years from now, we will be able to relive the adventures of Ron, Harry, and Hermione through more modern eyes. But not everyone was thrilled with the news that the intellectual mother of the wizard trio was also getting a seat at the table.
JK Rowling on Harry Potter criticism: 'Champagne'
As far as HBO Max is concerned, there is no problem. The boss of the streaming service stated to Variety that the criticism is mainly an internet thing. "It's a very complicated and nuanced online conversation, and the boycott is not something we want to get into," it sounds. They left that to JK Rowling himself.
Dreadful news, which I feel duty bound to share. Activists in my mentions are trying to organize yet another boycott of my work, this time of the Harry Potter TV show. As forewarned is forearmed, I've taken the precaution of laying in a large stock of champagne.

— JK Rowling (@jk_rowling)
Terrible news that I am obliged to share. Activists in my area are trying to organize another boycott of my work, this time of the Harry Potter series. Since a man forewarned is worth two, I have already stocked up on a large supply of champagne," the writer laughs on Twitter.
Boycott by LGBTQ activists
Presumably JK Rowling refers to the recently released Harry Potter game, which was boycotted by LGBTQ activists. Despite the protest, Hogwarts Legacy became the most successful game of the year, with sales that now exceed a billion euros. Then the net-not-billionaire probably also had a glass of champagne or two.