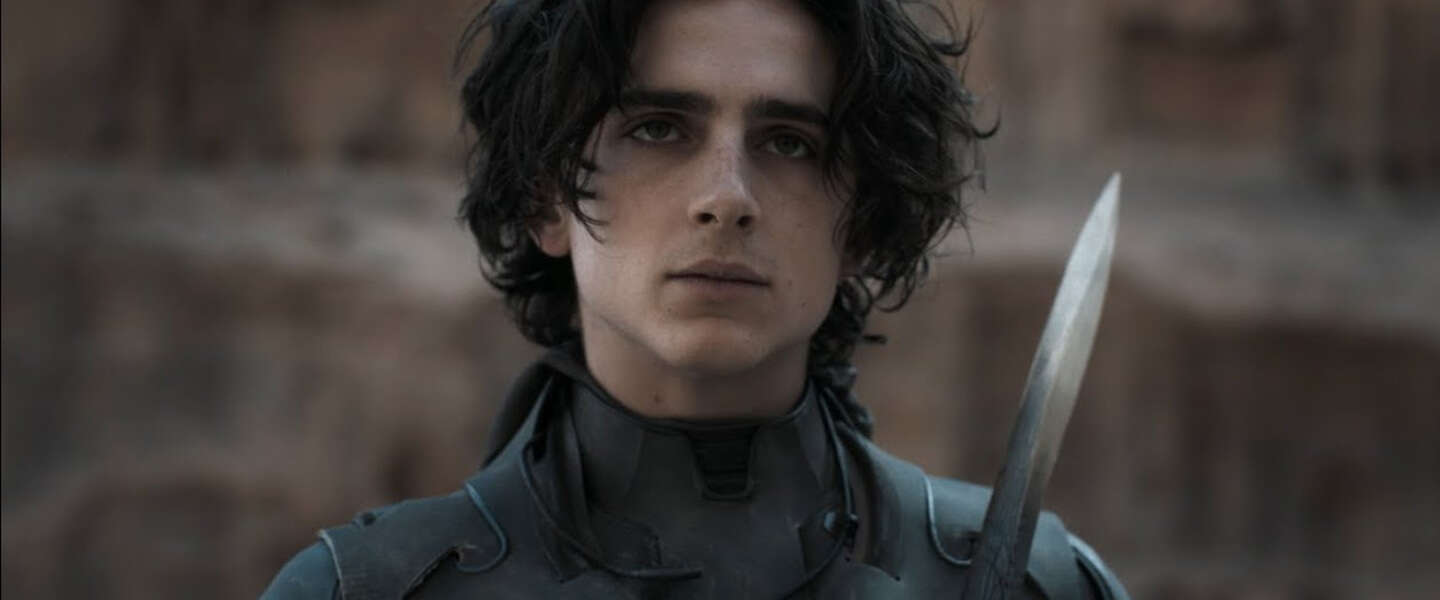 Warner Bros. held a CinemaCon showcase and it was jam-packed with news about the most diverse projects. Something with a Hugh Grant-Oompa Loompa, a new look at The Flash, and a first look at Dune. We discuss all the news with you.
Dune Part Two features an intense Feyd-Rautha Harkonnen
Denis Villeneuve's first Dune film made an impression, but we'd like to know how it goes from there. We'll learn that in November this year, when the flick hits theaters. During the presentation of Warner Bros. more of the film was shown, namely how Paul Atreides and Chani (Timothée Chalamet and Zendaya) are together in the dunes, what Princess Irulan is doing, but also how angry Feyd-Rautha Harkonnen is. And then Paul also ends up in a sandstorm…
The Black Trident can be seen in Aquaman and the Lost Kingdom
Jason Momoa may be busy with Fast X right now, but he also has a new Aquaman movie coming up. Aquaman and the Lost Kingdom will be released on December 20 this year and in new images (which are not online) we see that the best man has a baby. Then we suddenly go on a polar expedition to end up with the Black Trident, a very powerful, evil weapon. And then there's also a Black Manta (played by Yahya Abdul-Mateen II) who's out to fight all Aquaman.
The Flash has a new trailer
Many of the things that were shown at CinemaCon can't be found on YouTube, but one thing is there: the new trailer for The Flash. The film, which stars Ezra Miller as the superhero, previously had a trailer in which we saw both the Ben Affleck Batman and the Michael Keaton Batman, but in this new trailer we see even more of the Batman. . "These are our scars, they make us who we are. We are not meant to return and fix them: don't let your tragedy define who you are." Wise words from Batfleck, who must patch up a defeated Flash who allegedly shattered the universe. The Flash is in theaters on June 15.
And another superhero movie: Blue Beetle
Blue Beetle is a somewhat lesser known name, but this film that will be released in August is also a superhero film. What was shown is very similar to the trailer that appeared earlier, with more focus on Carapax, the villain of the play. Blue Beetle revolves around Xolo Mariduena who becomes the Blue Beetle and pretty much gets the whole family involved in the superhero life.
Hugh Grant is an Oompa Loompa
You can say a lot about Hugh Grant, but that man has shaped his career so differently now that he's not that hunk from rom-coms anymore. And better too, because he plays hilarious roles that he also clearly enjoys. However, we never, ever expected the role he has now taken on: Hugh Grant plays an Oompa Loompa in the Willy Wonka prequel. Orange. Small. Intense, but with King's Day ahead we can have it right. The film will be released in the cinema in mid-December and it is a musical, although no songs have yet been heard in the images shown.
Something goes wrong in Barbie too
In the Barbie trailers that have appeared so far, we mainly saw that everything went well, but new images show that Barbie ends up on a somewhat unfortunate path. In other words: the real world. That's not easy when you come from a toy country full of Barbies and Kens. Ryan Gosling is one of those Kens and on panel he said he didn't really understand Ken until one day when he bleached his hair and shaved his legs. Then suddenly he was Ken. Barbie will appear in cinemas on July 21.
Beetlejuice 2 is under development
It's 35 years later, but finally a successor to Beetlejuice is in the works. Nobody knows how and what yet, except for a logo in a video. Would the movie come sooner if we said that word a few times?
Oprah shows first images of The Color Purple
Oprah Winfrey was also present to talk about the musical film The Color Purple, based on the 1982 book by Alice Walker. The film is a celebration of sisterhood and brings magical realism to the film that was first made in 1985. At the end of December, the print will be in the cinema.
And Meg 2 is also coming
Jason Statham is hilarious in the first Meg movie, saying very heroically, "It's the megalodon!" when the giant shark comes by again. In Meg 2: The Trench we see, among other things, a T-Rex fighting with the primeval shark.
The Nun II gets a very creepy trailer
The popcorn will be scattered around again on September 8, 2023, because then The Nun II will appear in the cinema. This film is set in the universe of The Conjuring and in images that have been shown we see the demon nun passing by again. Especially when young girls enter a closed chapel, everything goes wrong, because they play the game Defy the Devil. You better not do that if there is a horror nun lurking.