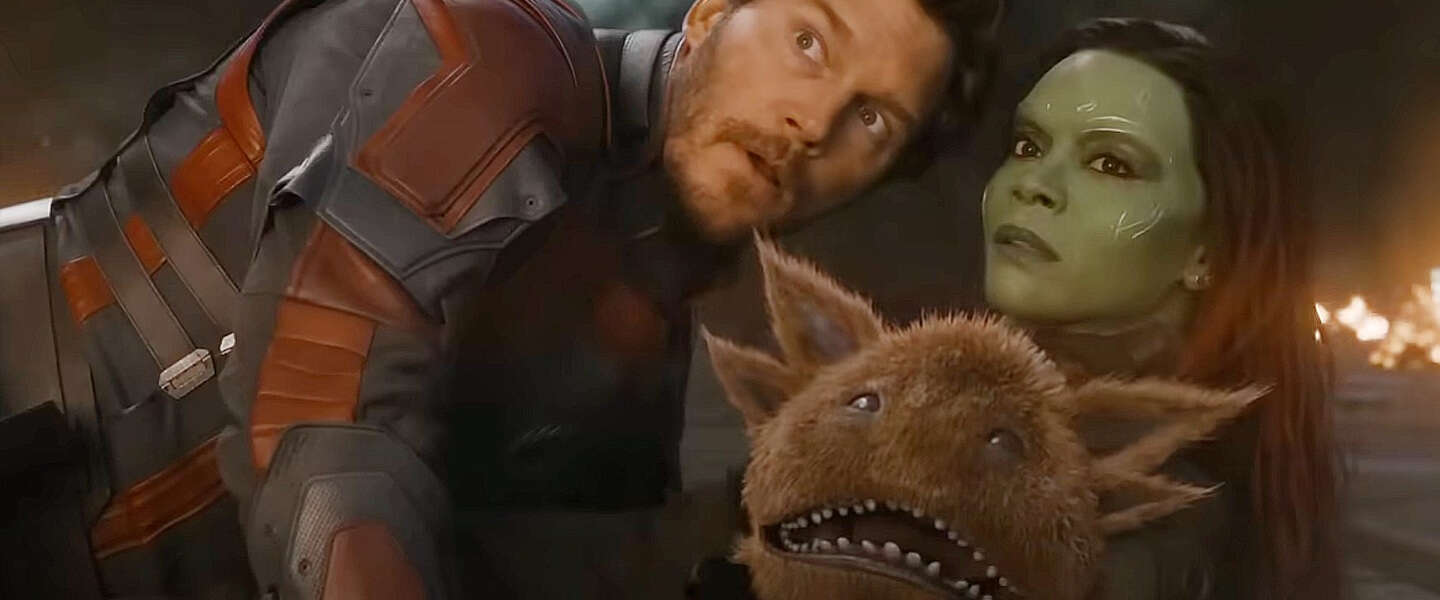 It starts out a bit like your average Mr. Beast: You're thrown right into the middle of the action. It feels great, but it takes some time to recover from that. Time that director James Gunn gives you, but which you have to wait for. That's not a bad thing: this film looks wonderfully away, partly due to its rollercoaster of special effects and great camera angles. But, it's also the last movie with the Guardians as we know them, which makes it an emotional whole.
Save Rocket
That emotional isn't even so much because this is the last time we'll see this group of people together, it's also because there's a really sad story being told that begins with the tiniest, cutest baby raccoons ever. When Rocket is injured in a run-in with a certain golden man, his friends Star-Lord and co must travel to another planet to find the 'reset code' of the raccoon voiced by Bradley Cooper and save their friend. What follows is a print in which we both see the Guardians live their adventures in their quest for the solution to Rocket, and are treated to Rocket's memories and traumas.
The baby raccoons are also such a memory. They have been put in cages for experiments. You will discover that these experiments are even more bizarre than you might think when you encounter other variants of these guinea pigs in the film. It's a bit of a shock, it's a bit horror, but Gunn knows how to create a scary realistic image through the story of those animals that has parallels with the real world.
Superheroes get awfully close
Yes, in this superhero movie set somewhere in space, where raccoons can talk and a tree just says the same thing, there's a kind of critique of what we're doing on Earth. It starts subtly, but later in the film it becomes very painfully clear that these are conscious choices that have everything to do with us. All that stunting with animals, all those technological developments, who are they ultimately intended for, are they being considered? How malleable is life? These are not ethical issues with which you will quickly associate the Guardians, but don't worry: this is and remains a Guardians film that regularly breaks down serious moments with humor.
It is also striking that our supreme leader Star-Lord (played by Chris Pratt) is no longer himself. Since Gamora slipped from his grasp at another point in the Marvel Universe, little remains of the merrily dancing space cowboy that Star-Lord once was. He drinks and he sleeps and he's a pathetic bunch of people. And he seems to have a hard time recovering from that. This is not the Star-Lord from the days when he still listened to the Awesome Mix Vol 1 or 2. On the one hand, that has a purpose that we will certainly not spoil, on the other hand it feels less sad to say goodbye to this group: so much has changed.
Chris Pratt
If characters in the film do change behavior or choices, then the 'why' or 'how' is not really given context in this film. Maybe that's that Mr. Beast-like way of editing, but why certain characters come to the conclusion to do something, you as a viewer would like to know. You can guess eleven and get quite close, but Gunn could have taken the viewer a little more into this. Even though it's a lot of characters, it would have fit the movie well. After all, not much is happening.
The latter is not a criticism, by the way, because it also fits in with its ending character. We see Chris Pratt, Zoe Saldana, Dave Bautista, Vin Diesel (Groot), Bradley Cooper (Rocket), Karen Gillan and Pom Klementieff once again as the Guardians together. As we wrote in our coverage of the film's gala at Disneyland Paris, the group felt like a chosen family and something very special, according to Karen Gillian and Zoe Saldana, who has already indicated that she will no longer be in the green skin of Gamora after this. want to crawl.
Guardians of the Galaxy Vol 3 is, in many ways, a farewell to a film franchise and team that we thoroughly enjoyed. A real pleasure to be on the road again with this group of crazies. They also encounter all kinds of new weirdos. Even if not every end is tied together, this film is well put together. And maybe that's why it is very Guardians: a bit rebellious.
Guardians of the Galaxy
It's a very entertaining movie, but it doesn't feel quite like a Guardians of the Galaxy movie in every way. Although you are taken on a great journey, a super adventure and it impresses from start to finish with its emotional story, the great costumes and art direction and just seeing this cool group again, there are also a few things missing. The film is considerably less of a succession of jokes and jokes than the first films were.
Also, the music, which is so important to this franchise, is not quite what it should be. Anyway, Gunn also said that he was stressed about it. Awesome Mix Vol. 1 and Vol. 2 were both able to rely on the great 1970s, while this third film is different because of Peter Quill's MP3 player-like device. It draws from all kinds of decades and it goes in all directions in terms of audio. The strong start with Creep does set the tone, but later that tone ebbs away a bit due to the choice of songs that are slightly less strong.
Must see
Guardians of the Galaxy Vol. 3 is a lively thrill ride, although there is also a lot of room for the theme of farewell. That does not make the film heavy-handed: it does keep a light Marvel undertone, although a box of tissues is not a superfluous luxury. It is sometimes made easy to say goodbye, but in the end it is still a hard one. Thank you James Gunn, who did not shy away from rigorously cutting into everything. Even if they are cute raccoons.
Guardians of the Galaxy Vol. 3 is in cinemas from May 3.