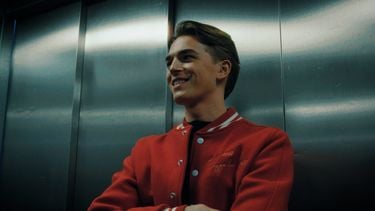 Moon goes like a rocket, Metro once wrote. But which qualification should you give Antoon… His three-year career certainly went fast and special enough to dedicate a one-and-a-half-long film to it. Engel can be seen in Dutch cinemas today and Sunday. We already looked at him and joined the North Hollander.
As Metro, we've done that before. Last March we spoke to Antoon in the North Holland village of Midwoud (later in the year he moved to Amsterdam South). We found a room full of gold and platinum records that were not hung on the wall, but stood against the walls. Because Antoon (born Valentijn Verkerk) also produces, the aforementioned Moon was also among them. Life was good for a shining charter. At that time it was already going fast with Antoon, but a year later we are hits, two sold-out Ziggo Domes and so that long documentary of this weekend continues.
Anthony in a helicopter
Anyone who goes to see Engel will be taken to those two frenzied Ziggo Dome concerts in his current hometown. That is the common thread, but we also see numerous conversations and – nice! – lots of old images of a young Antoon. Like Antoon with his mother Heleen, who sadly passed away after a debilitating illness and shortly after her son's first success. In the year of her death, Antoon performed in a sold-out Paradiso for the first time. Helen is of course that angel. We also see his father and manager Justus, grandmother, sisters and people with whom Antoon works a lot, such as Big2 and Ronnie Flex. The time when, as a teenager, he toured the country with a DJ set for five years and made two rigorous decisions. One: put aside the DJ set and choose the path of singer, singer-songwriter and producer (at first to the chagrin of his father). Two: say goodbye to pre-university education to be the youngest student ever to go to the Herman Brood Academy in Tilburg. We can now not call Antoon a hip-hopper, but a hip-popper.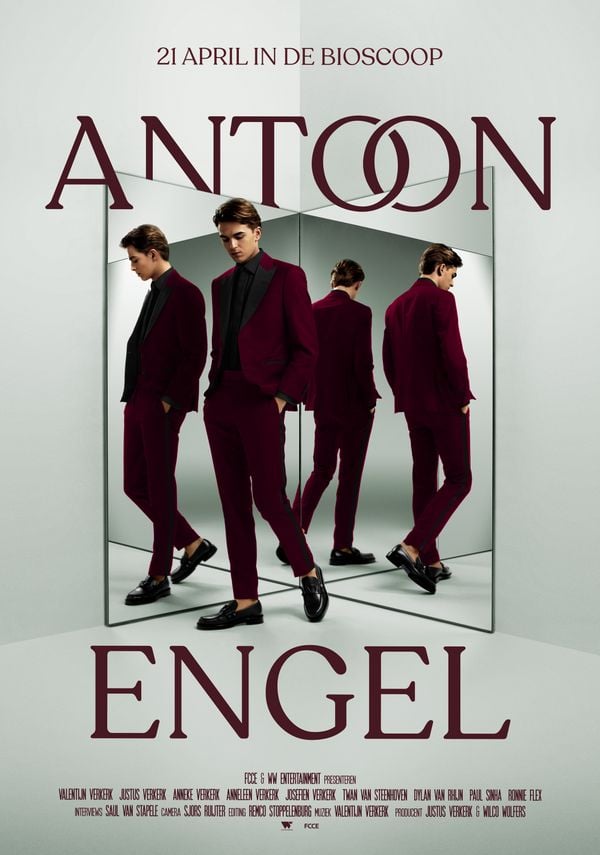 And the craziness, the sometimes complete craziness around his person. Like last summer, when that Midwoud, from the first Metro conversation, wanted him for a performance at the local Snertpop. Antoon came… by helicopter. The 21-year-old explains it immediately and almost apologetically at the new conversation, now in Amsterdam-Noord: "I just couldn't make it to the festival in terms of time. Then the organization said 'okay, then we'll fix a helicopter'. Not because I wanted to hear that, haha."
Involved with Engel from A to Z
He himself calls the documentary 'laughing'. It's a bit of a safe word, because with Engel it's not just laughing, of course. What goes through his head when he spends an hour and a half looking at his now bizarre life? "I have to say that I was very involved in the process of making Engel. My father (Justus, ed.) too, but none of the team was and is as perfectionist as me. I wasn't immediately happy with everything, whether it was the scene choices, the mixing, the interviews, the editing, or whatever. We did two hour interviews all over again… People must have gotten quite annoyed with me. However, it made sure that once I watched the film, I was satisfied with it myself. I was so involved, it wasn't even crazy to see it anymore. Because of all the old images I think Engel has become very authentic, close to myself. Angel is who I am."
He knows himself pretty well, he shows in the film. Antoon says in it: "I'm not into being full of myself, but I'm very good at one thing: making songs. If I know something like that, then the main focus should be on that." Good song or not, luck also helped him on his way. A few girls from Groningen made Hyperventilation one of the biggest TikTok trends of 2021.
Antoon and his legs on the ground
Since the conversation with Antoon in March 2022, his popularity has only exploded further. That was not due to Metro, let's just report that right away, but entirely to Antoon himself. Just sell out the Ziggo Dome when you're 20 years old. And yet, the West Frisian of yesteryear is still in him. "What has happened since that meeting has done a lot to me as a person. But I've been pretty busy keeping both feet on the ground. That's that polder mentality: just act normal, sleep on time and don't complain, you know? The nightlife never got to me as an artist. Maybe I sometimes buy something that I couldn't buy before, but expensive cars and very expensive clothes? No, no crazy expenses that I later regret."
If you watch Engel, you will see an intensely happy guy when he stands alone on a staircase of the Ziggo Dome before attendance. Thousands of smartphones light up and 17,000 fans scream (two days in a row). Not a 'tight from the tension', but a huge smile. "Yes, I felt it", he looks back at that moment. "You see one deep sigh. But just like the movie, I've been so involved in those biggest concerts I've given."
"Everything has to be the way I have it in my head. That ensures that nothing happens that I don't know about, unless it's something external of course. Actually nothing can happen. So I stood on those stairs thinking 'I can do this and I hope those people in the room are having a good time'. But believe me, I was proud too. The first night felt like my exam, the second like graduation. I can't actually make that statement to the people who were in the Ziggo Dome on the first day, but fortunately I have had many reactions that they also thought it was very cool."
Big2, Twan van Steenhoven of The Opposites, also appears at the concert with a smile from ear to ear like a shadow (duet Leuk). Antoon: "Twan was emotional. Because of the idea that I pulled him out of a studio when I was 17 as a teacher at the Herman Brood Academy. That I then addressed him and that we now stood together in front of all those thousands of people. We could barely place it. But Twan has also made a big step. When I met him he had no children, now he has two and is a father with all his responsibilities."
Acid reactions
He can now ignore the fact that Antoon received positive but also sour reactions to his documentary. He did get them: "Then I read comments, maybe from older people, like 'who is waiting for a documentary about someone with such a short career?' They think they won't see anything. I myself like that we started so early… Oh, what am I talking about. There are four thousand positive comments and ten negative ones and I'm going to name them here. I understand that people see that I have a short career, but I've been filming since no one even knew me. So you see three years of my life passing by. Three years in which a lot of special things have happened and I am proud of that. I always said that my career would succeed and now it has."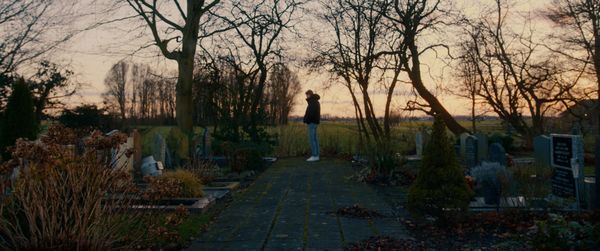 Antoon and his mother Helen
The fact that he became more responsible after the death of his mother Heleen must have given that career a boost. Anthony is convinced of that. "But the rapids were already running while she was terminally ill." Heleen also learned that her son scored a first hit with Hyperventilation before she left the earthly. Antoon also wrote a song about her, Onweer. In the film you see him singing, while Heleen can be seen with Antoon on his lap on LED screens across the full width of the Ziggo Dome. It clearly resonates with his fans. Engel is therefore a nice tribute to his mother and the title naturally speaks volumes. Gripping: "Then you are 20, twice a full Ziggo Dome, but my mother in a coffin."
There is another Angel, Antoon's grandmother. Fortunately, she is still alive and the artist enjoys it ("nothing is necessary with her, I can just throw off my shoes. Someone else is always asking something of me"). About his darling, who can regularly be seen with Antoon at the kitchen table in the film: "What a good mentor she has been to my own mentor. You can say that she and also my late grandfather Antoon are responsible for how my father raised me. On Grandpa's deathbed I just told him I was going to start all this. That I started a career like Antoon."
Search for a child's unique talent
That upbringing is obvious, if you look at Engel. An upbringing that will not appeal to everyone, where it is about 'if you are going to do something, then you will do it well'. We also see this with Antoon's sisters, Anneleen and Josefien. The first, slightly older, wanted to swim and that goes full house too. Training at 6:00 in the morning, but with the full 100 percent support of the parents. Father Justus explains in the film: "As a parent, look for your child's unique talent. Then sometimes something falls off, or something else continues." In any case, the Verkerkjes have not become any worse.
After the Ziggo Dome – Antoon states in the film – the popular man wanted to 'put things into perspective first'. Then the question 'what now?' sometimes come. Has he asked himself that question? "I find it difficult to answer that question. Honestly, it's now more of: I'll just keep doing what I like. Then I'll see where it takes me. The Ziggo Dome has never been a dream of mine, or at least not a goal. I never started my career with the idea that I wanted to end up in 'de Ziggo'. I am ambitious, but I wanted to do fun things. If I could earn my money with that, I would be very happy. The Ziggo Dome crossed my path on the way and that was super cool. However, you will not hear me say that the ArenA is next. If it becomes Paradiso again, it's also good. Two thousand people who are blaring along is just as bloody fat."
Antoon tells it all at once
The conversation is 'on again'. Giving interviews is not his biggest hobby in his career as an artist, Antoon admits. It's not very far either, but he'd rather be in his studio in the village where he grew up than face a journalist or in a club or pub. "I have to today," says a PR lady with a laugh. Antoon himself: "For the film I will now do it again extensively because of course I would like to promote Engel for my fans and hope that they will watch it. There is just so much question from them about how things are going in my personal life. Look, when I come to a radio station to tell about my new single, I don't feel like asking about my deceased mother again. On the other hand, I understand that people ask. Today and with the film Engel I can tell it all at once." Let it be a beautiful ode to Heleen.
Engel screens today and Sunday in 101 Dutch cinemas (and the film can also be seen in Belgium). More information can be found on Antoon's special Engel website.