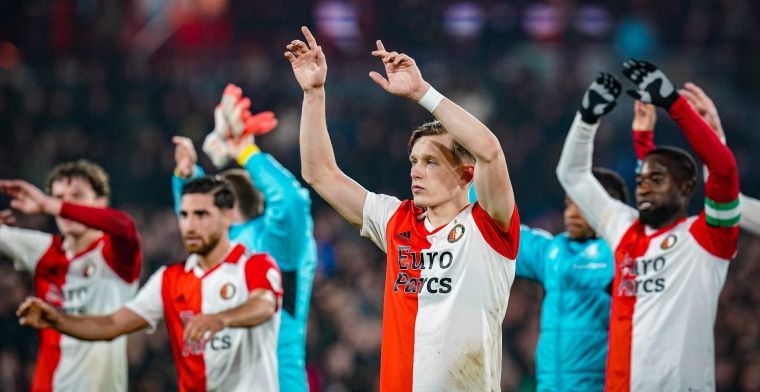 Feyenoord will compete against Shakhtar Donetsk in the eighth finals of the Europa League. The draw in Nyon showed that on Friday.
The team from Rotterdam qualified for the knockout phase as group winner, leaving an opponent waiting who had survived the intermediate round. In the end, Shakhtar came out of the box. The Ukrainian top club, which has lost a lot of quality due to the war, seems to be the most favorable opponent on paper. In the intermediate round, Shakhtar was too strong for Stade Rennes after penalties.
The duels in the eighth finals of the Europa League will be played on March 9 and 16. It has already been established that Feyenoord will play the return in De Kuip. The team from Rotterdam is not allowed to take away supporters to the away match due to a penalty from UEFA. Due to the war with Russia, Shakhtar is currently playing its home games in Warsaw. The club's most famous player is ex-Ajacied Lassina Traoré. Shakhtar is currently second in its own country.
Feyenoord avoided several top teams during the draw. Seville, Juventus, Sporting Portugal, Bayer Leverkusen, Union Berlin, AS Roma and Manchester United were also among the possible opponents. Erik ten Hag's team was eventually linked to Real Betis. Premier League leader Arsenal takes on SC Braga. The latter seems favorable in view of the coefficient battle with Portugal.
The full draw for the quarter-finals of the Europa League.
Union Berlin – Union Saint-Gilles
Seville – Fenerbahce
Juventus – SC Freiburg
Bayer Leverkusen – Ferencvaros
Sporting Portugal – Arsenal
Manchester United – RealBetis
AS Roma – Real Sociedad
Shakhtar Donetsk – Feyenoord
#UEL 𝐑𝐎𝐔𝐍𝐃 𝐎𝐅 𝟏𝟔

Feyenoord 🆚 @FCShakhtar #UELdraw pic.twitter.com/g6aD6ZCasX

— Feyenoord Rotterdam (@Feyenoord) February 24, 2023