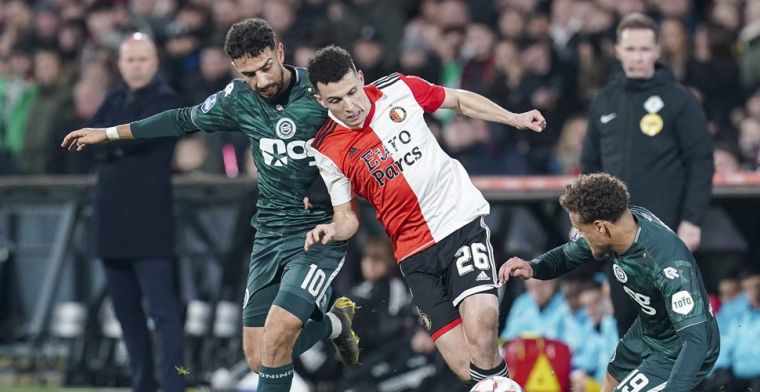 Oussama Idrissi thinks that FC Groningen should put their hand in their own bosom after the defeat in De Kuip. The Feyenoord attacker was annoyed by the many time wasters of the visitors and states that Isak Määttä was 'stupid'.
The Groningen left back received his second yellow card shortly after the break, because he shot the ball – in front of the sideline – against Alireza Jahanbakhsh. Idrissi does not understand the outrage about this. "I just thought both yellow cards were incredibly stupid of him," says the match winner at the press conference.
Määttä got his first shot in the stoppage time of the first half, after he gave the ball to a teammate after a long delay after a throw-in. "They were literally stretching in the catacombs for a long time, by sitting in the dressing room for a long time," responds Idrissi. "I think the keeper took half an hour to shoot the ball forward. Then you know that the referee will give a yellow card. And that happened in the first half."
Idrissi agrees with referee Joey Kooij's decision to send the Norwegian off the field. "I was on the other side of the field, but in my experience he deliberately and unsportsmanlikely shot that ball against Alireza. He could shoot that ball anywhere, but – in my opinion – deliberately shot into Ali. That is unsportsmanlike, then you know that the referee can give yellow. I'm not a referee, but that's my opinion."
With one man more, Feyenoord broke the spell against Groningen shortly before time. Idrissi saw his cross fall into the goal, but had no doubts about a good outcome. "We have proven several times that we can go all the way this season. It may now look like it was one of the last minutes, but I feel there would be a lot of injury time. We were so dominant, that goal would sooner or later let drop."
The Unibet Uitblinker: 3x your bet with a shot at goal Weghorst!