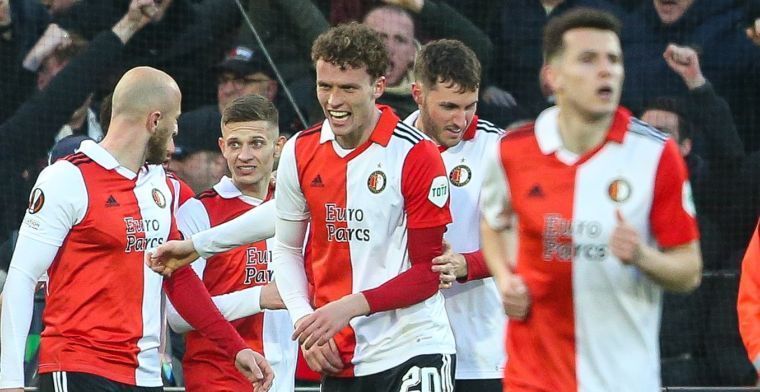 The upcoming championship will not only bring Feyenoord sporting success, but also much-needed financial relief. The Financieel Dagblad pays attention to 'the fight against the financial malaise' in De Kuip.
The newspaper writes that Feyenoord desperately needs sporting success from a financial point of view. Over the past four seasons, the loss amounted to a total of 34 million euros. As a result, the people of Rotterdam consumed a lot of equity, which fell from 31.6 million to one million between 2018 and 2022. A negative score was only prevented thanks to a financial injection from the Friends of Feyenoord.
Reaching the Conference League final last season marked a turning point. Luis Sinistera (25 million), Marcos Senesi (15), Tyrell Malacia (15) and Fredrik Aursnes (12) raised substantial amounts. Next summer, Feyenoord seems to be able to receive a record amount for someone like captain Orkun Kökcü. In addition, a flywheel is set in motion with the Champions League. In the billion-dollar ball, the club can earn tens of millions.
Feyenoord also benefits commercially from the national title and participation in the Champions League, although the increase will be limited. "Feyenoord now raises 28 million from the sponsors and with the business seats. If they can increase that amount by five million, they are doing very well," says sports marketer Ruud van der Knaap. Furthermore, the merchandise will probably increase by several million.
All in all, Feyenoord's budget seems to be heading towards one hundred million euros. 'With that, Feyenoord has at least largely closed the gap with PSV, but it still lags behind Ajax. The people of Rotterdam need several more successes before they can also keep up with the people of Amsterdam financially,' concludes the FD.
Listen to the latest episode of #DoneDeal the podcast now!
Title beckons for Feyenoord: 50x your stake if you win at Go Ahead!