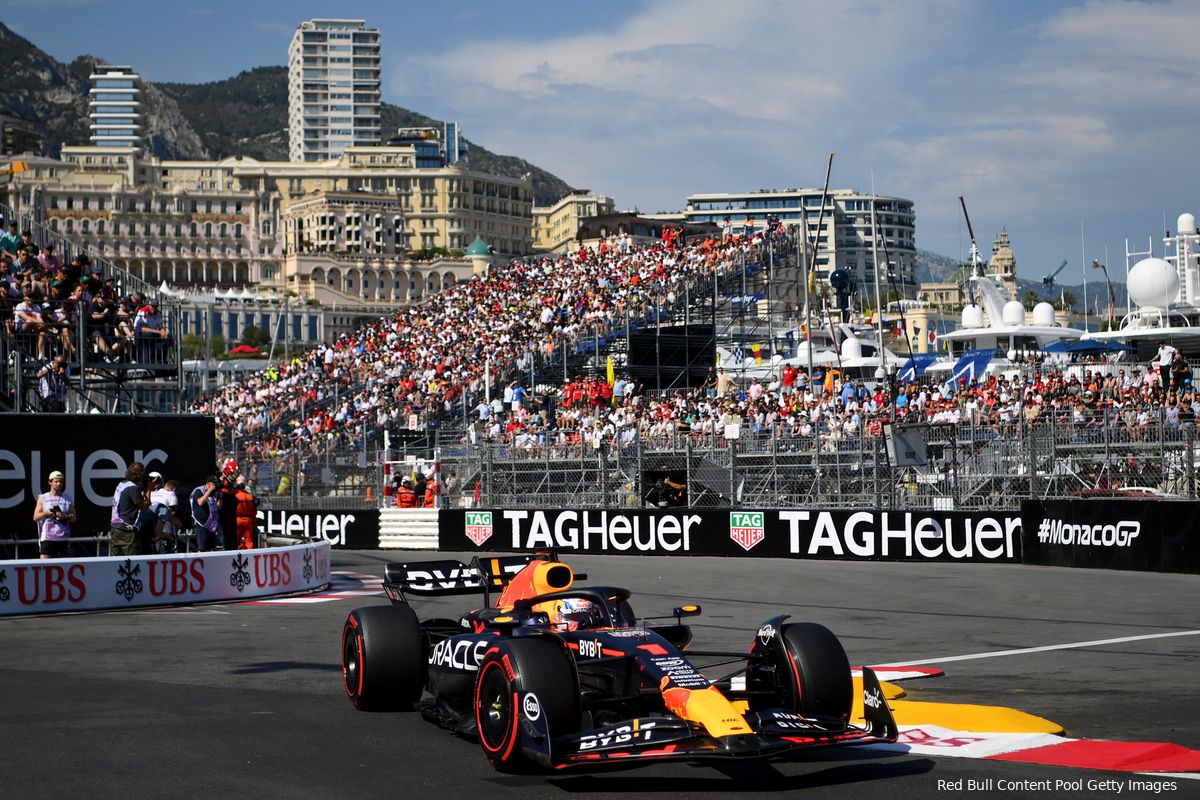 After a thrilling qualifying session, it's time for the Monaco Grand Prix. At 15:00 the five red lights go out and the important run to the first corner starts. The race in the principality can provide a spectacle, because a mistake is easily made on the tight street circuit. Overtaking is not often seen in Monaco, so Max Verstappen, who managed to take pole position, can hope for a second victory in the streets of Monte Carlo.
It is important for Red Bull Racing not to make strategic mistakes during the Grand Prix, just like Ferrari did last year. The chance of rain is still present, but it can also remain dry during the race. Then it becomes strategically easier for Red Bull to let Verstappen win the race on the street circuit in Monte Carlo. Fernando Alonso will do everything he can from second on the grid to get past the Dutchman in turn 1.
Has Verstappen already done all the work?
During qualifying, Verstappen was still two tenths behind Alonso's time for the third sector. The Spaniard could therefore hope for pole position, but it was not to be for the Aston Martin driver. Verstappen made up all the time in the last sector and can therefore start from pole position in Monaco for the first time in his career. He seems to have already done the most important thing. The race pace of the RB19 is good, allowing Verstappen to pull away after the start.
Alonso, however, hopes for chaos in Monaco. With safety cars, red flags or even changing weather conditions, the race in Monte Carlo can become extremely exciting. Esteban Ocon, who is allowed to start third after a penalty for Charles Leclerc, may be the smiling third when Verstappen and Alonso come together. At the start, turn 1 will therefore be crucial for the rest of the race, as that seems to be the only time to overtake.
Watch GP Monaco live?
Will Verstappen win again or will Alonso cause a stunt? The Monaco Grand Prix is ​​broadcast by F1TV and Viaplay, among others. Register with the providers to see live images of the sessions yourself. Do you want an overview of all TV providers for the entire season? Then view this page.
Bet on GP Monaco
A premonition that Verstappen will do well this weekend? Then check the odds for the upcoming sessions. Here you will find the odds for a win by the Dutchman every weekend, and there you can also read, for example, how much money you will get back if you think Verstappen will finish a session in first place.
F1 Live 15:00 | 2023 Monaco Grand Prix