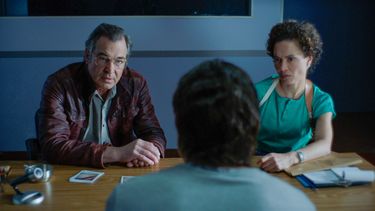 Erik de Vogel has known pretty much the whole of the Netherlands for more than a quarter of a century as (the usually) villain Ludo Sanders in Goede Tijden, Slechte Tijden. Together with his wife Caroline de Bruijn (Janine Elschot), he is a very defining face in 'GTST'. Nice – and perhaps surprising – is that he appeared this week in a completely different role in the exciting true crime A Murder Costs More Lives on Videoland. Metro spoke with Erik de Vogels
The actor (62) plays detective Kramer who interrogates Paul Spruit for an episode in A Murder Costs More Lives. This happens when the young man kills his stepfather, who threatens to kill his mother, with more than thirty stab wounds.
A Murder Costs More Lives by Peter R. de Vries
A Murder Costs More Lives is the book (1994) by Peter R. de Vries that he was most proud of. An important role in the bizarre family story was also played by Paul Spruit's father Gerard. This Donald Duck bus driver from Amsterdam lured children into his vehicle in the 1970s and also murdered two of them. Later Gerard Spruit killed himself in a TBS clinic. Peter R. de Vries himself really hoped that A Murder Costs More Lives would be made into a film, but unfortunately he can no longer experience this himself.
If you want to read more about the series, with interviews with two main characters Chris Peters and Melody Klaver, check out this Metro article. Other actors include Jacob Derwig, Monic Hendrickx and Martijn Fischer.
Erik de Vogel was able to make time
Metro watched the first two episodes of A Murder Costs More Lives with the cast and makers. The four-part series can now be seen in its entirety on Videoland. Erik de Vogel was also present in the Corrosia theater in Almere-Haven, the place where the murder of the stepfather took place. You might say he was actually there, with his usually busy schedule at GTST. The actor also has some time to sit down at Metro, at a foyer table with chips.
You were able to get away from the set for a while?
Erik de Vogel: "We had recordings for GTST today in the harbor in Amsterdam. But I was able to come here straight away afterwards. Of course it's nice to be there. I am proud of the production of A Murder Costs More Lives."

Did you know the story that Peter R. de Vries wrote down?
"No, honestly not. I of course read Peter's book when I got the role. I knew he wrote this in the 1990s, but I understand that he only started writing it in 2015 to see if his story could be adapted into a series. The book was his favorite."
Indebted to Peter R. de Vries
It's great that A Murder Costs More Lives has finally happened.
"Yes, that is beautiful."
Did you feel a responsibility to really do justice to Peter R. de Vries' book?
"Of course. An actor will always make the best of his role, but in this case, now that Peter is no longer there, we wanted to be extra indebted. But suppose Peter had still been alive, that would also be the case, because you treat someone's work with respect. Then he would have been there alone. Fortunately, his children Royce and Kelly were there to supervise it, and they have remained very close. In any case, you don't want to make off with a true story in a sensational way. A Murder Costs More Lives is subtle and neatly made. Despite the horror of the event, it has remained intact."
Sinking into A Murder Costs More Lives
What was it like for you to be the detective, as a man always associated with Ludo Sanders?
"Very nice. My role in GTST is something that is very satisfying, otherwise you wouldn't do it for so long. But you didn't become an actor to play one role for life. If you get the opportunity to do something like A Murder Costs More Lives, no matter how modest my contribution may be, that's more than enough for me to sink my teeth into. I thought it was nice to have the opportunity to train different muscles, as I call it."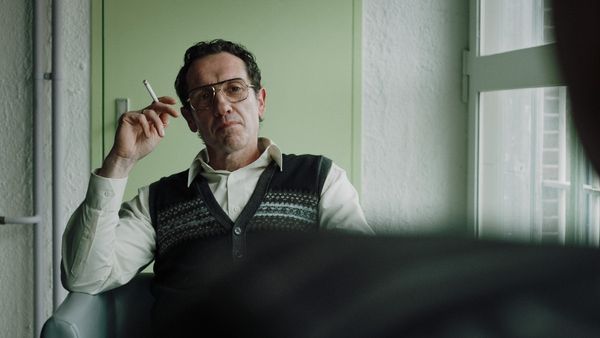 Does it stop makers from asking you because they might think you don't have time because of GTST?
"I do think that plays a role. People will think I'm completely stuck. However, I don't know for sure, because people never call me to say that they won't hire me for something. You never get calls asking why not, only calls asking why. GTST will cooperate if there is a problem, but it has to be planned around my role, because it is such a busy production. That has now worked out well and we are looking forward to more."
Man of the old school
As a detective, your character does a great job during the interrogations. Can I call him blunt?
Erik de Vogel nods: "He is a man of the old school, who has actually already made his judgment."
Could you also get that from the book A Murder Costs More Lives?
"No, the detective is described indirectly. That's not a problem, because the series is a dramatization of the book. That gave the space to make Detective Kramer a real character."
If the real detective were still alive, would you like to meet him?
"No, that is not necessarily necessary. After all, I'm not imitating that person. If the man is still there, I especially hope that he really enjoys A Murder Costs More Lives."