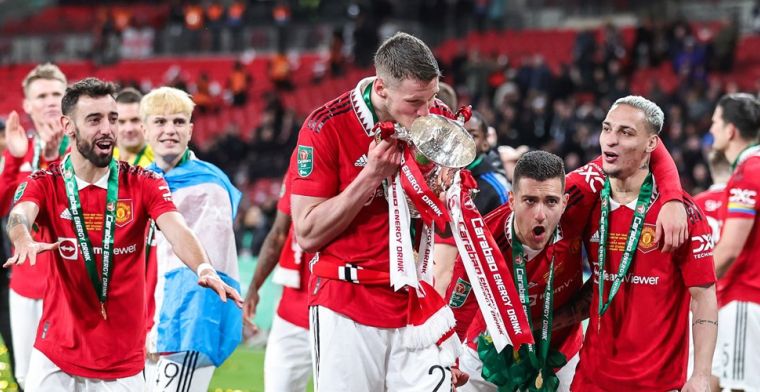 Wout Weghorst shares in the revelry at Manchester United, which won its first prize since 2017 on Sunday. Erik ten Hag in particular has already been praised in the British media, but the Dutch striker also receives a lot of compliments.
The Guardian expresses its admiration for Weghorst. "Since Weghorst arrived in January, United have won a trophy, beat City and Barcelona, ​​have moved firmly into the top four and caught the eye of the most wealthy would-be owners. And all this in the Wout era. This man is gold dust. United should no longer capture him, but hang him above the stadium clock," refers to the happiness that the Orange international would bring. The Guardian even calls Weghorst 'a key figure' and states that he 'has his own magic touch'.
Weghorst gets a 7 from Sky Sports. 'Assisted Rashford's goal, which was credited to Sven Botman, with a well-timed pass. The Dutch striker managed to connect the game well and also came up with a good chance, which was saved by Karius', is the assessment of the British broadcaster. Manchester Evening News is a bit more critical and gives a 6. 'He missed two chances, but on the other hand was important in Rashford's 2-0. Weghorst's starting spot paid off for Ten Hag in that sense.'
It is a sparing criticism, because 90Min is particularly praiseworthy. Together with Casemiro, Weghorst received the highest score: an 8. 'The first opportunity in the match was for the big man in the point. He held off his opponent, checked with his knee, but was unable to really test Karius afterwards. His half volley ended up in the goalkeeper's diaphragm.' Nevertheless, he gets the compliments. It was his best performance in United's shirt so far. Holding the ball and his passing were both exceptional.'
The Express agrees and rewards Weghorst with the same mark. One of his best performances since he arrived at Old Trafford. There were never any doubts about his commitment, but he also showed some nice things.' The Sun therefore defends Weghorst's starting place, although he only scored once in twelve matches. "Everyone can see why Ten Hag is drafting him, even if he is not very threatening in front of the goal," says the newspaper, which gives him a 7.
🥹 What a moment for Wout Weghorst! ❤️

(through @ESPNFC) pic.twitter.com/3VpWSSriB0

— ESPN NL (@ESPNnl) February 26, 2023