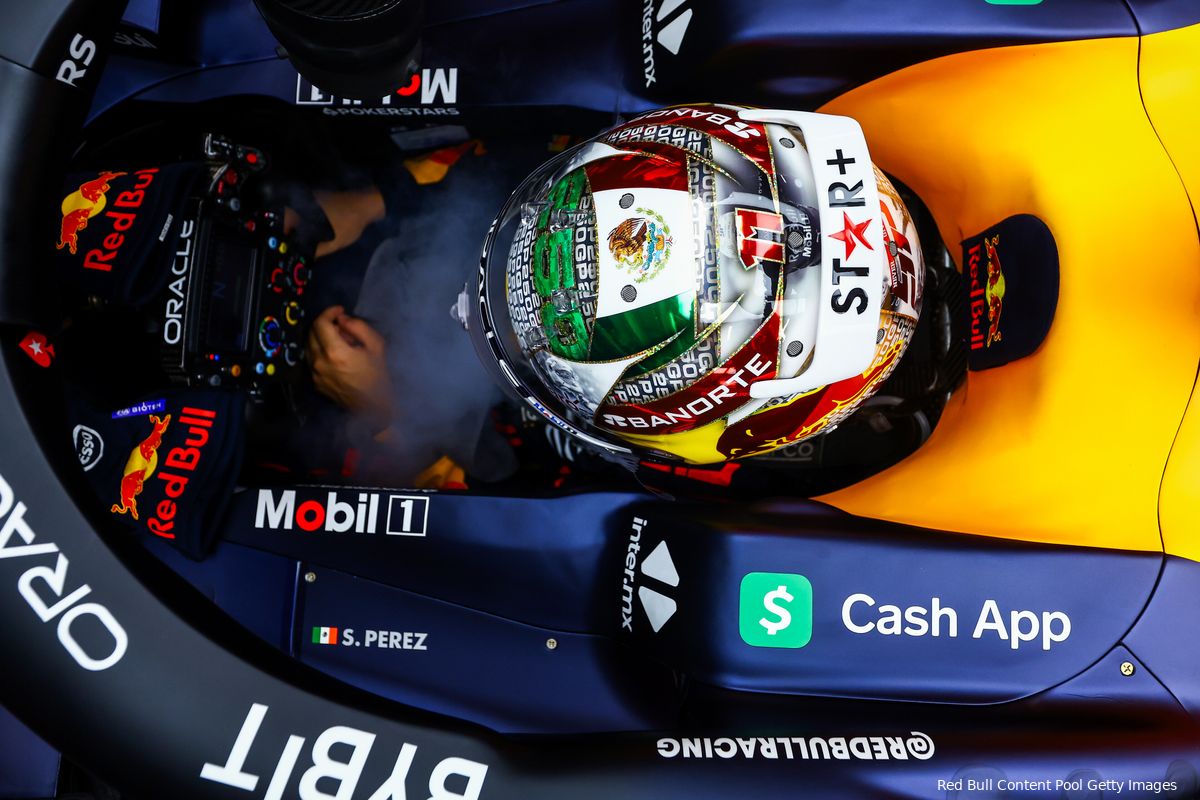 During Ziggo Sport's reflection on qualifying for the Singapore Grand Prix, Carlos Sainz received many compliments from former driver Robert Doornbos and commentator Olav Mol. Doornbos also analyzes where things went wrong at Red Bull Racing, noting that Sergio Pérez really made the mistake himself.
First, Doornbos and presenter Rob Kamphues discussed Ferrari's performance. "Sainz is in the form of his life," says Doornbos. 'It can't get much more extreme: you come from Monza, where the wings are flat, and here you have maximum downforce. It's marginal, it's unprecedentedly exciting. It is remarkable that it is not Charles Leclerc, because he is of course a beast in the qualifications, but it seems that Sainz has also developed that gift. He still has to finish it tomorrow," says Doornbos, who points out that Singapore regularly wins from pole position. "It's great for Formula 1 that Ferrari is back."
While Sainz is doing great, this will be a lot more difficult for Leclerc: 'Leclerc was already disappointed in Monza that Sainz was short of him. That was also marginal, and now again. It seems a bit as if the balance is shifting towards Sainz within Ferrari," says Doornbos, who also points out that Leclerc has such a good relationship with team boss Frédéric Vasseur, with whom the Monegasque already worked at Sauber and in Formula 2.
Sainz as future world champion?
Commentator Olav Mol is also very complimentary of Sainz. "Certainly," Mol responds to the question of whether Sainz is potential world champion material. 'He was the only one who could put some heat on Max in his early days. Now in the Ferrari he has simply improved in the last few races, so he is certainly world champion material. He has found a certain aggressive mode in himself since Monza, and that is going very well.'
Dramatic day for Verstappen and Red Bull
Verstappen's day is then discussed, who talked about a shocking experience: 'Then he talks about his entire lap. He no longer even had the patience to stay in the car until his mechanics had pushed the car into the garage," says the former Formula 1 driver. 'It's not a mechanical problem, but a balance problem, which has been bothering him all weekend. In addition, he had major problems with shifting gears.'
Doornbos then shows where the biggest problem with the RB19 lay. 'The balance was simply lost in qualifying. This circuit is more difficult for them on paper. The Red Bull does not like having to take those curbs in the last sector, and the Mercedes, for example, is good at that. Verstappen has to avoid those curbs. He drives all the way around it and then you get a completely different line. He doesn't get wide on the straight either, he just leaves margin there.'
Pérez spins thanks to his own mistake
It wasn't just Verstappen who was crying his heart out; Teammate Pérez's case went even worse. 'They have often had a bad start to the weekend. That's okay, because you have training for that, and you have someone in the simulator for that. Then they look for a balance and then they are there on Saturday. We expected that too. We are talking about Max now, but we are also talking about Sergio Pérez. He won this Grand Prix last year," says the Rotterdammer about the driver who has to start thirteenth.
"You also see that imbalance with Pérez, but he also makes a driver error," Doornbos shows. 'When entering (the first corner, ed.) he comes out too wide and ends up on the artificial grass. Max did that too, but Pérez comes back too late and took that sandwich with him. This causes the car to become unbalanced again.' This causes the Mexican to end up on the dirty part and spins. 'Very messy. You can't blame the team for this. He's also very disappointed.'
Lawson the hero of the day
The youngest of the Formula 1 field also excelled, and is therefore also discussed. "Liam Lawson took the opportunity to become the best Red Bull driver," says Doornbos about the AlphaTauri driver's tenth place. 'On a circuit you've never been to before. You drive out Yuki Tsunoda, and you are the best of the four Bulls," summarizes Doornbos, who thinks that Lawson is well on his way to a contract for 2024. "It's great. He's the youngest on the grid.'
What else can Verstappen do in the race?
Mol fears that a truly top result is no longer possible for Verstappen. 'It's difficult to catch up. "With the speed of Verstappen and Red Bull he may be able to get to seven or six, but then it will be difficult," says Mol. 'It's such a terribly difficult and tough job that it won't be easy, so maybe you should just accept the loss. He has such a big lead, if he finishes second every race, he will also become champion, but I don't think he will become champion in Japan.'
Verstappen can take his eleventh win in a row this weekend! Also betting on F1? Register now at JACKS and receive 60 euros in free bets! If you play responsibly, you keep it fun. What does gambling cost you? Stop on time, 18+