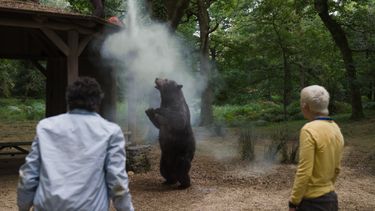 A film, Cocaine Bear, about a bear who becomes heavily addicted to coke because the animal has taken a planeload of the stimulant powder. Sure…
That was honestly the first thought on Metro's movie-watcher's mind. However, it then became clear that this story really happened. Look, you've got something to be discussed in Metro's Movie Review of the Week. And so we sat down for it. Bring on the bear who, according to the Cocain Bear story, goes desperately looking for cocaine and tears quite a few people to shreds in the process. This title can be seen in Dutch cinemas from tomorrow.
The real story of Cocaine Bear and Cocaine Cowboy
That real story is a bit more nuanced, but is still more than special. It was in the mid-1980s when Andrew Carter Thornton, nicknamed The Cocaine Cowboy, decided to drop some 800 pounds of Colombian coke from a Cessna plane into the American wilderness. He would later search for the bagged drugs with a value of 14 million dollars with accomplices. Smuggling across the border was thus avoided.
During this action, Thornton jumped out of the plane. Why, only he himself knows. And why he then crashed next to a house on a gravel path in Knoxville is also not clear. Two versions have been devised: he hit his head when he jumped out of the plane, or his parachute 'simply' did not open. The parachute's main screen was found a few hundred meters from his body.
What is certain: a dead bear was later found in the area. The animal had more than 30 kilos of coke in its stomach and could rightly be called Cocaine Bear.
The bear in Cocaine Bear is alive, of course
With that story that is as sad as it is beautiful, screenwriter Jimmy Warden and director Elizabeth Banks ran off. In Cocaine Bear, of course, the bear is anything but dead, otherwise we would only have been able to watch that fatal jump from the plane and a tasty and then dying animal. Warden and Banks have managed to knit more than an hour and a half of pure entertainment.
Universal Pictures gives Cocaine Bear the thriller genre. As far as Metro is concerned, 'hahaha-horror' is more appropriate. It is difficult to summarize the film in one word, because you get a non-scary horror that is completely over the top. Over the top in terms of dialogues and characters; and then all the characters too. That may not be for everyone, but if you surrender to it, you will develop a soft spot for all the craziness. The actors also bring it with nice airy acting.
Hilarious from time to time
This chaotic thriller, um hahaha horror, sees a motley crew of cops, tourists, teens, and a mom searching for the teens, all together in a Georgia forest. So there is Cocaine Bear, a dangerous predator weighing more than 200 kilos that has ingested an unimaginable amount of cocaine. Coke stiff, he goes on a rampage for more drugs… and victims. Have you ever seen a bear banging its head really hard against a tree? Cocaine Bear does.
From time to time this movie can be called hilarious. You actually know that from the start, when several facts about bears appear on the screen and Wikipedia is presented as a reliable source. The bear itself, apart from a single questionable action scene, is not that bad and has been edited.
Rating out of 5: 3.5
(maybe not for everyone, but it can sometimes become a cult film by people who give it at least 4 stars).
You can read Metro's movie review of the week every Wednesday around 6 p.m. New titles always appear in Dutch cinemas on Thursdays, such as Cocaine Bear (sometimes also on Wednesdays). Reporter Erik Jonk chooses one every week. Next week: When I Saw You, after the bestseller Isa Hoes wrote about life with her husband Antonie Kamerling.