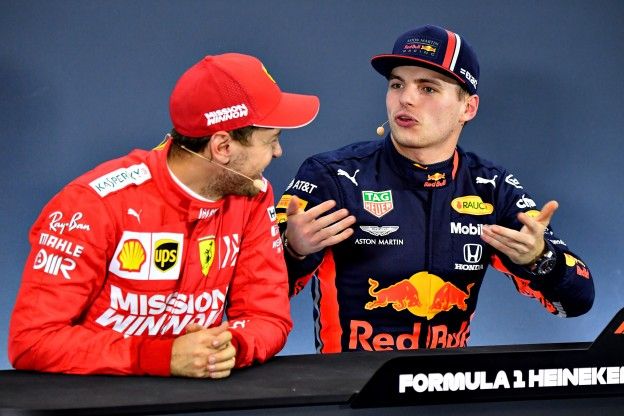 In 2012, Romain Grosjean was the last Formula 1 driver to be suspended for a race. Two years later, in 2014, Formula 1 introduced a new penalty point system. Several drivers have since come close to a suspension, but it has not yet come to the point that a driver was actually excluded from a Grand Prix. Pierre Gasly did take a considerable load of points to his new employer, and will have to be careful for the time being. F1Maximum looked into which drivers collected the most penalty points in their career, and it soon turns out that it does not go hand in hand with a lack of success.
The new penalty point system was announced ten years ago with the aim of tackling repeat offenders. Since then, the system has been criticized, because it has happened several times that a driver has come close to a suspension, without having created any really dangerous situations. For example, there is a two-point penalty for crossing the white line at the pit lane, as AlphaTauri driver Yuki Tsunoda discovered several times in Austria.
His former teammate, Pierre Gasly, who has since moved to Alpine, finished last season with ten points on his license, and is currently the leader, as shown in Table 1. The Frenchman will have to get through the race weekends in Baku, Miami, and Imola with a maximum of one extra penalty point. Last race in Australia it turned out that the stewards are not exactly eager to suspend Gasly. After he caused an accident with his teammate, the stewards allowed Gasly to leave the circuit without penalty.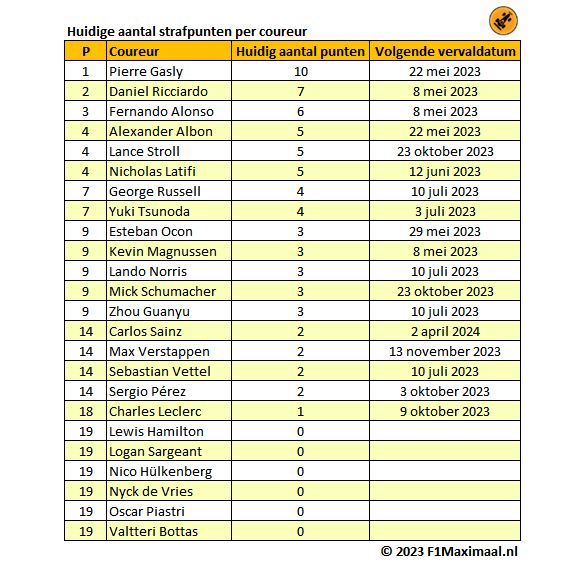 Daniel Ricciardo, who endured a dramatic season at McLaren last year, follows with seven points, but the Australian will see his points total slowly disappear this season as long as he doesn't get into action. The rest of the drivers are nowhere near a race suspension for now, although Lance Stroll knows he won't lose any points for the next six months, so if he takes another penalty soon, he'll have to walk on eggshells for a while afterwards.
World champion Max Verstappen owes his only two penalty points to a collision with Lewis Hamilton in Brazil last year. The Brit himself still has a clean sheet, just like his former teammate Valtteri Bottas. Nico Hülkenberg, Nyck de Vries, Oscar Piastri and Logan Sargeant have only participated in a few races in the past twelve months and have not yet had to sit on the penalty bench, although De Vries had to report to the stewards in Monza last year. before he was acquitted.
Record Gasly stands for a long time
Looking at the data since its introduction in 2014, it is clear that the stewards have been busy. A total of 544 penalty points were handed out to 44 drivers. On average, that means about 60 penalty points per season. They were especially looking forward to it in 2018, with 83 points awarded on Formula 1 driving licenses. Last year there were also quite a few penalties, good for a total of 77 points, although there were of course also more races, plus three more sprint races.
Gasly broke the season record in 2022 with 10 penalty points, a record previously shared by Verstappen, Kvyat, Hamilton, and Tsunoda, who each managed to collect eight points in a season. It seems unlikely that Gasly's record will be beaten in 2023, as the FIA ​​announced before the start of this season that it would only be handing out penalty points this year for gross offences. Breaking Gasly's record will therefore be a challenge.
Text continues below the image.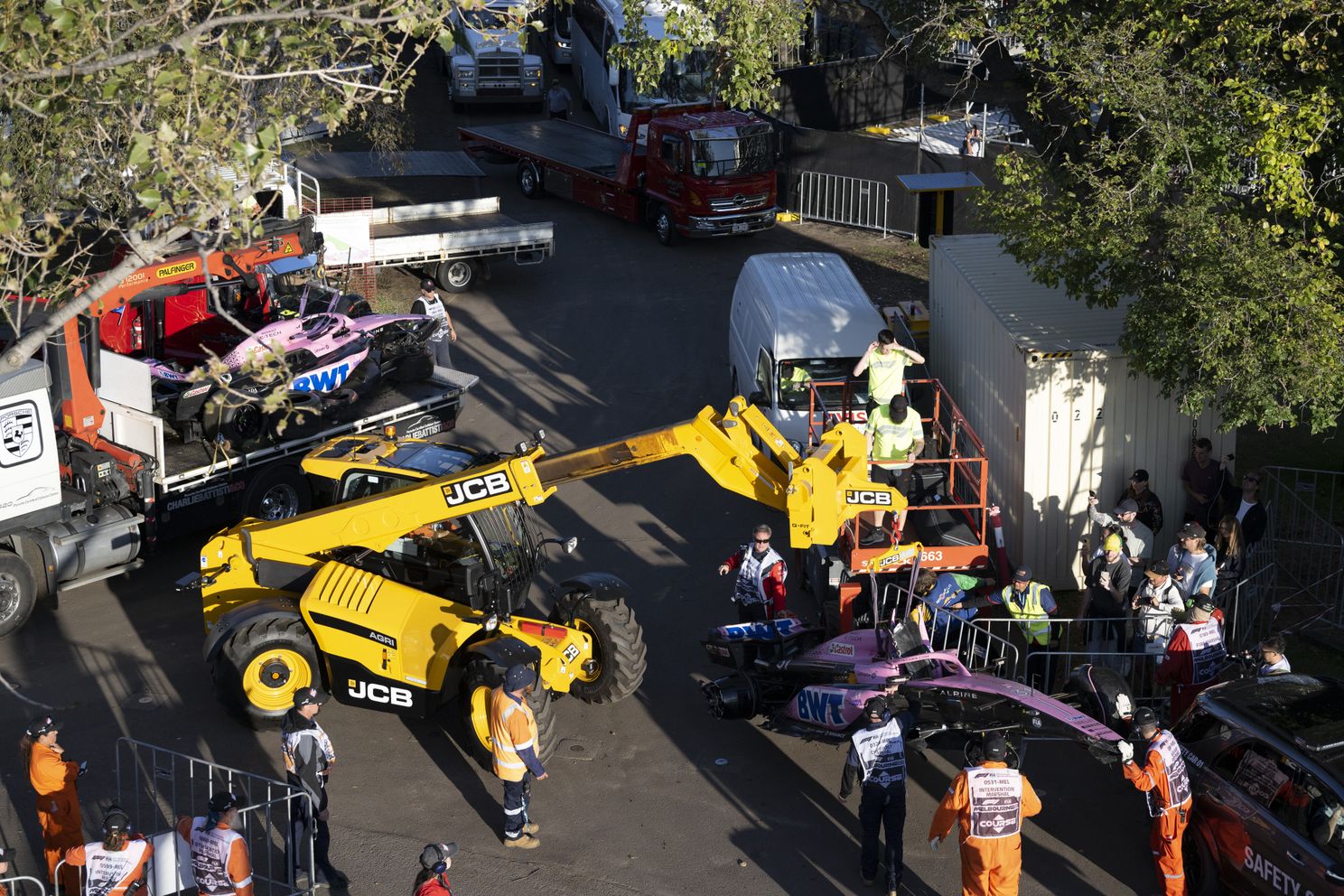 World champions are habitual offenders
If we analyze the totals since the introduction of the system in 2014, it becomes clear that it is not the case that the top players are spared from serious punishment. Reigning world champion Max Verstappen and four-time champion Sebastian Vettel share the lead in this debatable list. Verstappen was an easy target of the Formula 1 police, especially at the age of 17 in 2015. In 2018 he was screwed, especially in the opening phase of the season, and in 2021 a heated battle with Hamilton caused the Dutchman a lot of hassle after the races.
The reasons for Verstappen's penalties are varied: causing an accident, gaining an advantage off the track, ignoring blue flags, driving too fast behind the safety car, ignoring a single yellow flag, returning the track in an unsafe manner. circuit entry, an unsafe release, speeding under double yellow flags, and giving a brake test are all accusations thrown at the 25-year-old. According to the referees in Formula 1, Red Bull predecessor Vettel also did all sorts of things wrong.
Lance Stroll and Daniil Kvyat's scores are perhaps even more impressive due to their shorter careers. Kvyat is no longer part of the Formula 1 circus, but Stroll seems to have the right momentum to make a shot at the leading position in the standings. On the other hand, British Hamilton, Russell and Norris all stand out with low scores, just like Charles Leclerc and Nico Hülkenberg.
It is therefore debatable whether Verstappen and Vettel were actually the naughtiest boys in the class, or whether the view of the stewards seems to be a bit more sharp with one than with the other. In addition, it often seems to be the case that incidents at the front of the field are examined more extensively than at the rear. Carlos Sainz can confirm this, after he was penalized at the last restart last race, while an incident in the midfield between the Alpine drivers went unpunished, and the incident between Sargeant and De Vries in the rear was not even looked at.
By: Mark Hanselman (Twitter: @MarkHanselmanF1)