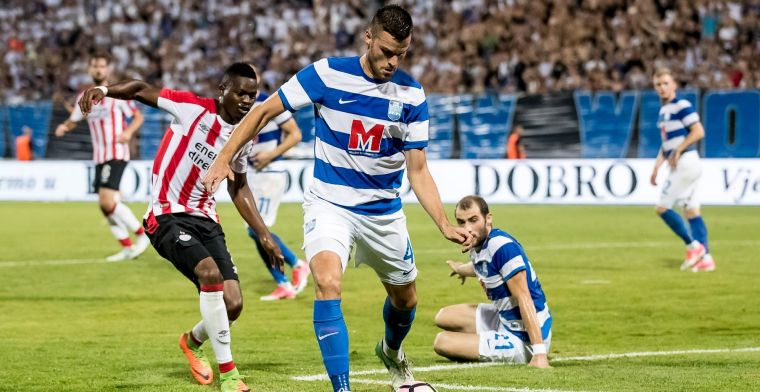 Mateo Barać has looked back on his failed transfer to Ajax. In the summer of 2017, the stopper was about to move to Amsterdam, but that did not happen. The medical examination revealed a heart problem, while the drama surrounding Abdelhak Nouri did not take place much earlier.
Ajax wanted to pick up Barać for about one and a half million euros from the Croatian Osijek. That ultimately did not happen, so he ended up at KV Oostende via Rapid Wien and the Russian league. In conversation with the club channels, Barać looks back. "With my Croatian club Osijek I played in the preliminary rounds of the Europa League against PSV. We eliminated the Dutch top club after we won 1-0 both away and at home. My name ended up in the books of several scouts, including Ajax, that needed a left-footed central defender."
"An agreement was reached with Osijek and I flew to Amsterdam to take my physical and medical tests. Those tests showed that my aorta was on the limit of the maximum width," continues the Croat. "In itself that was not a problem to be able to play football, but Ajax did not want to take any risks after their talented midfielder Nouri suffered a cardiac arrest and was in a coma less than a month earlier."
"The heart tests were also much more extensive than at other clubs. Understandable after what they had experienced, but for me it was a sledgehammer blow. Instead of a dream transfer to the great Ajax, I returned to Osijek," concludes Barać.
💬 Interview of the week: Mateo Baraç. In the summer of 2017, the Croat still seemed to sign for Ajax, but that transfer eventually fell through and via Austria and Russia, the Croat ended up at KV Oostende six years later.

👉 https://t.co/ZboKqlEMZZ… pic.twitter.com/nDlOiEAN39

— KV Ostend (@kvoostende) February 23, 2023