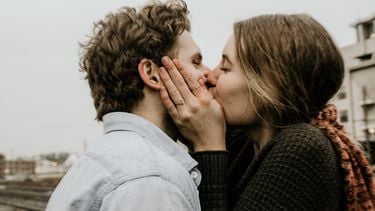 Video calling, texting or skyping, it's all well and good, but of course it doesn't beat the intimacy of being together by far. For lovers who are all about that intimacy, but can't be together for whatever reason, it was mainly a matter of waiting until they can give each other a spanking again. Until now, because with a futuristic kissing device you can still kiss your loved one remotely.
A Chinese inventor has launched a kissing machine that allows lovers to kiss each other remotely via silicone lips. Okay, it may still lack that intimacy of being together, but the inventor designed the lips to simulate the pressure, movement and warmth of a loved one.
With the help of sensors, users of the device get "a lifelike hugging experience," writes China's South China Morning Post. The machine can even transmit the sound the user makes when they give a kiss. The future is closer than you think. But whether we should be so happy about that…
'Upload' digital kiss for other users to experience
The kissing machine works by pairing the device with a mobile app and plugging the device into the phone's charging port. On that app, users can "upload" their digital kiss so that other users can experience that kiss through the device's mouth-shaped module.
And that appeals to the Chinese. For about 40 euros, more than 100 kissing devices per month are already flying over the counter of Taobao (China's largest online shopping site), the Chinese newspaper writes.
According to the newspaper, the device receives mostly positive reviews. For example, one male buyer writes that the digital kissing machine was the "biggest surprise" he and his long-distance partner have had in years. "Thanks technology," he writes, CNN knows.
Incidentally, a French kiss is not (yet) possible with the device.
Kissing device could also 'help people with oral infectious diseases'
The man who claims to have invented the device, nicknamed Jiang, says he came up with the idea after being in a long-distance relationship with his girlfriend for seven years. That is now his ex, but it is not known whether the device has anything to do with it.
This Jiang says the device should be able to foster monogamous relationships since it can only pair one transmitter and one receiver at a time. It also requires the consent of both parties. According to this Chinese, his invention can not only help people with a long-term relationship. Jiang says the device could also help people with oral infectious diseases.
Many critical reactions, from 'vulgar' to 'creepy'
On Weibo, the Twitter-like platform for Chinese people, several videos about the device have racked up hundreds of millions of views in the past week, CNN writes. While many users mainly see the funny side of the device, most of them label it as "vulgar" and "creepy".
Some expressed concern that minors could purchase and use the device. Critical reactions are also pouring in on Twitter, where several videos of the device are circulating. It is not known whether the inventor has plans to sell the device in other countries in the future. He does, however, plan to link a dating app to the device.
Earlier Metro 12 listed interesting facts about kissing.
Remote kissing device for long-distance lovers, invented and patented by Chinese university student in Changzhou City.
The mouth-shaped module, served as an inducing area for lovers to make the kiss and then it can transfer kiss gesture to the "mouth" on the other side.

— China in Pictures (@tongbingxue)