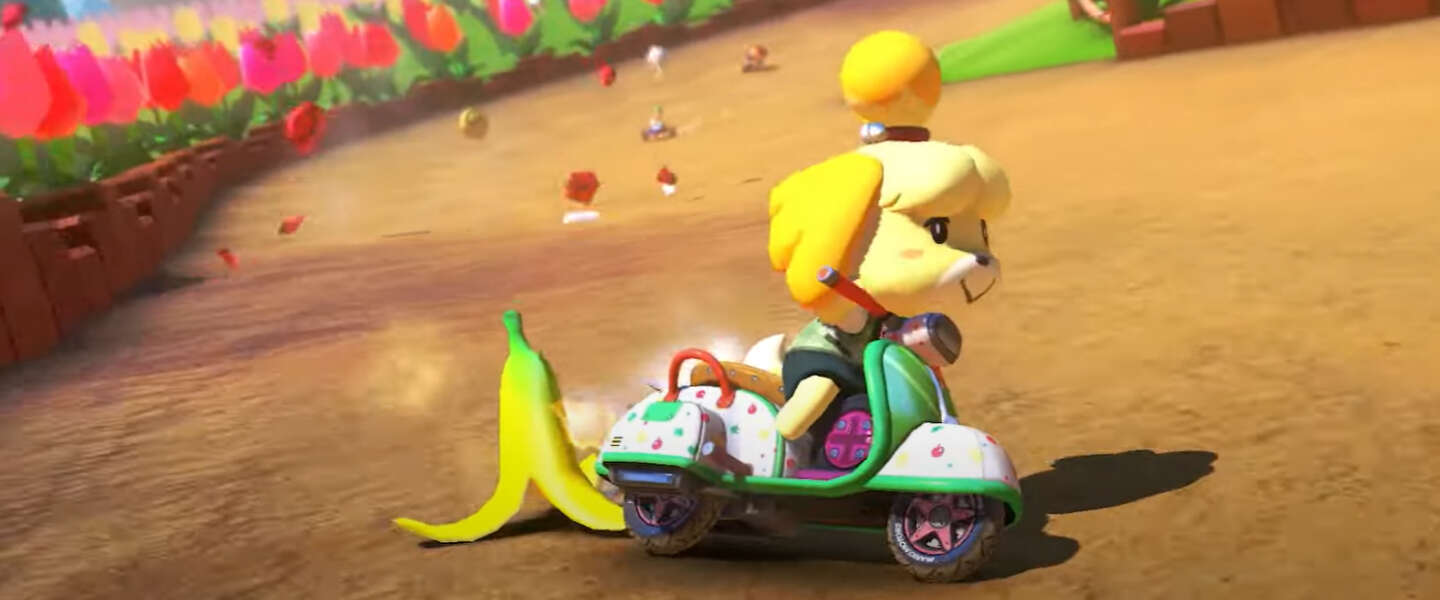 The Moo Moo Farms circuit from Mario Kart may look a bit like the Netherlands because of its cows: it is not. Fortunately, Nintendo once invested in making a Dutch circuit, namely for Mario Kart Tour on the mobile phone. And, good news for anyone who wants to race through Amsterdam with Mario and co in the 'real' Mario Kart: the Amsterdam circuit from Tour is coming to Mario Kart 8 Deluxe on Nintendo Switch.
Mario Kart 8 Deluxe
Nintendo's hybrid handheld has known Mario Kart as one of the most popular and best-selling for years games. It is typically a game that is easy to pick up, but where you still have to pull hard if you want to do everything at its hardest. A lot of DLC has already been released for Mario Kart 8 Deluxe, but not yet the Amsterdam circuit. Fortunately, that is now happening.
The Amsterdam circuit is particularly striking because it secretly also goes to Zaandijk: the Zaanse Schans has been recreated in an extremely touching way, including green Zaanse houses and of course windmills. Furthermore, the Rijksmuseum is part of the circuit and you will be overwhelmed with tulips. The soundtrack of the course is very accordion-like: wonderfully cliché. The nice thing about switching from Tour to the real game is that you don't have to use microtransactions: they are not in the Switch game. You do have to pay for the DLC though.
Amsterdam Drift
It's the fourth wave of DLC for Mario Kart 8 Deluxe and it includes a whole new track from the comical Yoshi's Island. In total there are eight circuits that you could not play in Mario Kart 8 Deluxe before. The 4th wave of downloadable content will be released on March 9 and will also include a new playable character: Birdo. So the witty egg spout comes with 8 circuits: Riverside Park from Game Boy Advance, DK Summit from Wii, Mario Circuit from DS, Waluigi Stadium from GameCube and thus three Mario Kart Tour circuits. In addition to Amsterdam Drift, these are Bangkok Rush and Singapore Speedway, which you can find in the Fruit Cup and the Boomerang Cup. You can buy the dlc with the Booster Course Pass of 25 euros or with the Nintendo Switch Online subscription with Expansion Pack, which costs 50 euros per year.
There will be two more DLC packs to Mario Kart 8 Deluxe after this, but we are already very satisfied with this one. We were already hoping that Amsterdam would make it to a huge Mario Kart game when we wrote about the Dutch circuit in Mario Kart Tour.