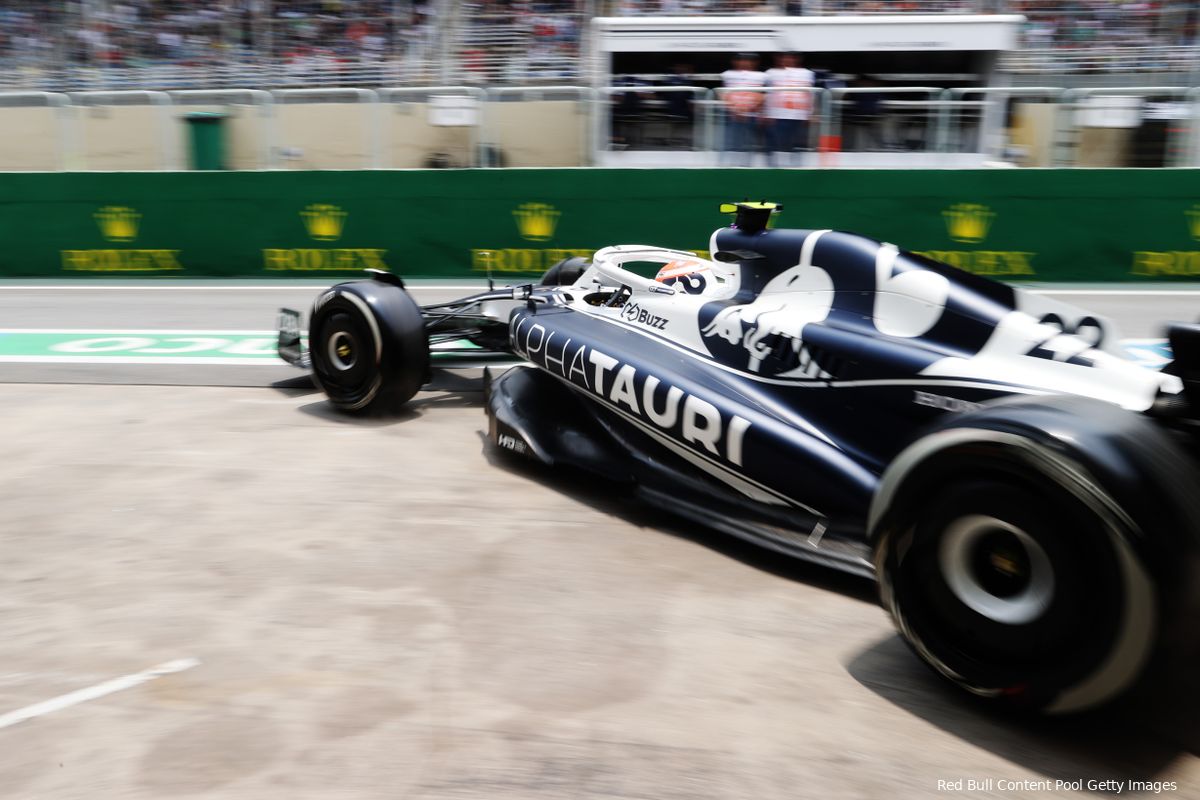 Few teams have had a more disappointing 2022 season than AlphaTauri. Previously, the team sometimes fought for points in midfield. Meanwhile, Red Bull Racing's sister team has hopelessly dropped back to ninth place in the ranking. That has to change, and Nyck de Vries, together with Yuki Tsunoda, is the one who has to ensure that. Will the second Dutchman in Formula 1 succeed in finding his footing? Will it be a recovery year for the team from Faenza? Welcome to the ninth preview of F1Maximaal.nl, with commentary from Shanna Lutgert.
AlphaTauri has work to do. It has come off the rule changes dramatically and needs to bounce back. A few years ago, Pierre Gasly could still triumph with the team, in 2022 they counted themselves rich with a point here and there. Two partial explanations for the disappointing year were constant brake problems and difficulty balancing the car. According to technical expert Mark Hughes, that will change next season.
Judging by computer-generated images of the car at launch, he found that the front axle line of the car appears to be further forward than in 2022. AlphaTauri struggled to find the right balance on many of the weekends, and by developing towards the maximum permitted wheelbase, those balance problems should be a thing of the past.
Because the axle line and cockpit are further apart, the distance of the airflows from the front wheels to the floor intakes is also greater. More space to direct these air flows, so. If the air supply to the floor is more consistent, this should in theory lead to a more stable car, entering, entering and exiting the corner. Yuki Tsunoda and De Vries will be happy with that.
AlphaTauri with Red Bull parts
Technical director Jody Egginton noticed that the AT03 had several flaws. Those shortcomings have been eliminated with the AT04. In particular, the car's aerodynamics have been revised. There was a lack of downforce in Faenza, and that cannot be the case again in 2023. Egginton also lifted the veil on the collaboration with Red Bull Racing during the launch of the AT04.
Some parts that were taken over last season will also be used next year. However, part of the material that is taken over from the Austrian sister team on an annual basis will consist of new parts. Egginton states that the total amount of parts they take from the other team will remain more or less the same.
De Vries as Dutch number two
We had to wait a while for it, but next season the time has come: Formula 1 has a second Dutchman. De Vries showed his best side during a raid in 2022, and Red Bull CEO Helmut Marko did not miss this. The Austrian saw that Gasly could not resist Alpine's temptation and saw a suitable replacement in the former Formula E world champion.
Whether he will be at full speed from moment one remains to be seen. In his own words, it takes time to get used to a new environment, although he could count on a warm welcome. He has made good use of the time at the factory in Faenza and has been training for weeks. There he worked relatively little with teammate Tsunoda, but he believes that the collaboration will be successful.
Will De Vries lead AlphaTauri?
AlphaTauri is a team with potential, but also a team that failed to reach this potential in 2022. To get rid of P9, the team needs a leader. Team boss Franz Tost hopes that De Vries will become that leader. "In a way I understand that," said Max Verstappen about how the team boss views his compatriot.
He thinks that De Vries will bring a lot of experience to the team and that he will easily get used to the material. Tost is also convinced that De Vries is an addition to his team with a sense of responsibility. In addition, he thinks that the Dutchman is one of the most adept drivers in the technical field. During the Young Driver test in Abu Dhabi, the engineers already appreciated his technical feedback.
DeVries vs. Tsunoda
Will this large amount of talent be enough for De Vries to beat Tsunoda in his first year with the team? Eight of the eleven editors of F1Maximaal.nl think so. Two people expect Tsunoda to be better, and once it is stated that it will be too exciting to distinguish the gentlemen over an entire season.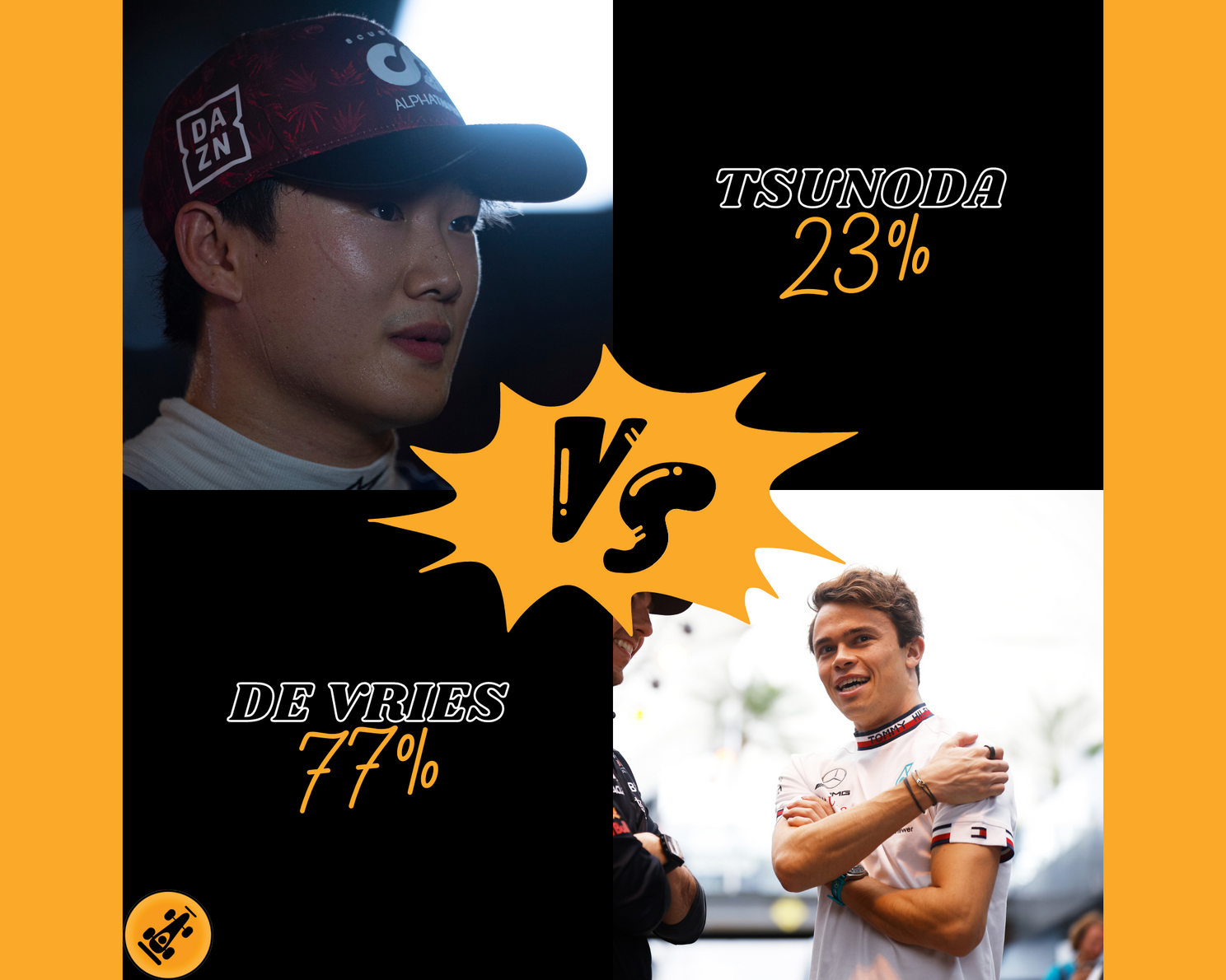 Lutgert agrees with the opinion of the vast majority, and explains why: 'De Vries' experience in several classes of single-seaters is something I have high expectations of. If you look at the seasons he has driven in Formula 3, Formula 2 and Formula E, the races in the WEC (World Endurance Championship, ed.), I think that will do him very well in his debut season in Formula 1. In my opinion, De Vries' down-to-earth, realistic attitude will yield more than Tsunoda's somewhat more temperate character. The Japanese is younger, and the 2022 season has shown that Tsunoda can still be very eager.'
'De Vries is also praised for his technical knowledge, which is logical given his experience. If his feeling for the car is indeed as good as AlphaTauri team boss Tost recently claimed, then I think he has mastered the finer points of the AT04 faster than his team-mate. There is also a bit of mentality involved. De Vries took a detour to get into Formula 1, as he did not immediately get on the grid after winning Formula 2. That was undoubtedly mentally difficult. The Dutchman comes across as super driven, he looks incredibly fit. I think he's all set to show what he's worth. He had to work hard for this seat.'
Is AlphaTauri on the way up?
The majority of the editors think that AlphaTauri can do better than P9, including Lutgert: 'They can definitely do better than P9. The 2022 season was, in my opinion, kind of a low point that the team had reached. In 2021 things went pretty well, Pierre Gasly scored quite consistently, only Tsunoda was the unstable factor. In 2022, the car was mainly the unstable factor. I hope Tsunoda has gained enough experience with the team to score points consistently with De Vries, which will bring the team back to midfield. Naturally, the car must cooperate. In 2022 they struggled with the imbalance and during the second half the drivers suffered a lot from brake glazing. AlphaTauri made a number of mistakes in 2022 that they absolutely cannot make anymore. Hopefully they have learned from that, and then I dare to foresee that they can get hold of the upward trend with De Vries.'
"The changes to the car certainly sound good. It seems that AlphaTauri has done its homework well during the winter break, especially with the downforce. Downforce is of course always important in Formula 1, but with the changes to the floor and ride height, it's something they need to get right. However, the team did not have that in 2022. Hopefully those problems, and those of porpoising, are a thing of the past for them. Tsunoda already knows the philosophy of AlphaTauri, and now it's up to De Vries to get off to a good start right away. I hope that the team in Bahrain can set the tone for the midfield. I don't see myself going straight to P4 or P5 in the standings yet, but higher than P9 should be possible.'