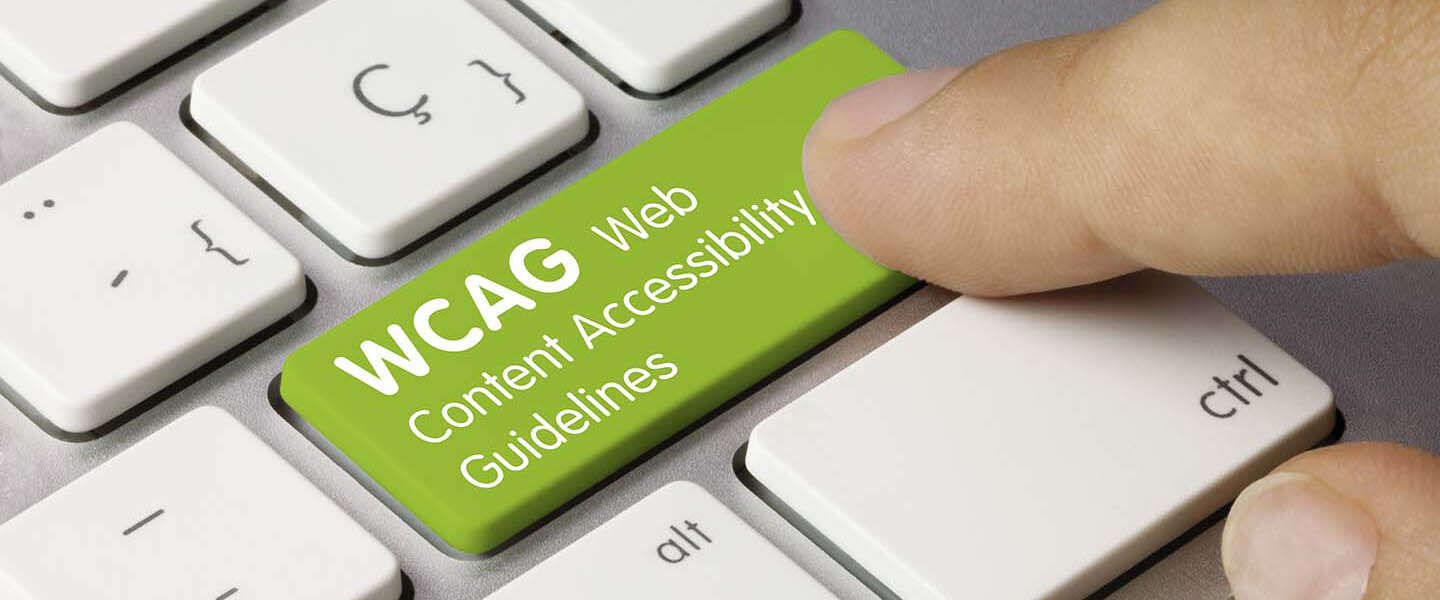 All European webshops must be digitally accessible by June 2025. It turned out that they are not there yet research that we published last year. This year we put it to the test again and there appears to be little improvement. The complete Webshop research 2022 read here.
Last year, for the first time, we conducted research into the accessibility of the largest webshops in the Twinkle100. We tested whether you can place an order using only a keyboard or a screen reader: the way people with a visual impairment and people with a physical disability who can't use a mouse navigate. There was still a lot of work to be done, was the conclusion.
In a response, the webshops indicated that they are working hard to improve this. That is why we now put it to the test again. Surprisingly, little appears to have changed. Please note: the research was conducted in the period from August to December of 2022. Adjustments to the websites after this period are no longer included in the research.
Has work been done?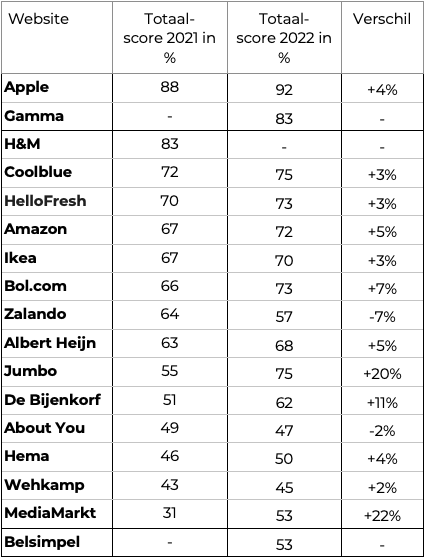 Good news and bad news
The 2021 study showed that it was not possible to place an order if you are blind at 8 of the 15 websites examined. In 2022, serious accessibility problems were found at 7 of the largest online stores, as a result of which people who cannot use a mouse cannot place an order here.
To start with the good news: one webshop failed the test last year, but it did this year. Jumbo has been actively addressing a number of issues, making it now possible to place an order. Last year we were able to go through 55% of the steps with the keyboard and/or the screen reader. It was not possible to choose a delivery time, so it was not possible to place an order. This year, this step can be performed entirely with the keyboard, so there is no longer a blockage. This year we were able to go through 75% of the steps.
Almost all webshops show an improvement in the final score compared to last year. Jumbo and MediaMarkt show an increase in the final score of more than 20%. At the other stores, the increase in this percentage is between 1-10%. Belsimpel is a newcomer in the list of the largest online stores. Unfortunately, the website contains a number of critical accessibility errors, which make it impossible to place an order. Gamma is also a newcomer to the top of the Twinkle100. This organization immediately claims the second highest score in the accessibility test with 83%.
About You, but not all of You
It is also striking that a number of webshops achieved a lower score compared to the previous year. Examples are Zalando and About You. Zalando has dropped in the final score from 64% to 57%. It was noticeable that a number of steps in the ordering process have been adjusted, with both positive and negative results. A number of new barriers have been raised, especially in the checkout process.
The final score of About You has dropped from 49% to 47% in 2022. This is mainly because the main menu can no longer be controlled with the keyboard, among other things. The shopping cart, favorites and login buttons cannot be used if you rely on a keyboard. It is not possible to create an account, enter a delivery address or choose a payment method. As a result, an order can never be completed. Apart from this small decrease, the survey results are virtually the same as last year. Remarkable, since the fashion platform announced last year that they are 'working intensively on a solution to enable people with a visual impairment to order in our store in the future.'
Mixed results
Most online stores will have improved slightly in terms of accessibility in 2022. It is good to see that these stores are taking steps to become more accessible. It is striking that several webshops have implemented changes that have both positive and negative effects on accessibility.
Ikea, for example, spent time on the search functionality and adding products to the shopping cart, resulting in a positive change. However, logging in has become more difficult and there has been no improvement in the steps that ensure that an order can actually be placed. It is still not possible to choose a payment method, so an order can never be completed.
Coolblue has improved the registration process, which makes creating an account a lot easier. Last year it was difficult to ask for help via the site. This year it has improved. Unfortunately, changing a product, for example choosing a different color, is no longer possible. Last year this was still possible.
A striking webshop in this survey is Wehkamp, ​​which scores exactly the same as last year in many areas. Little seems to have changed. In response to last year's survey, Wehkamp stated the following: "We recognize the opportunity to better serve the named target group with a disability. We are therefore taking the suggestions to heart and will look at how we can improve accessibility for this target group. improve."
This to our surprise: "It seems as if it is stated here that the target group with a disability is an optional extra target group. Anyone, from young to old, of any gender, in any location, can have a disability and anyone can also be disabled at any time. get a disability. People with disabilities are not a target group that you choose. It is a group of people who are part of your target group. How is it possible that this group is so often overlooked?"

Why have the scores not increased this year?
Too little knowledge
Often the product owners, designers and developers have too little knowledge about the subject. On the one hand, there is a lack of knowledge about the different ways in which people with a disability operate and use a website. On the other hand, there is a lack of knowledge about how websites can be made accessible from the start.
The lack of this knowledge has several causes. For example, many programs pay little or no attention to digital accessibility. Many students are young and test the products they produce as they are used to; by looking and clicking. They are simply unaware that not everyone can see or operate the website in the same way.
The guidelines are unclear/difficult
The accessibility of a website can be tested against a number of criteria, as set out in the Web Content Accessibility Guidelines (WCAG). These criteria are described in complex language and there is no concrete way to meet a criterion by default. This makes the criteria difficult to understand and therefore difficult to implement when designing and building a website.
Wrong mindset
We also found that there is a wrong mindset about accessibility. 'Why should we adapt our entire website for that one blind person'. 'It is far too expensive to make our website accessible'. 'People with a disability do not use a telephone/computer'.
In the Netherlands, 1 in 4 people have some form of disability and they benefit greatly from using a telephone/computer. The guidelines that have been drawn up apply to all forms of disability, not just blind people. In addition, a number of accessibility guidelines go hand in hand with SEO (Search Engine Optimization). By becoming more accessible, you can increase the findability of your website and thus attract more potential customers. Moreover, you can reduce the chance that people will click away from your website, because obstacles have been removed.
Too few experts
The established criteria for accessibility are often difficult to understand. Trained/certified people in the Netherlands who are aware of the legislation, the criteria (WCAG) and the different ways of testing websites are scarce. There is no fixed training for it, while it requires certain knowledge and experience in the field of web design, web development and various types of assistive technologies.
How do we ensure that we will see better scores next year?
It starts first with awareness. By learning more about the different ways in which a website can be controlled and what can be taken into account for different users, more knowledge about the subject is already created.
By including different types of people more often when testing your website, including people with a visual, cognitive or motor disability, you can quickly find out whether your website can be used in different ways at all. It is not possible to place an order at 7 webshops in the survey if you are unable to use a mouse. These are problems that can be detected and resolved early during user testing.
It is also important that designers, web developers and content editors are trained in digital accessibility, so that delivering an accessible website will become the standard and not an afterthought. In addition, it is important that what is delivered is also tested against the accessibility criteria (WCAG).
If all companies want to comply with the new legislation by 2025, it is important that larger steps are taken in the coming years, with significant improvements. It is only feasible to meet the accessibility requirements in June 2025 only by getting started on time with the recommendations.
This article was written by Caitlin de Rooij (digital accessibility consultant and developer at Level Level).
[Fotocredits – momius © Adobe Stock]