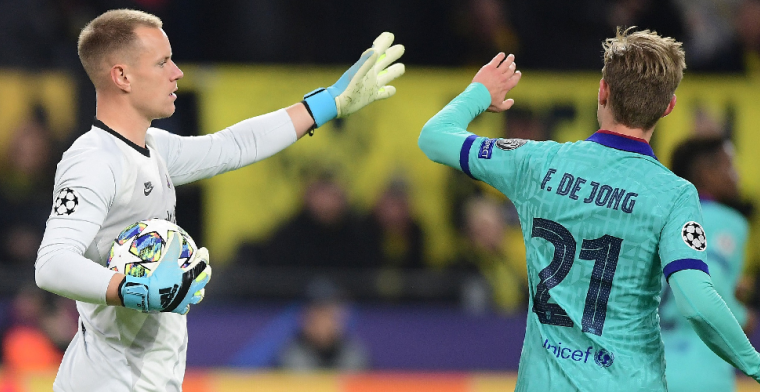 Marc-André Ter Stegen was happy when the redeeming news came last summer that Frenkie de Jong would stay at FC Barcelona. If it is up to the goalkeeper, there will be no transfer for his teammate.
"I am very enthusiastic about Frenkie and I also expect a lot from him," Ter Stegen told The Guardian . "A player like him is, phew, really good to have because he's got so much talent. He sees and feels football in a different way… He's someone that players like Gavi and Pedri can look up to and, well, I think he's just a great player."
The story went that De Jong was on his way to Erik ten Hag's Manchester United. That transfer never materialized and, as far as Ter Stegen is concerned, there will never be another transfer for De Jong. "I was hoping he would stay because this is the type of player I want in my team. There were rumors and discussions and whatever but I'm just glad he's here and I don't want him to go. I make very clear."
Ter Stegen, joking around, seems to want to tie De Jong to a chair leg, so that he cannot leave. "I think one day I'll just put something here to keep him here forever."
Special promotion from Jack's: up to 100x your investment with Ajax victory over Union!
Register at Unibet.nl and grab €40 in Free Bets!